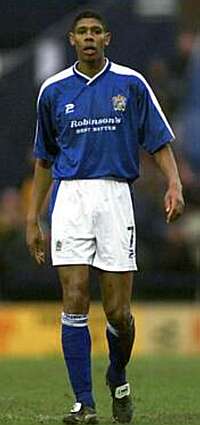 It just had to be - Carlton Palmer is Tw*t of the Week
I don't even know where to start other than to tell you that the 21
st
winner of Tw*t of the Week is none other than the manager of the Unprofessionals Carlton Palmer. This guy is a complete nutter who should never be allowed to take charge of a football club so thankfully he hasn't and has been given the responsibility at Stockport County.
So what has he done this week to warrant the award? Firstly can I say that it is obviously a lot more difficult to win this award than it was to pick up England caps under Graham Taylor with limited ability? Can there ever be a reasonable explanation as to how this guy was even allowed inside Wembley never mind play there? I always wondered why former team mated expressed shock and disbelief when he got his current job but now it is clear to everyone.
He dared to defend the blatant elbow on Mitchell Thomas, he basically accused Mitchell of cheating and then said the Burnley players had made a song and dance about it to get his player sent off. He even dared to say that the player had not used his elbow. He didn't think it was even worth a yellow card and then accused our players of committing a series of bad fouls.
Mind you this idiot then turned on the Stockport defender who allowed Gareth Taylor in for the opening goal. Had it been Palmer himself apparently we wouldn't have scored. Not surprisingly a further look at the goal shows that the Stockport defender was indeed Palmer.
Finally just to show his capabilities he has worked out this week that all Stockport's wins this season, yes all three of them, have all come under floodlight. So they will now play all their home games under floodlight even in daylight. Would anyone with any sense at all employ him?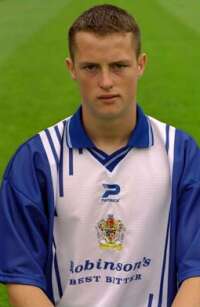 Runner up - Jon Daly of the Unprofessionals
We don't have far to go for second place, it is one of his players Jon Daly. He didn't elbow Mitchell Thomas said Palmer. Oh yes he did I say and I saw it from a much better vantage point than Palmer did. Daly is just 19 years old and so we should maybe show some leniency with him so young.
I think it is worth pointing out that this was not Daly's first red card this season, it was in fact his third. None of them have been for handball, none of them for two yellow cards and none of them for professional fouls. Daly has been red carded three times this season for violent conduct and the latest one has earned him a five match ban.
There is something seriously wrong with a player at this age who has such a bad disciplinary record. It obviously needs his manager to take a firm hand and sort him out and not some idiot trying to defend him. Both manager and chairman Palmer and Hell-Wood, the best comedy duo since Morecambe and Wise, have defended him this week rather than take the sort of action that is necessary.
Anyone who gets three reds for violent conduct in such a short period is very worthy of being included in these awards.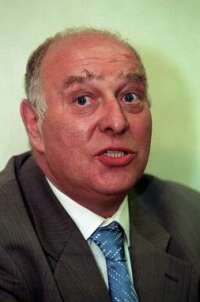 Mr. Pompous Geoffrey Richmond is in third place
So to third place and this week it goes to a past winner of the award, none other than Mr. Pompous himself Bradford City chairman Geoffrey Richmond. He's not content with trying to set up a Phoenix League behind most people's backs, a move that would have condemned lots of smaller clubs, but has now in a major two faced attack accused the PFA of not helping Bury in their hour of need.
The attack was launched on the PFA Chairman Barry Horne yet it is the PFA who have been paying the players' wages at Gigg Lane for some months now. How dare this offensive man turn on an organisation without whom Bury could be dead and buried by now. Having said that Richmond is really in position to talk about anyone. He is currently making an arse of running his own club and was desperate for the Phoenix League to rescue them from their own mess.
Apparently there was a meeting of the First Division chairmen yesterday at which they agreed to commit to remaining in the Football League. Richmond chose to announce it last night on national radio. I wonder who decided he should be spokesman, you've guessed it Mr. Pompous himself.
With Coventry's Bryan Richardson gone surely Richmond must be next to disappear. I'm sure he will because his club are heading back from whence they came under his leadership. He'll soon be down with the also rans alongside Brendan Hell-Wood.
There have been a number of other nominations this week and they include the Everton board for sacking Walter Smith although I'm not too sure you would find too many Evertonians to agree with you. That takes us on to David Moyes who has received quite a few nominations in the last couple of days when it became clear that he was going to go to Everton. We all have our views on this but I was quite pleased that the Haunted One probably thinks he won't make it to the Premiership with Preston.
Tottenham and Chelsea have provided us with a number of nominations this week and all seem to involve one player. We have had nominations for Graeme Le Saux for getting himself sent off in a challenge, for want of a better word, with Tottenham's Mauricio Taricco. We have had nominations for Spurs boss Glenn Hoddle for defending his player Mauricio Taricco for his challenge, for want of a better word, last night on Graeme Le Saux. And of no surprise we have had nominations for Mauricio Taricco.
Taricco and Le Saux seem to have it in for each other and maybe Taricco is a mate of David Batty. I have to say that had Tw*t of the Week been running from the start of the season then Taricco would have been a worthy winner for a challenge against Everton that was as bad as anything I have seen all season. Well it was on a par with the Le Saux challenge at Leeds. AND neither of them were sent off.
That is it for this week as Palmer is one of the most deserving of winners but who will be next week's winner? Just send us your NOMINATIONS before midnight next Thursday and we will reveal all a week from now.
The winners so far:
Week 1 – Glenn Roeder (West Ham United manager)
Week 2 – Chris Morgan (Oldham Athletic chairman)
Week 3 – Neil Warnock (Sheffield United manager)
Week 4 – Bryan Richardson (Coventry City chairman)
Week 5 – Doug Ellis (Aston Villa chairman)
Week 6 – Christian Negouai (Manchester City)
Week 7 – Geoffrey Richmond (Bradford City chairman)
Week 8 – Mark Lawrenson (BBC Claptrapper)
Week 9 – Canvey Island FC (Greedy non league outfit)
Week 10 – John Brandwood (Referee)
Week 11 – Lucien Mettomo (Manchester City)
Week 12 – Sam Hammam (Cardiff City chairman)
Week 13 – Danny Tiatto (Manchester City)
Week 14 – Jeff Bonser (Walsall owner)
Week 15 – Jamie Carragher (Liverpool)
Week 16 – Jason Roberts (West Bromwich Albion)
Week 17 – John Brandwood (Referee)
Week 18 – Graeme Souness (Blackburn Rovers manager)
Week 19 – Jack Straw (Foreign Secretary)
Week 20 – Andy Cole (Blackburn Rovers)
Week 21 – Carlton Palmer (Unprofessionals manager)