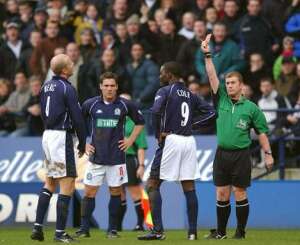 Red card, three match ban and now Tw*t of the Week for Andy Cole
It was the incident that saw Andy Cole stamp on Bolton's Mike Whitlow in retaliation after he had been fouled. Just who was going to win it though was something of a debate with nominations arriving for Cole himself, Tugay who managed to get involved in the tunnel area and needless to say manager Sourness who from all accounts came close to losing it completely in the dressing room area.
The Tw*t of the Week award was inspired by Gerard Houllier who, in trying to defend the sent off Steven Gerrard, accused Aston Villa's George Boateng of getting him sent off when it was clear to all that it was a deserved red card. Sourness did just the same and his after match comments were insulting and disgusting and surely should bring him up in front of the FA on a charge of bringing the game into disrepute.
There was no need for Tugay to get involved in anything, he wasn't even playing in the game but at the end of the day the whole thing was started by Cole and he deserves the award. He did receive more nominations than the other two. So apart from missing three games with a suspension he now picks up our prestigious award.
These fans are setting the example - let's support the lads
The Clarets supporters have come second this week after the booing that was so quickly condemned by Stan Ternent last Saturday. It was another poor performance and I do take the point that supporters are allowed to criticise. The one thing that has come through loud and clear with your nominations though is the singling out of certain players.
It is something that has gone on for far too long at Turf Moor. It has always been the case that some players can do no wrong and others can do no right. Currently the targets are Graham Branch and Gareth Taylor and to a lesser extent Kevin Ball. We all have our favourite players and those we are not too keen on and we would all probably pick a different team to Stan. Cooky and Paul Weller have been targets in the past but have come through it but it really shouldn't happen at all.
I'm sure even Stan doesn't expect everyone to be happy with recent performances but this targeting of players is out of order. Have a go at them in the pub after the game or come and visit our message board and tell us what you think, nobody minds that (well almost but see later).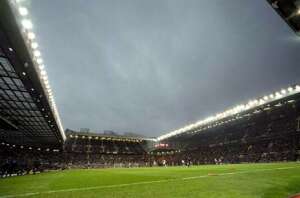 Home of the rich fat arses
Third place has been taken by Manchester United Football Club and to use the words from one of the nominations it is for sitting on their fat rich arses and doing nothing whilst Bury face closure.
This is without doubt an interesting one and questions must be asked as to why the big clubs can't help the smaller ones. But isn't it the greed of the big clubs that have forced the smaller clubs into these situations in the first place?
Manchester United use Bury's Gigg Lane ground for their reserve games and I assume they pay them well for its use. What's to stop them paying the money for next season now and helping Bury to that much needed figure they need to stay afloat.
It is about time football started helping football and that can start with the big clubs helping the smaller clubs. Everyone sees it as inevitable that a lot of the smaller clubs are going to disappear. Why? Football fans do not want to see this and in the week that saw the 40th anniversary of the death of Accrington Stanley it looks as though we have learned nothing.
To those big clubs can I suggest you get off your fat rich arses and put your hands in your pockets and help.
I did suggest earlier that it would be better to criticise on our message board than during the game and that is definitely the case. You can debate lots of Clarets topics with the regulars on the board. However just whinging and nothing else is perhaps not good enough because the top whinger on there just now is Rooter and he came very close to getting that third place. It is even being questioned who he really supports. But if you do have anything to say then just click on Messageboard almost at the top of the left nav bar on all pages and join in.
So in the last three weeks it has been Sourness, Straw and Cole but where will we find our winner next week. That's up to you so just send us your NOMINATIONS by midnight next Thursday.
Winners to date:
Week 1 – Glenn Roeder (West Ham United manager)
Week 2 – Chris Morgan (Oldham Athletic chairman)
Week 3 – Neil Warnock (Sheffield United manager)
Week 4 – Bryan Richardson (Coventry City chairman)
Week 5 – Doug Ellis (Aston Villa chairman)
Week 6 – Christian Negouai (Manchester City)
Week 7 – Geoffrey Richmond (Bradford City chairman)
Week 8 – Mark Lawrenson (BBC Claptrapper)
Week 9 – Canvey Island FC (Greedy non league outfit)
Week 10 – John Brandwood (Referee)
Week 11 – Lucien Mettomo (Manchester City)
Week 12 – Sam Hammam (Cardiff City chairman)
Week 13 – Danny Tiatto (Manchester City)
Week 14 – Jeff Bonser (Walsall owner)
Week 15 – Jamie Carragher (Liverpool)
Week 16 – Jason Roberts (West Bromwich Albion)
Week 17 – John Brandwood (Referee)
Week 18 – Graeme Souness (Blackburn Rovers manager)
Week 19 – Jack Straw (Foreign Secretary)
Week 20 – Andy Cole (Blackburn Rovers)