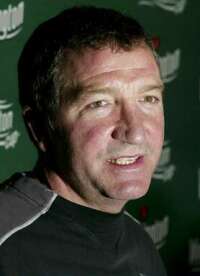 THE Tw*t of the Week - Graeme Souness
He has been nominated in fifteen of the previous seventeen weeks just for being Souness I think with hardly a real reason for the nomination. This week the former Liverpool thug has managed not one but two reasons for winning this award.
Firstly he started ranting on about cup finalists being exempt from relegation. What his reasoning was behind this is unclear but it seems he thinks that clubs who spend more time in the cup competitions shouldn't have to fight relegation.
That's fantastic news for us really because it means he is obviously very concerned that his club are not going to win their relegation battle, he must really feel that slippery slope is going to come to a stop at the end of the season with them in the bottom three. Mind you there is another answer, just get yourselves knocked out of the cup competitions.
And that brings us nicely on to the FA Cup and their defeat at Middlesbrough last week. It appears that although Middlesbrough scored and they didn't that was not the reason for them going out. Apparently it had more to do with one decision from referee Graham Barber who according to Souness had a 'MINGING' game.
I can't hide my personal delight at this week's winner, you have had this award coming since you went right over the top at Brian Laws at Anfield in the Milk Cup Semi-Final in 1983. It happened right in front of me Souness and if we are being honest the referee who didn't send you off had a 'MINGING' game in my opinion.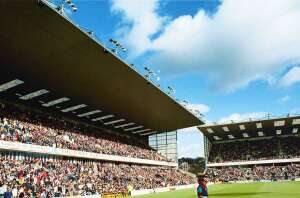 The Turf on a good day
It's back home for second place and Burnley Football Club's ground director Clive Holt has received a sack load of nominations since the postponement of our game on Tuesday. Yes it was Clive who was behind the club's move to purchase the MATCHSAVER cover just over twelve months ago.
Do you remember the cry from BFC at the time, "Games at Turf Moor could only be postponed in future because of thick fog or poor conditions outside the ground"? Something is wrong, we have now had three postponements this year, one for a frozen pitch and two for a waterlogged pitch. The manufacturer of the MATCHSAVER also claim it is of great benefit in freezing conditions.
Worryingly there is so much contradiction in the comments from the club over this week's postponement and only today the bird that would be much better left on its perch virtually accused Radio Lancashire of telling lies. It was Radio Lancashire that alerted fans to the fact that the game was in doubt at a time when the club were still telling people that is was definitely on. I think it is the local radio station that have it right this time.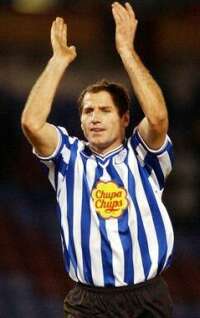 Shefki Kuqi - 3rd place
It looks as though we could have some Unprofessionals visiting the site because in 3
rd
place this week is Sheffield Wednesday's Shefki Kuqi who has received a lot of nominations for his criticism of Carlton Palmer. Kuqi of course was sold to Sheffield Wednesday by Palmer to raise some money but his week Kuqi has been throwing some accusations at the new Stockport boss.
Unhappy with the way he was treated he has accused Palmer of being a bad appointment and someone who is never going to be a good manager. He says he can't believe he got the job in the first place and is staggered that they have since given him an extended deal.
Kuqi has won 3rd place for throwing mud at his former club but I can't see what he can possibly have achieved by doing it. Surely it is clear to everyone that Mr. Hell-Wood has got it wrong again and nobody with the slightest interest in football needed telling.
Not far behind the top three came nominations concerning the FA Cup and in particular the 6th round ties. With them all having to be fit in to a television schedule not one of the ties will be played on Saturday afternoon this season, and that has to be a first. Nominations have been received for Arsene Wenger for whinging about it and also the Football Association for further devaluing the competition.
If they really want to improve it then let's go back to Saturday afternoons, back to replays straight after and replays until one or the other has won without the shoot outs. As each change is made to the competition it devalues it even more.
Maybe Wenger is right to whinge but he doesn't whinge for the right reason. If he had complained because, and only because, the Arsenal fans are unable to get back from their tie by train afterwards because of the kick off time then fair enough. But would Wenger really be bothered about his fans?
That's it for this week, it really has been excellent with us finally being able to announce a more than worthy winner. Wouldn't it be good if he could retain the title for a few weeks? He is capable.
But even Souness can't be this ridiculous again and so Week 19 promises to bring about another winner. Don't forget you have until next Thursday to send us your NOMINATIONS
Winners to date:
Week 1 – Glenn Roeder (West Ham United manager)
Week 2 – Chris Morgan (Oldham Athletic chairman)
Week 3 – Neil Warnock (Sheffield United manager)
Week 4 – Bryan Richardson (Coventry City chairman)
Week 5 – Doug Ellis (Aston Villa chairman)
Week 6 – Christian Negouai (Manchester City)
Week 7 – Geoffrey Richmond (Bradford City chairman)
Week 8 – Mark Lawrenson (BBC Claptrapper)
Week 9 – Canvey Island FC (Greedy non league outfit)
Week 10 – John Brandwood (Referee)
Week 11 – Lucien Mettomo (Manchester City)
Week 12 – Sam Hammam (Cardiff City chairman)
Week 13 – Danny Tiatto (Manchester City)
Week 14 – Jeff Bonser (Walsall owner)
Week 15 – Jamie Carragher (Liverpool)
Week 16 – Jason Roberts (West Bromwich Albion)
Week 17 – John Brandwood (Referee)
Week 18 – Graeme Souness (Blackburn Rovers manager)