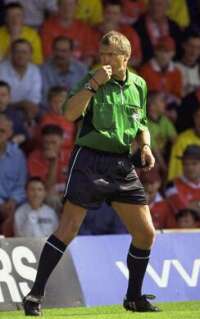 Tw*t of the Week - Referee John Brandwood
The winner is referee John Brandwood and not only is he the first to win it twice but he has won it on both occasions for his handling of the same game. He was a worthy winner in
Week 10
when he decided a frozen pitch at Rotherham on Boxing Day lunchtime might thaw out in sub zero temperatures. He waited until everyone had travelled over before calling it off around 1:45 p.m.
This time he has won it for his appalling handling of the game when it was finally played this week. It has not been awarded for the two early penalties in the game, not even when former Claret John Mullin admitted that their penalty shouldn't have been awarded.
It is not even because we thought that he cost us the points but this referee had double standards throughout the entire match. He allowed Rotherham players to be treated for injury on the pitch and held the game up for them allowing them to stay on the field when he restarted. No such thing for our players, they had to leave the pitch and wait for him to graciously wave them back on.
He seemed to have an ability to punish Rotherham by giving free kicks against them but then wanted to wave yellow cards to our players for the same thing. At no stage in the game did he ever give you the impression that Rotherham had targeted Alan Moore for some particularly rough treatment and when the really bad foul came needless to say this incompetent official missed it.
Yes Mr. Brandwood you are very worthy of becoming our fist ever double winner.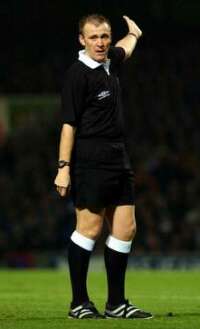 Runner-up Graham Poll
We are still with the men in black for second place this week and it is Graham Poll who has dared to admit this week that he has refereed games in such a way as to try and make a name for himself. There has been no consideration by him for the players taking part in the match, he has just issued yellow and red cards to get himself noticed and to progress his own refereeing career.
He is off to the World Cup in the summer yet surely the FA should be taking a look at this and taking some disciplinary action against Poll. Maybe not though because that action might mean he has to referee more games in the Nationwide League and we don't want to be lumbered with him.
I can't believe though that the FA will still allow him to represent our country in the World Cup, let's send Elleray instead and make us look completely stupid.
Third place goes not to a club but a club's players. This week the place is taken by the players of Newcastle United Football Club. You know the one, the club where the directors don't have many complimentary things to say about the women.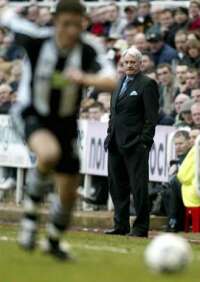 Bobby Robson watches over the unruly mob
They are a club who constantly underachieves and it is no surprise. Now the members of the board are managing to behave themselves, either that or are able to keep it quiet, then the players have been running riot.
Some of their players must clearly not be the brightest. You would think that after a couple of incidents it would be time to get their heads down. Not on your life. Craig Bellamy gets himself a police caution for assaulting a 21 year-old female university student and this after being sent home from a club trip to Spain.
That would be it then, surely no other player would do anything crazy. Oh yes they would and Jamie McClen has since been in trouble after a night out in town (or should I say toon). The club have now banned the players from certain City centre watering holes so it looks as though they are going to be travelling further afield to run amok.
Meanwhile Alan Shearer was spotted giving his garden fence another coat of paint.
That's it for Week 17, but who will it be next week? That's up to you so just keep on sending us your NOMINATIONS over the next week and next Friday we will reveal the latest winner.
Winners to date:
Week 1 – Glenn Roeder (West Ham United manager)
Week 2 – Chris Morgan (Oldham Athletic chairman)
Week 3 – Neil Warnock (Sheffield United manager)
Week 4 – Bryan Richardson (Coventry City chairman)
Week 5 – Doug Ellis (Aston Villa chairman)
Week 6 – Christian Negouai (Manchester City)
Week 7 – Geoffrey Richmond (Bradford City chairman)
Week 8 – Mark Lawrenson (BBC Claptrapper)
Week 9 – Canvey Island FC (Greedy non league outfit)
Week 10 – John Brandwood (Referee)
Week 11 – Lucien Mettomo (Manchester City)
Week 12 – Sam Hammam (Cardiff City chairman)
Week 13 – Danny Tiatto (Manchester City)
Week 14 – Jeff Bonser (Walsall owner)
Week 15 – Jamie Carragher (Liverpool)
Week 16 – Jason Roberts (West Bromwich Albion)
Week 17 – John Brandwood (Referee)