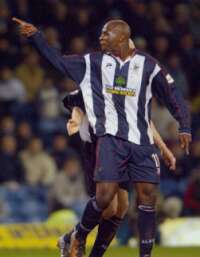 Tw*t of the Week - Jason Roberts
There really was never going to be any doubt as to who the winner was going to be this week, none other than West Bromwich Albion striker Jason Roberts following his actions last Sunday and then his comments afterwards.
Roberts seems to be a player who thinks that fouls cannot be given against him but should always be given his way. Roberts also thinks that he should be allowed to get away with things no other player does. At times last Sunday it was not always obvious what he was up to but some things were without any doubt very clear.
Yes he scored two goals but even then his behaviour in front of the Burnley fans at the Jimmy Mac end of the ground was totally unacceptable. He was doing his best to incite the crowd and that is something that should be clamped down on in no uncertain terms.
In the centre circle incident with Fred West he clearly caught West with a retaliatory elbow that was spotted by the referee. How on earth was he allowed to stay on the field? He then went down holding his head after a challenge with Bally when again it was perfectly clear than any contact was nowhere near that area.
He then lost it completely with the referee who amazingly almost let him get away without even a yellow card before walking down the touchline again making unnecessary gestures at the Burnley fans.
Incredibly we have even had nominations for Roberts this week from some West Brom fans, there is nothing to add to that they know exactly what he is like.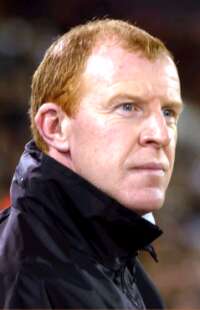 Runner up - Gary Megson
Runner up is the man who took it upon himself to defend him, his manager Gary Megson. Megson, in typical manager style, was unable to see anything that he did but seemed to have the best view in the stadium when he thought his player had been wronged.
He was involved in a disgraceful article on his own club's web site that accused our players of knocking Roberts from pillow to post and I have to say I am stunned that Burnley Football Club have not even responded to that.
Megson is clearly a good manager but he has done himself no favours whatsoever by believing a single word from Roberts. Surely he knows what his player is like and surely he knows that he goes out onto the field to cause this sort of mayhem. It is certainly not the first time we have come up against it with Roberts.
In a way I admire Megson for defending his players but this time it went much too far and I would hope that he has now realised that and might just be taking some action against his player.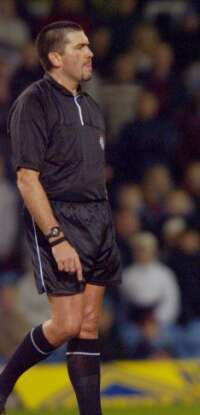 Third - Jeff Winter
Third place went to the referee who allowed all this to happen without taking any real action. Jeff Winter was the man supposedly in charge but he was anything but in charge as he seemed not to care what went on. In the end he yellow carded Roberts for a remark as he left the field.
Winter issued eleven cards at a game earlier in the season, they must have a maximum that he is close to for each season because he showed no interest in getting to grips with the nasty stuff that was going on.
I've seen this referee wave cards for fun in televised games but his performance last Sunday just shows the total inconsistency we suffer from referees. Maybe Winter doesn't like having to referee outside of the Premiership, maybe he doesn't think we are good enough for him. Certainly he showed no interest in the game last week.


Other nominations came in for Graham Taylor for retiring, picking up the plaudits and a gift from Burnley FC and then when the first offer came along jumping straight back into a job.
I do think he has let Watford down very badly and I think he will also be missed on the ITV Sport channel where he was the only one really worth listening to.
Watford's loan player Jermaine Pennant picked up some nominations in the last day after suggesting that a fair score at Watford on Wednesday would have been a 3-0 home win. One said that Pennant must have no brain cells whatsoever if he really thinks that and another asked whether he had been concussed and didn't know what he was talking about.
So finally the players are beginning to get a grip and have now picked up this award in four of the last six weeks. But what will next week bring? Don't forget to send us your NOMINATIONS before midnight next Thursday.
Winners to date:
Week 1 – Glenn Roeder (West Ham United manager)
Week 2 – Chris Morgan (Oldham Athletic chairman)
Week 3 – Neil Warnock (Sheffield United manager)
Week 4 – Bryan Richardson (Coventry City chairman)
Week 5 – Doug Ellis (Aston Villa chairman)
Week 6 – Christian Negouai (Manchester City)
Week 7 – Geoffrey Richmond (Bradford City chairman)
Week 8 – Mark Lawrenson (BBC Claptrapper)
Week 9 – Canvey Island FC (Greedy non league outfit)
Week 10 – John Brandwood (Referee)
Week 11 – Lucien Mettomo (Manchester City)
Week 12 – Sam Hammam (Cardiff City chairman)
Week 13 – Danny Tiatto (Manchester City)
Week 14 – Jeff Bonser (Walsall owner)
Week 15 – Jamie Carragher (Liverpool)
Week 16 – Jason Roberts (West Bromwich Albion)