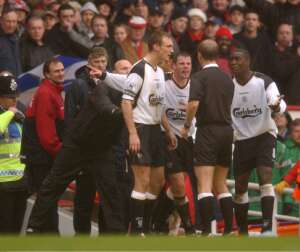 Big nose laughs but Carragher has to go
Yes it is all about the field of play this week and the winner, a clear winner in the end, comes from one of last Sunday's FA Cup ties. This was the one at Highbury as Arsenal took on Liverpool in a 4
th
round tie.
With 71 minutes of the game gone Arsenal's Dennis Bergkamp was just becoming the second Arsenal player to be sent off when someone took it upon themselves to throw a coin at Liverpool player Jamie Carragher. I think we all know what Carragher did by now, he picked it up and threw it back.
We had nominations for the Arsenal fans in that area and they came close to making the top three, just as the Clarets fans made second place the week earlier for throwing stuff at Marlon Broomes. I can understand there is provocation but under no circumstances can there be any justification for Carragher throwing the coin back.
It is bang out of order and he can think himself very fortunate indeed that the police are taking no further action. He could well get himself a further ban from the FA but in the mean time he has a three match ban and the Clarets Mad Tw*t of the Week award.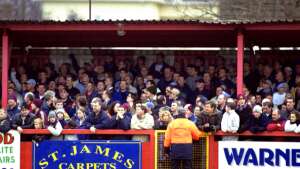 Clarets fans watching the debacle at Cheltenham
There was one other cup tie going on at the same time last Sunday, Cheltenham v Burnley and I have to say I am staggered at the number of people who have nominated the Burnley team. So much so that they have won second place this week for their performance.
I couldn't even bring myself to publish some of the comments that have accompanied some of the nominations but certainly words such as inept, uncaring, letting down the fans and even not trying have been plentiful.
The one thing I always dreaded with the Tw*t of the Week awards was having to include a Burnley player but at least this way it is somewhat easier having to include every member of the team that went out of the FA Cup without hardly a fight last week.
I suspect that we are going to produce a fighting display against West Brom on Sunday and next week I hope, I really hope, there will be no nominations for any Burnley players. In fact I hope there will be no nominations for anyone at Burnley Football Club apart maybe from someone with a Bird's Eye View.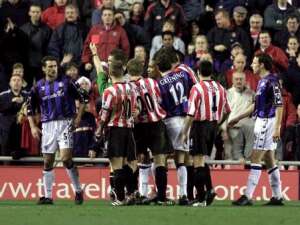 Festa sees red for spitting at Phillips
It is up to the North East for the third place and to Gianluca 'Uncle' Festa of Middlesbrough who won for himself a red card in their match against Sunderland at the Stadium of Light. It had everything to do with an incident inside the six yard box between him and Sunderland's Kevin Phillips that left him with a blooded nose.
Phillips had caught him but replays showed that it was an accident. Referee Durkin was talking to the two players when inexplicably Festa turned and spat in Phillips' face. Durkin immediately, and correctly, went straight to his pocket and showed him the red card.
Festa amazingly after the match claimed it to be an accident and said he was just clearing his mouth of blood. So he obviously thinks he can get away with a sickening piece of behaviour by talking crap. Sorry, Mr. Festa but it was clear to anyone that the spitting was deliberate.
His manager Steve McLaren made no attempt whatsoever to defend him and said that disciplinary action would be taken against him. He was later fined for his actions by his club.
Highbury provided us with quite a few candidates this week. Apart from the winner the Arsenal fans, as previously mentioned, were also in the running as was Arsene Wenger who once again this week has seen three of his players sent off and once again defended all three.
Arsenal have an appalling disciplinary record under Wenger's management but to listen to the whinging Frenchman you would think they are always hard done by. In contrast to that we have received a lot of emails this week (not for this award) commenting on Stan following his after match comments at Cheltenham. 'Got what we deserved' said Stan, 'Nothing'.
So in week 15 we have our fourth player winning the award and at least we will not be accused of showing total bias against Manchester City this time. But who will it be next week?
Remember you now have until midnight on Thursday to send us your NOMINATIONS before we reveal the 16th winner next Friday.
Winners to date:
Week 1 – Glenn Roeder (West Ham United manager)
Week 2 – Chris Morgan (Oldham Athletic chairman)
Week 3 – Neil Warnock (Sheffield United manager)
Week 4 – Bryan Richardson (Coventry City chairman)
Week 5 – Doug Ellis (Aston Villa chairman)
Week 6 – Christian Negouai (Manchester City)
Week 7 – Geoffrey Richmond (Bradford City chairman)
Week 8 – Mark Lawrenson (BBC Claptrapper)
Week 9 – Canvey Island FC (Greedy non league outfit)
Week 10 – John Brandwood (Referee)
Week 11 – Lucien Mettomo (Manchester City)
Week 12 – Sam Hammam (Cardiff City chairman)
Week 13 – Danny Tiatto (Manchester City)
Week 14 – Jeff Bonser (Walsall owner)
Week 15 – Jamie Carragher (Liverpool)