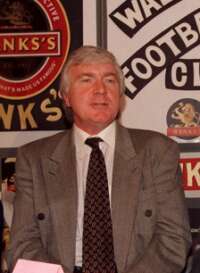 Tw*t of the Week - Jeff Bonser
In one of the most staggering decisions of the season Walsall manager Ray Graydon, who has worked miracles at the Bescot Stadium, was sacked with his club in the First Division relegation places. Our winner this week is the owner of Walsall Football Club, Jeff Bonser, who made the decision to sack Graydon and then admit it was the most difficult decision he had ever had to make.
Bonser understandably wants the best for his company and obviously wants it to realise its potential but how far does he think it can go? Barry Kilby often says that Burnley Football Club are fighting above their weight playing at the top of the First Division so surely Bonser must realise just how far above Walsall's fighting weight Ray Graydon has taken them.
Its looks as though the whole of football have condemned this decision and all the sympathy is with Graydon who has done a magnificent job there in terms of results, style of play and standards. It will be interesting to see just how much better they are, if at all, with Colin Lee in charge.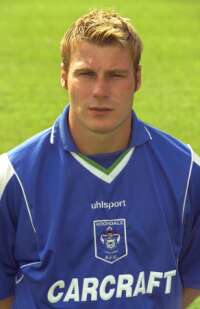 David Flitcroft his brother - you didn't really think we would show a blue and white halved shirt here
It's back to Lancashire for second place and our rivals just down the road. Yes, Sourness has once again picked up some votes but the runner up this week is Garry Flitcroft. As a Claret I can honestly say I didn't witness the goings on there on Tuesday, did you really expect me to watch them reach a cup final?
Apparently Flitcroft was sent off by referee Mike Riley for a two footed tackle, a tackle that even Sourness himself accepted was worth a red card. Not Flitcroft though who can certainly pick up the award as whinger of the week. He claimed he was unfairly treated and he would appeal against the red card. Let him appeal and let's hope they add an extra couple of games to his suspension for his downright cheek. A two footed tackle is well worth a red card Flitcroft. Well done Mr. Riley.
Third place is sadly a lot nearer to home, the Turf in fact. More than that our third place this week comes from the Lower Tier of the Harry Potts Longside. This of course is because of the behaviour of a few (and few in this case is a very small number) who let the club and the rest of the supporters down last week by throwing objects at Sheffield Wednesday's Marlon Broomes.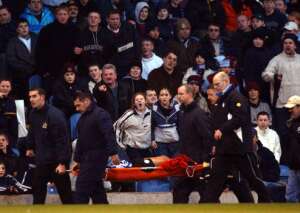 Marlon Broomes is stretchered off
Yes Broomes used to play for Blackburn, yes Broomes committed an awful foul on Andy Payton in the last minute of our game against Grimsby. But this does not excuse the throwing of objects. To some extent I blame the club themselves. They allow unsupervised kids in that area and this is not the first time they have caused problems. Objects have been thrown before, we had the pitch invasion at the end of last season's Watford game and even Bertie Bee was punched on at least one occasion last season.
We should be able to expect people to behave but after the goings on at Cardiff, Millwall and Spurs recently the last thing I wanted to see was Burnley joining in. The club need to take action and take action quickly to prevent any re-occurrence of this.
Last week's (or should I say weak's?) referee Mike Pike received a good number of nominations for his handling of the Sheffield Wednesday game. Although he wasn't responsible for the result in any way his weak handling of the game allowed Sheffield Wednesday to push things to the limit. The way they stole yards at throw-ins free-kicks etc. would have had Harry Potts running on every five minutes had this been in the 1960s.
Having said that his weak refereeing saved Arthur from picking up a red card when he gave away the penalty in the last minute. Mind you having taken a look at it again was it even a foul?
Alex Ferguson was just behind for his bleating after Liverpool had won 1-0 at Old Trafford. "I don't know how we lost that game", said Ferguson. I do though, you didn't score and conceded one, that usually guarantees a defeat.
That's it for this week, and our fourteenth winner named but who will be next. As always you have until Thursday evening to send us your NOMINATIONS.
Winners so far:
Week 1 – Glenn Roeder (West Ham United manager)
Week 2 – Chris Morgan (Oldham Athletic chairman)
Week 3 – Neil Warnock (Sheffield United manager)
Week 4 – Bryan Richardson (Coventry City chairman)
Week 5 – Doug Ellis (Aston Villa chairman)
Week 6 – Christian Negouai (Manchester City)
Week 7 – Geoffrey Richmond (Bradford City chairman)
Week 8 – Mark Lawrenson (BBC Claptrapper)
Week 9 – Canvey Island FC (Greedy non league outfit)
Week 10 – John Brandwood (Referee)
Week 11 – Lucien Mettomo (Manchester City)
Week 12 – Sam Hammam (Cardiff City chairman)
Week 13 – Danny Tiatto (Manchester City)
Week 14 – Jeff Bonser (Walsall owner)