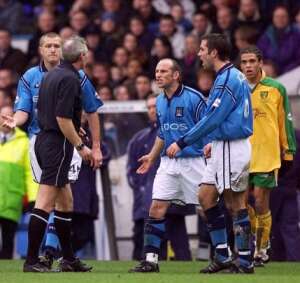 Tw*t of the Week - Tiatto doesn't look too happy at being sent off
It's a player again, for the third time only, and there will be some who will think we have taken a dislike to one particular club. First there was Negouai, then there was Mettomo and now this week's winner is once again from Manchester City, Danny Tiatto.
Somehow I wasn't expecting him to win it this week but you have told me in no uncertain terms and he has ended up winning the award by some distance. It wasn't so much his sending off, which was correct, but his reaction to it and it just continued.
The staggering thing was that he was sent of by referee Roy Pearson, the biggest homer in the Football League. It is a rare even indeed when Pearson feels the need to take such drastic action against a home player.
There can be no justification when a player shows dissent when the decision against him is wrong but Tiatto's red card was fully justified. I said people might think we have something against KKMC, I think it is just that their players simply don't seem to know how to behave.
It certainly poses the question as to whether KK is able to bring any discipline into the dressing room but at least he hasn't spent the last few days defending his player on this occasion. Tiatto will be suspended now and rightly so but surely further action should be taken against him after that show.
The runner up this week is a manager and the person I thought might win it. It's the Haunted One David Moyes who took it upon himself this week to start telling another club they were out of order asking for too big a fee for a player.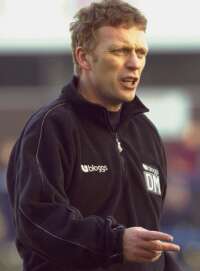 Runner up - The Haunted One, David Moyes
The club and player in question are Brighton and Bobby Zamora. Apparently the Seagulls have put a £3 million fee on the head of their prize asset Zamora and who can blame them, where in heaven's name would they be without his goals. He is a player who is clearly going to be head hunted having moved up a division with the goals still flowing.
I have no time whatsoever for the Brighton manager Peter Taylor although given that he was manager at Leicester I did have a bet that they would go down. I happen to think he is a bad manager who leaves clubs in a worse state than he finds them but if he wants £3 million for Zamora it is up to him.
It has nothing to do with Moyes whatsoever but he does seem to want to talk about other clubs rather than getting on with running his own at the moment. How though he can criticise Brighton when he is demanding double that for Jonathan Macken is difficult to believe.
I suggest Moyes puts his eyes back in their sockets, shuts his mouth about other clubs and reduces his demands on Macken to a more realistic figure.
Back to Maine Road for 3rd place but this time into the ITV commentary box. I've never been happy with ITV's coverage of Manchester City even from the days when their football programmes were produced by Paul Doherty, son of ex-City player Peter.
On Sunday they excelled themselves though with Channon and Royle claptrapping in the studio talking as if there was only one club in the division. However our third place comes from the commentary box itself and it is not the world's worst commentator Alistair Mann although he is capable of winning the award every week for his ability to ruin a game.
It's his co-commentator, former Liverpool and Leeds full-back Jim Beglin. Let's get one thing straight here, I am delighted to see Beglin in the top three. I don't like him and never have. He has a voice that grates and never has anything positive to say about Burnley. He did grudgingly say we deserved our goal at Maine Road the other week but that was about it.
Beglin dared to defend Tiatto last week, who is paying this man's wages is it ITV or is it KKMC? He even thought the City fans were right to have a go at Nedegaard after the incident and he was nothing more than the innocent victim. When Stan talked about claptrappers recently it really made everyone think and the likes of Beglin is just one claptrapper too many.
Needless to say Kevin Keegan was in the running again, man of the people my ****. He's jumped up and like a child when he doesn't get his own way. For the first time we had a groundsman in the running, whoever is in charge at Selhurst Park for making no obvious effort to repair the pitch after the cup tie in midweek.
We have chairmen in there too, three of them this week. There is Paul Baker at Cheltenham Town for putting up the prices for the Cup tie without making any effort to agree it with Burnley. We received emails from annoyed Burnley fans, and quite a number of them, accusing our club of letting us down. Thankfully we were able to clear that up when the truth came out.
Derby's Lionel Pickering has received nominations for allowing his manager 98 days before sacking him. It looks as though Mr. Pickering's messing about this season will pay the ultimate price with a place in the Nationwide League next season. Well done Mr. Pickering, maybe you could come up with an idea of setting up a new league to soften the blow – how about calling it the Phoenix League?
Then there is the most objectionable Charles Koppel, chairman of Wimbledon. Yes we have had votes from Wimbledon fans too this week but can you blame them? Koppel has no idea about English football and his hell bent on causing the game major problems. He said sometime ago that his consortium wanted to but a Premiership club, they couldn't afford the best so they bought the worst, Wimbledon. Would you be happy with this sort of man running your football club?
Guess what? For the first time we have not received a single vote for Sourness this week. No, I haven't spelt his name wrong, after requests we have given him a new name here at Clarets Mad.
Who will it be next week, the fourteenth winner of our award, just send us your NOMINATIONS during the week, you have until next Thursday evening, and we will reveal the winner next Friday.
Winners so far:
Week 1 – Glenn Roeder (West Ham United manager)
Week 2 – Chris Morgan (Oldham Athletic chairman)
Week 3 – Neil Warnock (Sheffield United manager)
Week 4 – Bryan Richardson (Coventry City chairman)
Week 5 – Doug Ellis (Aston Villa chairman)
Week 6 – Christian Negouai (Manchester City)
Week 7 – Geoffrey Richmond (Bradford City chairman)
Week 8 – Mark Lawrenson (BBC Claptrapper)
Week 9 – Canvey Island FC (Greedy non league outfit)
Week 10 – John Brandwood (Referee)
Week 11 – Lucien Mettomo (Manchester City)
Week 12 – Sam Hammam (Cardiff City chairman)
Week 13 – Danny Tiatto (Manchester City)