Oldham chairman Chris Morgan won it for the way he sacked manager Andy Ritchie. Coventry's Bryan Richardson and Deadly Doug Ellis picked up the award for their comments on the disagreement over TV money with the PFA and then Geoffrey Richmond of Bradford City (The Pompous One) for his involvement with the Phoenix League.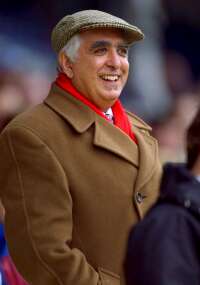 Tw*t of the Week - The Terrorist Sam Hammam
For the fifth time we can announce that the winner is a club chairman but for very different reasons. The voting this week has been dominated by the goings on at Ninian Park last Sunday and your nominations have flooded in for Cardiff chairman Sam Hammam for his behaviour in walking around the pitch perimeter.
I'm sure, despite the rantings of the idiot, that this cannot be allowed. Fore heaven's sake the coaches are not allowed out of the technical area so surely a chairman shouldn't be able to parade up and down the touchline. One nomination said he is as near as we are ever going to get to having a terrorist running a Football League club. I like that, and from now on Hammam will be known on this web site as The Terrorist.
The Football Association need to take some very strong action against Hammam, and I wouldn't complain if they banned him from all English football grounds. Let him take his sheep's bollocks and eat them in the Comical League of Wales.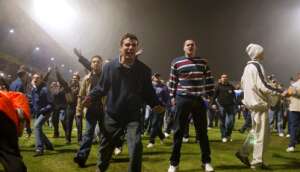 Runners up - Cardiff fans
He won the award by some margin but for the first time ever we received nominations for a group of fans. Yes, the Cardiff fans are worthy to take second place. They performed as usual at Ninian Park where the throwing of missiles seems to be acceptable. Thankfully one of them hit the referee, besides the possibility of it knocking some sense into D'Urso it will at least force him to report the goings on appropriately.
These fans don't deserve any success and I really do hope that the FA take the sternest action and close the place down. It shouldn't be re-opened until there are some guarantees that something will be done and until a cage has been built to lock terrorist Hammam in.
I personally have suffered at the hands of the Cardiff fans on more than one occasion dating back to the early 1970s when the Clarets dared to take the lead there. It was also the first ground I ever visited with perimeter fencing in 1977 and I am only pleased it wasn't there four years earlier when our only route to safety was via the pitch.
The London Clarets this week said that there are two types of people, those who were surprised at what happened at Ninian Park and those who have been there. Never was a truer word spoken.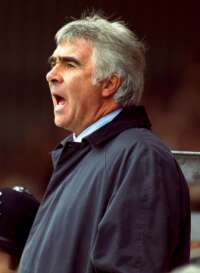 Third place - Bobby Gould
We don't have to move away from the Welsh capital either for third place and this goes to last Sunday's Sky TV claptrapper Bobby Gould. I have great respect for Sky television and I believe their coverage of football is now without doubt second to none. However they let themselves down very badly by having that old has been and nonsense speaker Bobby Gould as a guest last Sunday.
Gould was simply a disgrace. He was so biased it was unbelievable. He thought Hammam's antics were good and didn't seem to think there was anything wrong with the antics of the Cardiff fans throwing bottles, in fact at one point he even laughed about it. As for the match, he was the only person there who thought that referee D'Urso was 100% right to send off Smith and even conjured up a penalty for Cardiff that nobody else saw.
So he has been involved at Cardiff, he has licked Hammam's arse for years but this performance Gould was disgraceful. I sincerely hope Sky have now decided that enough is enough and we never have to put up with you again.
Away from Cardiff there were very few nominations although we have had a number today for Tranmere's Sean Thornton who was involved in the challenge that saw Andy Payton on his way to hospital. I didn't see the incident but many observers did think it was an accident. If not though your nominations have been well and truly registered.
We did have a handful of votes for Bolton Wanderers for employing Danny Reuben, how many people did he manage to upset in two years?, but I think they have done us a great favour.
And guess which local manager picked up a few votes this week? Clue: He used to have a moustache. One week he will without doubt be a worthy winner.
So another week is over for Tw*t of the Week and the twelfth winner is Hammam. But who will win it next week, that's up to you. Remember you have until next Thursday evening to send us your NOMINATIONS.
Winners to date:
Week 1 – Glenn Roeder (West Ham United manager)
Week 2 – Chris Morgan (Oldham Athletic chairman)
Week 3 – Neil Warnock (Sheffield United manager)
Week 4 – Bryan Richardson (Coventry City chairman)
Week 5 – Doug Ellis (Aston Villa chairman)
Week 6 – Christian Negouai (Manchester City)
Week 7 – Geoffrey Richmond (Bradford City chairman)
Week 8 – Mark Lawrenson (BBC Claptrapper)
Week 9 – Canvey Island FC (Greedy non league outfit)
Week 10 – John Brandwood (Referee)
Week 11 – Lucien Mettomo (Manchester City)
Week 12 – Sam Hammam (Cardiff City chairman)