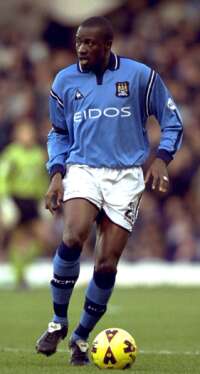 Tw*t of the Week - Lucien Mettomo
Not only that but for the second time it has been won by a player from the same club, Manchester City. Back in week 6 Christian Negouai picked up the award after punching the ball into the net against Rotherham and then celebrating as the goal was allowed. "Cheat", cried Rotherham boss Ronnie Moore and you agreed with him.
Whatever Negouai did and got away with though was nothing compared to the behaviour of this week's winner, City's Lucien Mettomo. The Cameroon defender, who cost City £1.5 million from St. Etienne in September, picked up his award for an incident in the first half of our defeat at Maine Road last Saturday.
He launched himself two footed at Dean West in one of the worst challenges I have seen for a long, long time on a football pitch. He received a yellow card from referee Messias despite his pleas of innocence but in reality there should have been only one punishment for Mettomo and that was a red card. This was dreadful and has no place on a football pitch, had he made anything like real contact with Fred then we would almost certainly have had a player out injured for a long time. Even Jim, I have no time for Burnley, Beglin on TV admitted that a yellow card was the least he deserved.
Surprisingly though there have been no words of condemnation from his manager Kevin Keegan, although the former permed one is always quick to condemn players from other sides or referees who treat his players too harshly. Very much double standards here Mr. Keegan. We accept that, however well we thought we played at times last week, you deserved your victory but I just sincerely hope you have taken some action against Mettomo this week.

Second place - Burnley Football Club and their frozen pitch
Second place this week goes to our own club, yes Burnley Football Club are the runners up. They have won second place due to their inability to get a football game played this week despite having undersoil heating and a boast twelve months ago that a game would never again be put off for weather other than fog.
There was no indication from the club that a pitch inspection was planned, and Bradford City are upset because they weren't warned, and when the postponement came they hardly explained it very well with just a short and useless comment on the club's web site. The site has since said that the club hoped the ice would melt overnight.
However the real reason does now seem to be surfacing and it appears that it is down to the fact that the club used the protective cover over the pitch. With the undersoil heating doing its job successfully it was the action above the surface that caused the game to be postponed. The covers over the pitch caused some condensation and, guess what, it froze making the pitch totally unplayable.
So they cocked up big style, but why could they not tell us that publicly? Everyone makes mistakes, it would have been so much better if they had just admitted it.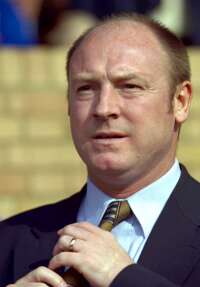 Third place - Steve McMahon
Third place this week has been claimed by a North West manager and no it is not Souness who spent most of last Saturday afternoon whinging about bad decisions before making one himself and spending a ridiculous amount of money on a striker past his best.
No it is Blackpool's Steve McMahon. What is McMahon's crime? Is it because he has sent Andy Payton back?
No, McMahon is suffering from delusions of grandeur I'm afraid, carried away because his Blackpool side are almost reaching half way in the Second Division. He did try and pay our club a compliment but then went and spoiled it all.
Talking about the progress of his club from the lower reaches of the Football League last season he paused to comment on how well the Clarets are doing at the top of Division One. It was so obvious what the fool was going to say next and he did say it. Having commented on the Clarets he said there was no reason why Blackpool couldn't do the same. "We are every bit as big a club as Burnley", he said. Now to be honest anyone who thinks Blackpool is or ever has been as big as the Clarets is deserving of a Tw*t of the Year award but on this occasion McMahon has to settle for third place.
Needless to say we did get some votes for Souness, we do every week and also this week we have had nominations from two people both discussing the same player. Chelsea chairman Ken Bates was nominated for having the nerve to defend Graeme Le Saux after two horrendous challenges this season and also nominations for former Leeds midfielder Johnny Giles for criticising Le Saux. Giles criticising anyone for bad tackles is a joke in itself, talk about people in glass houses throwing stones. Giles is in a bloody big greenhouse, and certainly in my book the nastiest player I have ever had the displeasure to watch.
So that's it for this week, our eleventh week with the award getting more and more popular. Who will it be next week though, remember you have until next Thursday evening to send us your NOMINATIONS.
Winners to date:
Week 1 – Glenn Roeder (West Ham United manager)
Week 2 – Chris Morgan (Oldham Athletic chairman)
Week 3 – Neil Warnock (Sheffield United manager)
Week 4 – Bryan Richardson (Coventry City chairman)
Week 5 – Doug Ellis (Aston Villa chairman)
Week 6 – Christian Negouai (Manchester City)
Week 7 – Geoffrey Richmond (Bradford City chairman)
Week 8 – Mark Lawrenson (BBC Claptrapper)
Week 9 – Canvey Island FC (Greedy non league outfit)
Week 10 – John Brandwood (Referee)
Week 11 – Lucien Mettomo (Manchester City)