That was until we received a number of requests to have a Tw*t of the Season award. There were various ways of doing this. Looking at the nominations over the season was one way but there are two who seem to get votes every week no matter what they do and this would have pushed them to the top.
So we chose the ten most convincing winners and asked you to choose and to be honest we are not surprised at the outcome.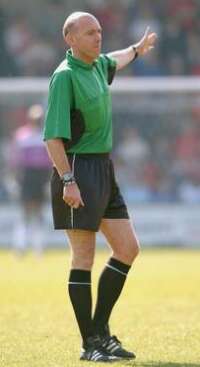 Tw*t of the Season - Barry Knight
The winner was the weekly winner in Week 24 and is Orpington referee Barry Knight. He turned a big important game against Wolves into pure farce with some of the most ridiculous of decisions, but it is not just the bad decisions that makes Knight a more than worthy winner. He gives the impression that he likes to get big decisions wrong to wind up the crowd, he clearly enjoys getting them wrong in that dreadful arrogant way of his.
He's been at it since though and only a couple of weeks ago disallowed a Middlesbrough goal against Chelsea similar to the Gareth Taylor goal he disallowed. The score was 0-0 at the time and Boro lost 2-0.
Knight is the most disliked referee in the country now and there is a serious campaign to have him removed from the Premiership and the Football League list. The campaign is run by Bournemouth fans and has support from the supporters of many other clubs. Clarets Mad are currently still trying to get more information but I for one would support anything that prevented games being ruined by the sort of performance he gave us at Easter.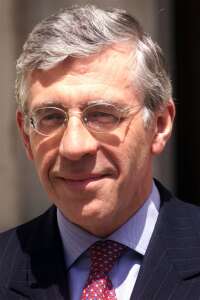 Runner Up - The Straw Man
Runner up to Knight but with just about half the number of votes was Foreign Secretary Jack Straw. He was the winner in Week 19 and if you recall he had made some dreadful remarks about Burnley supporters on national radio. He claimed that suggesting we ate bananas with our feet was an insult to monkeys and admitted to hating Burnley supporters.
His remarks were disgraceful and certainly not in keeping with a member of Her Majesties Government. Given the political situation in our town right now made his remarks even worse. To this day The Straw Man has not apologised nor has he been asked to for his awful remarks.
It rather makes you wonder just how he can represent this county on an international level when he sees fit to slag off people who happen to support a football club close to his constituency. Following the behaviour of his brother and son he should perhaps get his own house in order before he starts criticising anyone else.
Surely he should have been forced into an apology but the Prime Minister was too busy scoring enough own goals in this area by trying to tell people which way to vote. Between them they have badly let down the people of Burnley and we still await any sort of apology.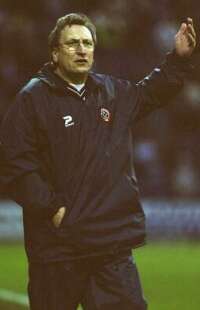 Third - Neil Warnock
And finally to third place and one of two to have picked up the weekly award twice, Sheffield United manager Neil Warnock. He picked up the award in Week 3 for trying to tell us how to run our club. After we had beaten them at the Turf and they had been run ragged by Glen Little he started demanding that we sold him to even it up in the division. He claimed he was too good and shouldn't be playing at this level.
Funny but he had a lot of players who simply weren't good enough on the day but I don't recall Stan telling him to get rid because they were playing at too high a level.
But then he picked up the award in Week 22 for a second time. This was the week before we went to Bramall Lane but it had nothing to do with our visit. In one of the most shameful incidents in the game's history he watched three of his players get sent off and then two more walk off with injuries.
It is more than acceptable that he wasn't responsible for the dreadful antics of Santos and Suffo but there is no doubt that he should have been trying to calm things down from the touchline rather than making them worse.
He has got away with it at the FA but had St. Megson of West Brom had the guts to come out and name him then he would have been in some serious trouble. He is still manager of Sheffield United and that says something about the club.
West Brom's Jason Roberts was the only other to reach double figures, in fact exactly 10% of the vote, and that was in Week 16 after he completely lost it at the Turf towards the end of our 2-0 defeat against West Brom. He left with a yellow card being waved at him but had referee Winter not been so weak he would have already been off the field with a red card.
That's it then, we have had 28 Tw*ts of the Week and the final Tw*t of the Season. We must send our congratulations to Knight on winning the award. See you all in August when Tw*t of the Week returns.
The final result in Tw*t of the Season was:
Barry Knight – 38.4%
Jack Straw – 19.5%
Neil Warnock – 15.3%
Jason Roberts – 10.0%
Sam Hammam – 5.8%
Glenn Roeder – 5.8%
Mark Lawrenson – 4.7%
Lucien Mettomo – 0.5%