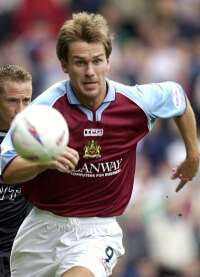 Star Geezer - Gareth Taylor
It is against Wolves who the Clarets normally reserve their worst performances of the season for and against who Clarets had not won in thirty seven years. Adding insult to injury, Wolves were on a run of eleven successive victories against Clarets. So step forwards any optimists who predicted three home points with Clarets having won only once in the last five in the run up to Xmas.
Funny old game innit, as this time around it was Wolves who put in a plum duff performance, rarely troubling Marlon and yet despite having many big name players, they failed to produce on the day and a strong looking (on paper) midfield conceded to the lighter weight offerings Stan could put out; Weller and Grant the unlikely winners against Ince and Rae their anagram of "are nice" precisely the opposite of what these two constant moaners and protesters actually are, their never ending dissentions to the referee a real pain in the backside.
In what was to be a niggly and untidy affair, Clarets began the brighter of the two, with a makeshift team taking to the field. Hamstrung Branch joined Briscoe and Davis on the sidelines, with McGregor, AMoore and Cox coming in to the side, Stan severely restricted with only fifteen fit players to choose from.
Making a mess of things in the middle was Mr Messias a man for who any physical contact was considered a foul, so a fluent game we were not to witness. Man of the match Taylor, who was to have a particularly impressive first half had the first chance, but his long range header on ten minutes made for an easy save by Murray.
On the quarter hour, Wolves finally created a chance and Cole should have done much better than lift the ball into Marlon's arms, when after chasing a loose ball he beat Arthur to the ball only to waste the chance with Marlon wandering into no mans land, thankfully the area where Cole's attempted lob was to be placed.
Whilst enjoying more of the ball, Clarets were not making the most of their possession, probably down to Little wandering inside, AMoore unable to find any real space and lacking in first half effort, so all the forward play was to be made by Taylor and Blake a fortuitous pairing as they created a wonderful first goal half way through the half.
Showing neat control and touch on the half way line, Taylor turned releasing Blake down the left hand side and he showed AMoore just what to do, when taking on and beating his man, before delivering a superb cross that was headed home powerfully by Taylor, finding the top corner of the net after making a fifty yard run to finish and clinch his first home League goal of the season.
An immediate reply was sought by Wolves and Arthur was caught napping by Cooper's free kick, but Cole's header was poor and harmlessly over. Sturridge entered the game if only for a name taking, his for a late foul on Weller and Edworthy was a lucky man to escape completely after clearly kicking Cox as he shielded the ball over the line, before there were half shouts for a penalty when Taylor went over in the area under a clumsy challenge from Lescott, the referee electing to play on just as he did a minute later as Clarets doubled their advantage on the half hour.
Despite Little being flattened on the touchline, Mr Messias allowed Clarets their advantage and with West collecting the loose ball, he cut in, as Wolves packed in, shooting left footed from twenty five yards, the ball deflecting as it went in at a flat-footed Murray's left post, a great goal to score, a horrid one to concede, as Tom Hark sounded all around once again.
Arthur was caught napping once again, this time by Sturridge in a chase for a loose ball, but the King responded well and got in a timely challenge as the Wolves man looked to pounce, a corner conceded.
From the kick, McGregor's miscue flew into Marlon's chest as Clarets briefly rode their luck, before the Mark Kennedy school of acrobatics took over, seeing West's legs as a cue for triple jump entries, the referee and full back both deceived by the antics of the diving one on more than one occasion, West's name taken for a fortieth minute challenge on the con man. There was one last chance in the half for Blake, but Murray was equal to a shot from a tight angle before the half-time Bovril was summoned and the Clarets cheerleaders were not the only ones with summat to shout aba't.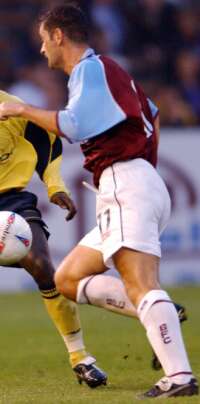 Star Gazer - Alan Moore
From the restart an injured Irwin was replaced by Butler, the first action was Kennedy's retribution on West, this was spotted by Mr Messias and the ever popular Wolves man went into the little black book for his late challenge. Cooper was to emulate Kennedy's antics but Mr Messias, now wise to their tricks, was having none of it and Cooper's name was the next taken, after the briefest of contacts with McGregor saw him fall to ground acrobatically and unnecessarily in the eyes of the Messiased one. The crowd came briefly to life as Rae was subbed, though the atmosphere was short-lived.
There was though something to cheer on the hour mark as a Clarets midfield player, in the shape of Weller, saw space in front of him and elected to run into it, before shooting and though the save was a comfortable one for Murray, at least for once, the initiative had been seized upon as Clarets pressed forwards.
This though was to be the last of Clarets going up field the last half hour was spent in Alamo mode, defending deeply and at times, inviting an awful Wolves side forwards to attack, the centre midfield area conceded in favour of deep Clarets defensive lines in home territory.
Dave Jones saw fit to go with three strikers for the final period with Ndah replacing Cooper, as Wolves tried to attack down their flanks, Kennedy still preferring the hop skip and jump routine to simple dribble and crossing options, as he wound the Bob Lord stand faithful with his continued theatrics.
As the game wore on you felt comfortable watching the Clarets sitting beyond the half way line as Wolves were running out of ideas and Marlon rarely troubled, there were though notable clearances from McGregor and Cox, with the pairing of Cox and Gnohere keeping tight reins on the inept Cole and the unimpressive Sturridge.
Grant was booked for a late tackle on Ndah, the free kick wasted from a good position, before Clarets briefly broke up field, AMoore and Blake combining to set up Taylor whose low shot from the edge of the area was comfortably saved by Murray. With ten to go Little was replaced by IMoore, before Marlon was caught in clearing a loose ball by Ndah and though nothing was given he needed lengthy treatment.
In the ten minute finale, Taylor and Butler were summoned as a corner was taken and from the retake Clarets failed to clear the ball from within the area and Butler was on hand to stab the ball home, the ball deflecting into the top corner for a potentially heart stopping last five minute spell.
Papa... replaced Blake before Sturridge raced clear only to be dragged back for offside, much to the derision of the two and a half thousand or so Black Country travellers, the referee's parentage being brought in to question as the seconds passed away.
Cox further incensed them pulling back Cole and the three minutes of time added on just for substitutions passed quite harmlessly by, Clarets ended their year at home on a high, finally collecting points off Wolves, who, could now pack off down the M6 and console themselves with their poor run of form, one win in five not good enough for managers of aspiring teams. What a shame.
Att:- "18,644 of which 90% attended", so that's 16,780 turnstile clickers. What a strange way to announce attendances in new Burnley speak.
Star Gazer
Alan Moore. The "A" presumably means anonymous, judging by another under-performance from a player so talented, yet so unwilling to give one hundred percent. Another ninety minutes of underachievement, with only brief contributions to the game.
Glass Half Empty
Puzzling that both players and management seem content to sit back with over half an hour to play, inviting the opposition forwards. With a goals against column reading forty five (only Grimsby had conceded more), Clarets are surely better attacking then defending, particularly when the opponent is as poor as Wolves were today?
Star Geezer
Gareth Taylor. In the first half he ran the show for the Clarets, putting in effort levels that saw him involved in every forward move. From the half way line to the opposition's penalty area, here was a player willing to give his all, ably supported by a first touch and short passes that brought the best out of his colleagues, typified by his pass that set Blake up for the first goal.
Glass Half Full
With such a depleted squad it is pleasing that Clarets can still surprise the vast majority of their fans with a win and performance like this one. Not many envisaged beforehand leaving the Turf happy after recent bad defeats against Rotherham and Gillingham, yet this was a performance that saw a return to competitive football by the centre midfield, long may that continue.