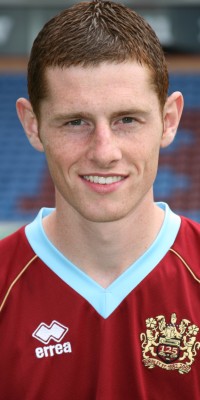 Chris McCann - Man of the Match performance
What a start we made, a win at table toppers Watford, and despite the late barrage from the home side we outplayed them on a brilliant night that had the 600 plus Clarets dancing with delight at the final whistle.
The late Watford goal was an injustice, we deserved to win this game by more than the one goal, and I can promise you that nothing's changed at Vicarage Road, if you want to watch football give this place a very wide berth.
Andy Gray and Joey Gudjonsson will take the plaudits, yes that is JOEY GUDJONSSON, but we had heroes out there in every area of the pitch and it was just fantastic to see these so called 'Golden Boys' so often chasing shadows against a side wanting to out football them.
With injuries we don't have too many options so it was no surprise to see Owen Coyle name the side that had started against Stoke on Saturday with the same five substitutes and my concerns ahead of kick off was how the style of play wanted by the new boss would cope against Watford's direct style.
It was some time before we saw any close up action in this game, but we weren't complaining. We were defending the end where the Burnley fans were sat and much of the early play was down at the far end of the pitch.
There were a couple of half chances that went begging before Watford had their first serious attack that led to a save from Gabor Kiraly but he was solely at fault with Watford's next attack when he played the ball straight to them. He rescued it with a save at the expense of a corner and he then came and caught that.
It was soon back to the other end and we came so close to taking the lead through the very impressive Chris McCann. Playing as well as he's ever done for the Clarets he hit the inside of the post. How many times is that he's hit the woodwork this season?
The game was already proving to be one of contrasting styles. The pass and move of the Clarets compared to the long ball from Watford with no obvious sign of any alternative.
Kyle Lafferty screwed a chance wide and then just before half time we went up for a penalty when Robbie Blake went down in a challenge with Watford defender Jay DeMerit. From our vantage point it was difficult to determine what had happened but news soon filtered through to the crowd that media sources were confirming that it was a clear penalty.
Friend had been worryingly leaning towards the home side for much of the game and he awarded a corner suggesting that DeMerit had played the ball. He got this decision, I am told, horribly wrong.
It might just have taken us into half time with the lead our display had so richly deserved, but it really was an impressive first forty-five minutes from the Clarets that Boothroyd's team simply had no answer to.
We had to make a change for the second half with Gudjonsson coming on for the injured Lafferty and that meant Alan Mahon, who was having another outstanding game, moving to the left hand side.
Watford had probably their best spell of play in the early stages of the second half but we were soon back into our stride and Estonian international goalkeeper Mart Poom did well to keep out the latest in the range of Gudjonsson pile drivers. We weren't to be denied much longer and took the lead with our next attack.
A superb Gudjonsson free kick found Wade Elliott on the right hand side. He teased the left back before going on the outside and finding the perfect cross for Andy Gray coming in on the near post to head home past the static keeper. Finally we were in front, finally there was some sense to the scoreline but I suspected the barrage would become greater.
We saw nothing of Watford for a while but then it came, with a bigger and heavier aerial bombardment than the country faced in the blitz. We needed to be tough, we needed to be strong, and we needed to deal with this ugly side of football. And we did.
I was getting concerned that we were pulling all eleven players back to defend set pieces, that there was not out ball, but when we did get possession with just over ten minutes remaining on the clock we doubled our lead.
Robbie Blake took possession, turned brilliantly before playing Joey through with the most exquisite of passes. It was Joey v Poom, one-on-one but the Clarets midfielder had no angle as he bore down on goal absolutely central.
There was no option, he had to take it round the keeper and he did just that. Poom got down and Joey lost his balance slightly as he leapt over to ensure he stayed on his feet. Had he gone down it would have been a penalty, but given Friend's night we probably wouldn't have got it. It took him wider than he would have liked but then made no mistake as he crashed the ball home.
2-0 but it still wasn't job done and the next bombardment started. We dealt with it time and time again with our two central defenders Clarke Carlisle (or Clinton Clarke for Sky viewers) and David Unsworth immense, but with four minutes to go we conceded a goal scored by defender Danny Shittu.
Surely we couldn't let this slip. We got to 90 minutes at 2-1 and then a further four minutes were added, and we played even longer, but when Friend finally blew the whistle the points were ours and anything other than a win would really have been a rank injustice.
It was a triumph for football. We've had criticism of our style of play over the years under various managers but never have I seen Burnley play like Watford, and I hope that I never have to witness a Burnley side playing like this.
Choosing a man of the match can sometimes be difficult. Sometimes we just don't have one but tonight there were candidates all over the pitch. I wouldn't disagree with anyone's choice no matter who they went for, but my choice is Chris McCann. His tireless work in the second half, with no little contribution, added to his storming first half was for me his best performance in a Burnley shirt.
Well done Clarets, an absolute delight to watch, and probably even better than the superb win at Colchester back at the beginning of September.
And a message for Boothroyd, recalling their antics last time we went there -
WINNING IS EVERYTHING
. Now we'll move on to Charlton where at least we know the opposition will play some football.
The teams were;
Watford:
Mart Poom, Lloyd Doyle, Jay DeMerit, Danny Shittu, Jordan Stewart (Damien Francis 75), Tommy Smith, Gavin Mahon (Nathan Ellington 80), Lee Williamson, Steven Kabba, Marlon King, Darius Henderson (Tamas Priskin 74). Subs not used: Richard Lee, Matt Jackson.
Burnley:
Gabor Kiraly, Graham Alexander, Clarke Carlisle, David Unsworth, Jon Harley, Wade Elliott, Chris McCann, Alan Mahon, Kyle Lafferty (Joey Gudjonsson 45), Robbie Blake (Steve Jones 83), Andy Gray (Ade Akinbiyi 87). Subs not used: Brian Jensen, James O'Connor.
Referee:
Kevin Friend (officially Leicestershire, but probably somewhere near Watford).
Attendance:
15,021 (including 602 Clarets).