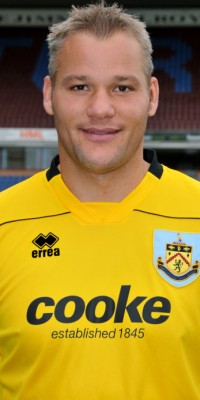 Brian Jensen - Man of the Match
FA Cup 3
rd
round day. It was always something special to me and to thousands of other people involved in English football. Just this week our manager (for now) Owen Coyle described it as the best national cup competition in world football.
This particular round, more than any other, throws up the potential giant killing opportunities, particularly when a lower division club is drawn at home to a top flight club. I've witnessed it from both sides, winning against the odds at home and losing unexpectedly away.
Liverpool in 2005 is the positive example and I still shudder at that 3-0 defeat to Oxford at the Manor Ground in 1971. What happened that night was the home fans created an atmosphere that lifted the whole place. The Oxford players responded to it and top flight Burnley, struggling away from home, didn't cope. Only goalkeeper Tony Waiters saved us from an even bigger hammering.
So to 2010. We're a Premier League club, struggling away from home and drawn against supposedly one of the better teams in League One. You know their fans will be up for it and you know they might just make it difficult.
That's how it should have been, but what a damp squib it was. Soulless I described it as, and the stadium itself certainly doesn't help, but I've never seen such a set of so called football fans who never bothered to get behind their team, never looked as though they were going to create any atmosphere.
At least there was noise at the Burnley end, at times, but most of it was aimed at Coyle to let him know what everyone thought about a potential move to Bolton.
There was no missing the Asda on arrival, the one reason for the very existence of this football club and ground. But the whole place just didn't look right, and the half finished ground was all about nice seats and just about nothing else.
They even had Peter Winkelman look-a-likes as stewards (I kid you not) and the attention grabbing chairman was prancing around on the touchline. More funny was his comment in the match programme that Burnley are a proper football club. How on earth would he know that?
Coyle opted not to do a Ranieri and didn't tinker with his side, the only changes from the team beaten at Everton were those forced on him. Richard Eckersley and Christian Kalvenes came in for the suspended Tyrone Mears and Stephen Jordan.
Up front, Robbie Blake replaced the unavailable David Nugent who had probably popped down to the south coast to see if there was any chance of any wages being paid.
There was also a new face on the subs bench with one of our youngest professionals Alex-Ray Harvey getting his first opportunity. Well done to him.
We started with Blake partnering Steven Fletcher up front in a 4-4-2 formation but after a difficult start we soon changed that with our more familiar 4-1-4-1 formation coming into play with Blake on the left, Chris Eagles on the right, and Elliott partnering Kevin McDonald in the centre.
From there things quickly improved and midway through the half we took the lead. Fletcher did ever so well to dispossess their left back Dean Lewington on the goal line in their left back area, and as he came into the box he was clearly fouled by former Plymouth defender Mathias Doumbe.
Referee Tony Bates had no option but to point to the spot and the ever reliable Graham Alexander stepped up to hit his spot kick to the right of goalkeeper Willie Gueret and in off the post.
Gueret, who had kept a clean sheet in a previous FA Cup tie against the Clarets for Millwall in 2004, was picking the ball out of the net just over ten minutes later. This time Fletcher was the scorer after he'd been played in really well by Chris Eagles.
We were well on top now and most of our good play was coming from Fletcher and Eagles, but in truth the home side were offering very little and other than those two players it was proving to be a very iffy performance from the Clarets with Wade Elliott and Kevin McDonald in particular offering little and so often needlessly giving the ball away.
Still, we were well worth our lead at half time, and in the opening stages of the second half we lifted our performance and produced our best spell of the game. We twice hit the woodwork, through Elliott and then Fletcher, but we couldn't just get that third goal which would have put the whole game to bed.
Then, out of the blue, it all changed. Ince made a couple of changes and one of them Jude Stirling can throw a ball a lot further than most. He hardly features in the side but suddenly he was throwing balls into our box and causing panic.
Now, the play was all at the far end and despite being 2-0 up we were hanging on as ball after ball flew into our penalty area. There seemed to be no problem where he took them from, moving ten yards further up the pitch was no problem.
Something had to give and it did. One more throw into the box was headed clear straight back to him. With all eleven of our players in the box we couldn't close him down and so he was able to get the ball straight back in.
We tried to play offside, this time it was Andre Bikey who didn't come out leaving the other late sub Dean Morgan to hit home past the exposed Brian Jensen who had no chance.
Suddenly there was a game on. Four added minutes went onto the board but we played considerably longer. More long throws went in, but we survived, just about, to ensure we were in the draw for the fourth round.
If this was practice for next week and the potential of Rory Delap, we didn't fair particularly well. But you have to ask questions of the officials who allowed the throws to be taken just where Franchise wanted to take them.
I'd no real problems with referee Tony Bates yesterday but he really was the only official. They talk about bringing in extra ones, trying to get the two assistants to do anything would be a good start. Both of them avoided giving anything all afternoon apart from the occasional offside and the ball out of play. They were both appalling.
As for the win, we deserved it overall, we were the better side. But it was closer than it should have been as we struggled to deal with that late onslaught.
It wasn't a good performance to be honest and not too many came out with too much credit. Attacking wise, it was all down to Eagles and Fletcher. They both did well although Eagles should have delivered more and Fletcher again did miss a couple of chances.
Defensively, until the goal mix up, the two central defenders had done well as had Grezza just in front of them.
But my man of the match was goalkeeper Brian Jensen. He got nothing wrong all afternoon, apart from one shaky moment when he went down late to a shot but scrambled it away for a corner. Without his performance it might just have been a lot more difficult.
The last period of the game was played with the Burnley fans all on their feet chanting for manager Owen Coyle. Whatever he's going to do, and I do suspect he might be on his way, those Burnley fans at this apology for a football ground let him know in no uncertain terms what they thought of him. Over to you Owen.
Just a final thought on the FA Cup. It used to be a superb competition but that surely is no longer the case. The debate on radio last night on the return journey was all about the lack of interest in it from clubs, fans alike. Certainly that was the case here; you would never have got a cup tie like that years ago. Those days won't return.
The teams were;
MK Franchise:
Willie Gueret, Luke Howell (Jude Stirling 80), Danny Woodards, Mathias Doumbe, Dean Lewington, Jason Puncheon, Stephen Gleeson, Peter Leven, Jermaine Easter (Dean Morgan 80), Aaron Wilbraham, Sam Baldock (Luke Chadwick 55). Subs not used: Jemal Johnson, Mark Carrington, Lewis Gobern, Darren Powell.
Yellow Cards:
Mathias Doumbe, Jermaine Easter.
Burnley:
Brian Jensen, Richard Eckersley, Michael Duff, Andre Bikey, Christian Kalvenes, Wade Elliott, Kevin McDonald (Joey Gudjonsson 71), Graham Alexander, Chris Eagles, Robbie Blake, Steven Fletcher (Steven Thompson 87). Subs not used: Diego Penny, David Edgar, Alex-Ray Harvey, Fernando Guerrero.
Referee:
Tony Bates (Stoke-on-Trent).
Attendance:
11,186.