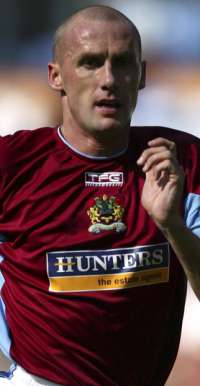 A fine Claret - John McGreal
The pitch therefore became a talking point, or the three pitches now on display at Turf Moor. We have the lush new strip down an entire wing replacing the marshland formed after the waterlogged Liverpool tie, we have the greeny bits elsewhere, mainly down the opposite wing and we have the sandy strip down the middle interspersed with grassy bits, making a surface that is at best inconsistent in its ability to allow a ball to roll consistently across it.
Not that Reading's star man, Ibrahima Sonko would worry about the pitch. Oh no; only the upper reaches of the stratosphere concern young Ibrahima and his safety first approach to clearances. "Excellent in the air" it stated in his programme notes - much less so on the ground thought the 11,000+ who enjoyed his game at his expense, given the sarcastic cheering at his every hoof up field.

Clarets were boosted before the game by the passing of late fitness tests for both Captain Frank and Michael Duff, though the latter's would prove dubious and never looking more than three quarters fit, Duff managed just thirty minutes before needing replacement by Lee Roche.
Bar the suspended Hyde, the Clarets were therefore at full strength and with both Coyne and Valois getting bench warming duties, the prolonged injury period could now be coming to a thankful end.
Having lost the toss, Clarets played towards their fans in the first half and the forty five minutes proved very long ones with little in the proceedings to get either 'keeper's gloves dirty, with both sides packing central midfield and further wearing out what is left of the balding centre field.
McGreal was in the wars and a nasty looking clash of heads saw him needing lengthy treatment following an airborne collision.
Former favourite Little failed to rekindle memories of his Claret days, but was the first to muster anything approaching a shot and this after half an hour of play before Roche made his enforced entry.
A momentary lapse in Clarets defensive ranks saw the Beast stay at home and Reading's measly support of three hundred jump to their feet in protest at a supposed handball by Sinclair.
Ten minutes from the break and the Beast claimed a corner ball well only to be hampered in his attempts to release the ball early by a frustrated Hughes. After a minor handbags skirmish, both were left off with a talking to by ref Jones.
Five minutes from the break and Hughes tried his luck again, but his shot was tame and easily saved by the Beast easily fulfilling his main duty of the half.
Clarets one and only moment came three minutes from the break when a stretching Branch got well and truly under a Sinclair cross, his resulting half volley going as skywards as any in the half had from crowd favourite Sonko.
The half time whistle came as something as a relief and maybe one or both of the managers would see a way past their opposition if the second half was to be an improvement.

HT 0-0.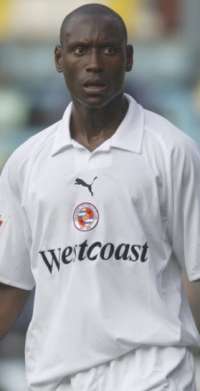 Sour grapes - a choice between the missing striker or Ibrahima Sonko
The second half proved better than the first, but this was only marginal. Branch stayed in the warmth of the dressing room, so Valois got an early return from his hamstring problems and Reading had clearly been given instructions to "up" their game, judging by the first few minutes of action, Sidwell's great early low cross causing a moment for the once again impressive Cahill.
Hughes' frustration was there for all to see again, when Mr Jones waved away his frantic claims for a penalty as Camara challenged for a ball into the area, before the game's only caution saw Sidwell receive a yellow for a late challenge on Grant.
Chaplow, given his first League start since October, showed neat touches of quality throughout and none more so than ten minutes into the half when good footwork sent a pass into Moore, who after surprisingly beating Sonko, saw a curled shot go past Hahnemann's far post with only the ball boy needing to panic.
By the hour mark, even the officials were sleeping and a comatosed linesman missed Hughes being offside, but the run ended in nothing more than thankful disappointment from a Royal perspective. It did though briefly inspire the visitors who enjoyed their best spell in the game from the hour mark.
The again lively O'Connor was quick to block Sidwell's shot and McGreal was on hand to clear off the line when the Beast was out of position from a looped Little header, before McGreal again tackled well when superbly robbing Hughes at the vital moment.
Down the other end, Grant intercepted Little's poor ball and his then threaded pass to Moore saw a shot blocked at the expense of a Clarets corner, before Reading came closest to opening the scoring, Convey's curled free kick hitting the bar, Jensen looking less than confident in his judgement.
Clarets rallied briefly, Chaplow again showing neat skill put O'Connor through and whilst Clarets had the better of the closing stages, the best they could muster was a curled twenty five yard shot from Valois, that whilst having Hahnemann at full stretch could only shave the outside of a post on its way to safety before Mr Jones confirmed the sharing of the points, leaving Reading in fourth and without a goal in four League games, whilst for the Clarets the point from the third consecutive home clean sheet was enough to move up to tenth spot in the League.

FT 0-0.

Att: 11,392.

Sour grapes
There's no need to look around for blind men on galloping horses, everyone recognises there is room for a striker in Steve Cotterill's plans. But when he arrives rather than if, will determine much of where Clarets finish in this season of ever increasing optimism. As for Sonko, based on today's showing, just how did he get the nod from a professional scout?

A fine Claret
A bit of a tough one on a day of much mediocrity, but my vote goes to John McGreal. Able to continue after a nasty clash of heads in the first half, he dealt with the constant threat posed by Forster, cleared off the line in the second half and made a number of key challenges in yet another solid display.