The players, as one, came over to salute the travelling 1,700 as cries of "Sean Dyche's Claret and Blue Army" could be heard alongside "We are staying up", one which did surprise a few. But of course, until last season, 50 points was the magical figure at which it was believed safety was virtually secured.
It was always Stan Ternent's first target at the start of the season and every August he would tell us, "We'll get to 50 points and then crack on and see where it takes us."
This was one of those games that football supporters tend to worry about, a team struggling to obtain points in a new division. Every now and then they get a victory against the odds, and Yeovil did not too long ago against Little Billy's Forest. You always hope it is not going to be your team but deep down you worry that it is.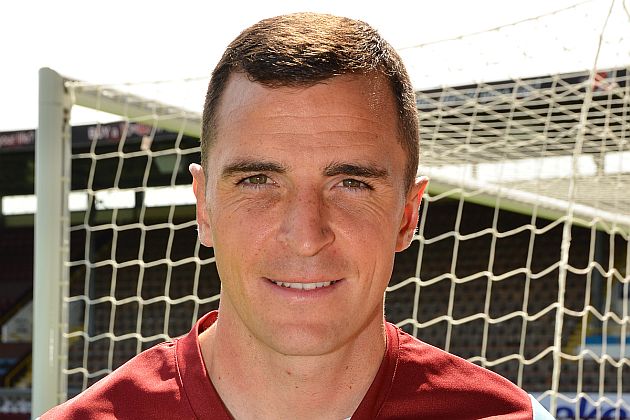 Dean Marney was outstanding, particularly in the second half
The fears were long gone by the time Yeovil scored their goal. By then Danny Ings and Sam Vokes had both again found the net, and in truth we didn't ever seriously see our advantage threatened despite some late pressure from the home side.
This was the trip I'd been looking forward to personally. Another new ground to visit and a lofty position in the league helped swell the following that saw the open terrace and the small area of seating for visitors all but full.
An early start brought a smooth journey down with only an illuminated, and incorrect, M6 sign informing us that the road was closed in the Staffordshire area to worry about. With no such closure the only problem was the calling off of our trip to Eli's pub but we found ourselves a decent watering and feeding hole around four to five miles from our destination before completing the journey and parking up close to the ground.
The players were warming up when we got inside with the man in the number 30 kit attracting the most interest. We learned, as expected, that our new man Ashley Barnes would be on the bench with the club confirming that the team was unchanged from last week although Michael Duff was back in for Kevin Long who joined Barnes on the bench along with fit again Michael Kightly.
Our concerns were the seating arrangements. I'd ensured I wouldn't be too close to the front and accepted, from our ticket office, a batch of tickets for Row AA. "That's far enough back," I considered only to arrive to find that a new row, AA, had been placed at the front ahead of rows A, B, C etc.
I sat in my seat and thought I'd see precious little of the game, but thankfully there were a group of seats at the back not taken and we were able to scurry there just ahead of kick off where the view, apart from the sun in our eyes, was considerably better.
Once the playing of a rather strange, and Somerset style, version of 'Two Little Boys' was played over the PA system we were ready to start but in truth it was a scrappy opening.
To be fair you would not have expected anything much better on a pitch that was hardly suitable for flowing, passing football. It might not have been anything as bad as ours used to get prior to the new pitch being installed in 2010 but it was obvious right from the beginning that the pitch was going to cause some problems.
Both sides did their best to get a grip on the game but for much of the opening quarter of an hour there was little of any quality as players struggled with the bounce of the ball and a number of passes went astray.
You sensed it might take a mistake to open up the game but I find it staggering that Yeovil boss Gary Johnson puts down the opening goal to that and nothing else.
David Jones, as good as anyone on the pitch in the first half, headed the ball forward but it was misplaced and straight to Yeovil's Luke Ayling. He never had control and could do no more than push it back towards Jones who diverted it on to Ings.
Danny did the rest, turning some 25 yards from goal and unleashing a right foot shot that flew into the corner of the net giving goalkeeper Marek Stech, who I last saw playing for our reserves at Oldham, with no chance whatsoever.
It prompted a spell which saw the Clarets take command with little seen of the home side for the remainder of the first half. We had a couple of chances of sorts to double the lead; Ings shot over the bar after good work from Jones and Scott Arfield and just before half time Vokes couldn't quite beat Stech with a header following a good cross from Keith Treacy.
So 1-0 at half time and I felt confident we could take that on and win the game. We did, but there were one or two scares on the way before we got there.
Treacy was the first to come close. He made a good run and won a free kick not too far outside the box. He took it himself and forced the goalkeeper into a good save down to his right just as it looked to be creeping in close to the post.
Vokes almost got himself on the scoresheet after a great link up on the right between Kieran Trippier, Dean Marney, who was in outstanding form particularly in the second half, and Arfield with the latter playing the ball in but Vokes saw his effort hit the post.
It wasn't all one way. Yeovil might not be the most gifted side in the league but they certainly work hard and make it difficult and they don't concede too many goals, it's just that they don't score that many either.
They'd come close early in the half when Duff came to the rescue with a good challenge, and then came even closer when Joel Grant got to a cross first but hit the top of the bar with his header.
It probably needed another goal and it came via our other usual source. Ings had got the first and Vokes, having come so close with the one against the post, got the second, incredibly the sixth time both he and Ings have scored in a game this season.
Marney got onto the ball after a mistake from former Claret loan player Shane Duffy. What Duffy's dad had to say about it I don't know but Marney played a one-two with Ings, getting onto the return pass and getting into the penalty box on the right hand side. He looked up, saw Vokes at the far post and played it across. The striker wasn't going to pass up that opportunity and stroked it home before celebrating in front of the standing Burnley fans in the open end.
There was a short delay before we resumed. Someone, for some reason known only to himself, decided to run on from the away end. He tried to get back into the terracing but his afternoon at the football was over as stewards took over and marched him out, presumably all the way to a court hearing and a potential ban.
It had no effect on our play and we looked very likely to get a third. Stech made good saves from both our strikers as we started to dominate. A third goal at this stage and it would have been game over, but it didn't come.
With around 17 minutes remaining we made our first change. Junior Stanislas replaced Treacy who was having an excellent game. I was surprised. I reckoned that should Dyche decide to bring off Treacy it would be to tighten things up with Michael Kightly.
It didn't work. We seemed to lose our shape and we allowed Yeovil to push at us more. They forced Tom Heaton into his only save of the match of any note when he tipped a shot over and then, with ten minutes remaining they pulled a goal back through substitute Kieffer Moore.
From a position on the left he crossed the ball into the box. Jason Shackell was there; Danny Lafferty, who had his best game since coming in for Ben Mee, was there as was Heaton. None of them got a touch as the ball crept in at the far post. Judging from the reaction the responsibility (or blame) for the goal was going Shackell's way but nonetheless we suddenly had a game we needed to win.
As expected, Yeovil put us under some pressure, getting balls into our box at every opportunity. They even threw Stech up for a set piece right at the end. But in truth they didn't threaten again. We defended well; we closed the game down well and even gave Barnes his first few minutes in Burnley colours. When the final whistle blew we were very much worthy winners.
Yeovil don't take hammerings at Huish Park. It's a difficult place to go and play and this was, make no mistake about it, a good result for us. The reaction from players, manager, staff and fans at the end told you that. It kept us in second place and took us 12 points clear of 7th place.
It's the quickest we've got to 50 points for 12 years, and on that occasion the 50th point came with a 0-0 home draw against Millwall who fielded Sean Dyche in their defence.
Then Stan's team didn't really crack on at all and took only 25 points from the remaining 21 games, just about relegation form and still got within a goal of the play offs.
I'm not saying we are guaranteed a play off place now, but we're already treading the water of a top six finish and I do think this team will crack on. Anyway, I think I can safely say - 'We are staying up'.
The teams were;
Yeovil: Marek Stech, Luke Ayling, Byron Webster, Shane Duffy, Liam Davis, Kevin Dawson (Kieffer Moore 61), John Lundstram (Ed Upson 67), Joe Edwards, Joe Ralls, Joel Grant, James Hayter (Adam Morgan 74). Subs not used: Chris Dunn, Sam Foley, Jamie McAllister, Matteo Lanzoni.
Yellow Card: Joe Ralls.
Burnley: Tom Heaton, Kieran Trippier, Michael Duff, Jason Shackell, Danny Lafferty, Keith Treacy (Junior Stanislas 73), Dean Marney, David Jones, Scott Arfield, Danny Ings (Ashley Barnes 88), Sam Vokes. Subs not used: Alex Cisak, Kevin Long, David Edgar, Brian Stock, Michael Kightly.
Referee: Stephen Martin (Staffordshire).
Attendance: 6,293 (including 1,705 Clarets).