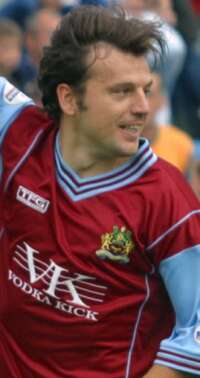 Robbie Blake - two goals including one from the penalty spot
In terms of history the result is not a shock, Sheffield United have almost as bad a record at the Turf as we do at Bramall Lane. This was the 50
th
post war league clash between the two clubs and an incredible 35 of them have been home wins with only six of them ending in away wins (and only one of them in the last 30 years).
There was some special news for the 'Real' Burnley fans, the Clarets Foundation members, before the game when they were told in their exclusive bar that Delroy Facey had returned to Burnley and was on the subs bench. The 'Real' fans were delighted with this news but given that his loan period had reached the maximum three months and that we are currently outside the Premiership's transfer window it just could not happen. And guess what - it hadn't happened.
It was in fact business as usual with Stan having only fifteen players to select from and two of those guaranteed unused substitutes.
Last time a Sheffield club visited the Turf the game was highlighted by probably the worst displays of goalkeeping I have ever seen at Football League level and it proved to be the last Turf Moor first-team appearances for both Nik Michopoulos and Marlon Beresford.
That was against Wednesday but we certainly didn't want that standard of goalkeeping again when Warnock's Blades come to town.
The predictable programme comments from Stan again refused to welcome the visiting manager and the early part of the game was dominated with chanting by both sets of fans aimed at the two managers. Needless to say there was no communication between the two of them.
Arthur returned for suspension to replace the now suspended David May and that was expected but Stan chose to increase the back four changes to 50% by leaving out Dean West. Fred has been in disappointing form and in came Lee Roche for his first league start since the 6-1 defeat at Ipswich.
Worryingly every time Roche has started a league game for the Clarets we have been beaten and a week ago at the Sunderland was the first time we had avoided defeat on his substitute appearances. Roche was in need of a change of luck. With May out and Graham Branch injured Ian Moore captained the side for the first time.
Sheffield United made changes and significantly in goal. Two keepers had been signed on the Friday and both ex-Blackburn players. The little known Lee Baxter was chosen ahead of Alan Fettis for his first ever game in the Football League.
There was nothing Baxter could have done though from Burnley's first serious attack as we took the game to Sheffield United. Glen Little squared the ball for Richard Chaplow who hammered an unstoppable shot against the bar and back out again.
We're not having much luck with the woodwork just at the moment and apparently we have hit it more times than any other club in the Football League this season. There was another to add to the list, and another that could so easily have gone in.
Burnley were very much on top in the early stages and we took the lead but there was much to thank the debut goalkeeper for. Robbie Blake hit a shot from just outside the area. It was on target but should have been easily saved. He didn't hold it though and it found its way into the bottom corner to his right.
It should have been 2-0 as well when Glen got clear but he elected not to shoot and instead played the ball out wide to Luke Chadwick who squared it for Chappy but the youngster fired over the top.
Glen, in disappointing form again, has never been a prolific scorer but the goals really have dried up for him now and only once has he found the net this year, in the last minute of a 3-2 defeat at Walsall.
We paid the price too and Sheffield United turned the game on its head by scoring twice in seven minutes to go in front.
The first one should not have counted as Peter Ndlovu clearly handled the ball to bring it under control before playing it to Nick Montgomery who from the right hand side of the box hit a low shot into the bottom corner. And then it was the turn of former Bolton defender Mike Whitlow who headed in from a Michael Tonge cross.
The Turf was silenced but not for long as we won a free kick on the right hand side midway in the Sheffield United half. Blake floated it into the box and skipper Moore won it to head goalwards.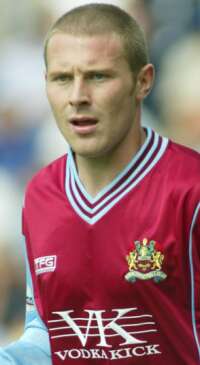 Ian Moore - captained the Clarets for the first time and scored the second goal
Baxter wasn't going to make another howler though – oh yes he was – and Moore's header gave us the equaliser. We had been behind for just three minutes.
Back on top we were almost back in front in the last minute of the first half. Again it was a Moore header (this time from a corner) and it looked certain to give us the lead until Tonge somehow got his head to it on the line and completed an incredible clearance.
Straight back we went and the ball fell to McGregor, still up for the corner and as he got into the box he went down under a challenge. No chance said referee Neale Barry, clearly waving play on, but the assistant on the left hand side was flagging furiously and Barry pointed to the spot.
Blake's missed his last three but stepped up to give Baxter no chance and we went in at half time 3-2 up after an amazing incident packed first half. It ended with Warnock and his staff dragging their players away from the referee.
That was only so Warnock could have a go at Neale Barry himself in such a way that surely he will be in serious trouble again with the Football Association.
Chadwick didn't return for the second half, replaced by Paul Weller but more importantly the visitors chose to change goalkeeper. As it happened it wouldn't have made a scrap of difference who was in goal during the second half, there were no shots to save.
It really wasn't very good from the Clarets who seemed to just go deeper and deeper and invite trouble the longer the game went and that was despite the fact that Sheffield United had to play the last half an hour and more with only ten men after Michael Brown received a straight red card for a challenge on Robbie Blake.
The referee was only a matter of feet from the incident with the clearest of views and had no hesitation. Needless to say the midfielder who is set to walk out on Warnock and a free transfer move to Rangers left the field to cries of 'You're not playing any more.'
By this time the fact that the Clarets had remained in front was very much down to keeper Brian Jensen who had to be in inspired form in the early stages of the second half. He made two superb saves and on a number of other occasions had to react smartly to get to balls before onrushing forwards.
But we just seemed content to try and keep what we had, a very dangerous way of playing, but did hang on in the end. There was one scare deep into the last minute of stoppage time when we conceded a free kick right on the edge of our box.
Up stepped Tongue, a free kick expert, but this time his effort was deflected for a corner and when that was cleared Barry signalled the end.
The two managers made their way off yards from each other until Warnock made a beeline for the officials. Stan got there first to shake their hands and congratulate them on a good game.
Warnock was ranting and raving as he made his way off as we returned to normal for this fixture, a home win.
There is no doubt that we are capable of playing good football and we were without question the better side in the first half and well worth an interval lead. Robbie Blake was at his tantalising best with Ian Moore back on form alongside him.
Chappy was a bit quieter than normal, he's entitled to a performance every now and then that can only be described as good, but again Tony Grant was in excellent form alongside him.
And then there was Mark McGregor who has returned from injury and won a place because of the suspensions. Again he was in tremendous form just as he had been at Sunderland last week. It certainly gives Stan a major poser for next week with both Arthur and May available and the two of them also in good form.
But that was the first half and things changed so much after the interval. McGregor, my man of the match, was very much an important figure during that second half as was Jensen behind him.
I cannot help thinking though that a fourth goal would have made those closing stages somewhat easier to watch. At the end of the day though we collected the three points and as Stan would say that's the object of the exercise.
And I don't think he gives a damn how we get them against this lot, just as long as we get them.
The teams were,
Burnley: Brian Jensen, Lee Roche, Mark McGregor, Arthur Gnohere, Mo Camara, Glen Little, Richard Chaplow, Tony Grant, Luke Chadwick (Paul Weller 45, Dean West 86), Robbie Blake, Ian Moore. Subs not used: Joel Pilkington, Matt O'Neill.
Sheffield United: Lee Baxter (Alan Fettis 45), Phil Jagielka, Chris Morgan (Mark Rankine 72), Mike Whitlow, Alan Wright, Nick Montgomery, Michael Tongue, Stuart McCall, Michael Brown, Peter Ndlovu, Wayne Allison (Mr Karren Brady 72). Subs not used: Robert Page, Dries Boussatta.
Referee: Neale Barry (Scunthorpe).