Don't listen to the bitter, twisted, under pressure Nigel Pearson, this was a fully deserved point from a much improved performance and against the odds with so many players missing from the starting line up.
We were still without Danny Ings, Matt Taylor, Dean Marney and David Jones; Nathaniel Chalobah had been added to that list and by the time our second goal had gone in we'd seen Kieran Trippier stretchered off, and far too much delayed for the offensive Leicester boss.
The Burnley supporters, who I will just have to refer to later in the report, went wild with delight and we all left the ground feeling as if we'd won the game whilst the Leicester fans carried a miserable appearance that seemed to have perfectly captured their manager.
We might still be looking for our first win of the season and we might have just broken a club record for the longest time without a goal, but you wouldn't have thought it if you'd been in that corner of the King Power yesterday where the away fans were stood or seated.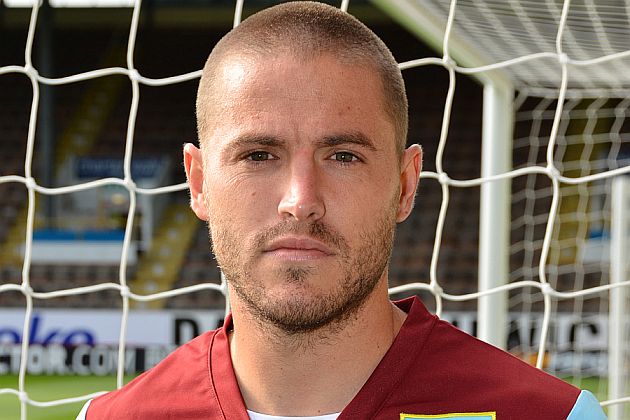 Michael Kightly ended the goal drought with our first equaliser
I'd like to thank the Highways Agency and the good old British weather for hampering our journey down. I don't think I've seen quite so many road works in one journey before. Add torrential rain to that and it made for a less pleasant journey than hoped. It was hard to believe that later in the afternoon my hands would be used to shield my eyes from the sun.
I know we are stuck in the bottom three still with just four points but, overall, I'm really enjoying this season. To be able to see my team playing at the top level again is an absolute treat for me and I'm going to make the most of it.
I suppose I didn't enjoy the Hawthorns that much but I was still ready to go again yesterday although with the players available to us there was a less positive feel amongst the supporters outside and then inside the King Power.
We knew none of the injured group were back and we knew Chalobah was nursing his damaged wind pipe. We very soon learned that another player, this time Steven Reid, was not in the match day squad.
Reid had started last week at his old club, as had Wallace whose name was also missing from this starting line up. Stephen Ward, making a Premier League debut for the Clarets, came in for Reid with Ashley Barnes, getting a first league start of the season, replacing Wallace which allowed us to revert to our more accustomed 4-4-2 formation with Ward, a left back by trade, taking a central midfield place alongside Scott Arfield, he who does not get selected for Scotland.
What we didn't want was another performance similar to the one at West Brom. It was very un-Burnley like. It didn't take long to realise that we weren't going to get that and this Burnley performance was going to be the type we've got very used to.
Sean Dyche's framework was back in place as was the energy in the team and I think we offered more in the first few minutes of this game than we'd offered in 90 minutes at the Hawthorns.
We had the first chance of sorts. Lukas Jutkiewicz, a tireless worker again, got a ball across from the left. It just eluded Kasper Schmeichel but Michael Kightly couldn't quite get on the end of it beyond the far post.
Chances in the first half hour were at a premium though. There wasn't too much between the sides although Leicester probably just had the edge in terms of potential goalscoring opportunities. Tom Heaton made one good save and Ben Mee, who I thought had an outstanding game at left back, cleared one threatening attack away for a corner.
So far so good I thought, but then Leicester took the lead and it was a very simple goal. Algerian Riyad Mahrez got the better of George Boyd down their right. He crossed low and Jeff Schlupp was unchallenged as he scored with ease.
Now there was a battle on for the Premier League team who had scored just once all season, but only six minutes later that unwanted tag was thrown away when we drew level.
Arfield played the ball in from left of centre. It was met at the far right hand post by Jutkiewicz and his cushion header was perfect for the onrushing Kightly who got to the ball before Schmeichel and scored.
Kightly had ended last season in some goalscoring form and this goal meant he'd scored four of our last eight league goals, starting with the winner at Blackpool last Easter.
The celebrations unfortunately didn't last nearly long enough. It took Leicester seconds over a minute and a half to regain the lead and it was a bad one from our point of view.
Schlupp and Jamie Vardy broke down the left and when Vardy crossed it left Mahrez with an easy header to score. Mahrez had definitely benefited from a deflection off Jason Shackell but he'd not been tracked by any of our midfielders which left him totally unmarked.
That was it for the first half and after a quietish start to the second we started to really take the game to the home team.
With just over twenty minutes remaining we made what I think was a vital change with Marvin Sordell coming on for George Boyd. Sordell gave us that bit more movement and some pace and we were now very much the team in the ascendancy.
The next change saw goalscorer Kightly, who had played so well, replaced by Wallace but we could not have envisaged the drama that was still to come.
With the clock ticking down, Kieran Trippier got over a superb cross from the right but then fell in a heap. There is no doubt that the challenge from Schlupp, right in front of assistant referee Andy Garratt, was a bad one, and might have been deemed worthy of a red card.
The television pictures don't capture it too well and I can't be certain whether any contact there has caused a problem for Tripps or whether it was the way the two of them landed, but it was abundantly clear he was in some distress.
We'd already signalled to the bench to get Michael Keane ready when Trippier tried to get up and crumbled to a heap on the ground which then saw the immediate call for a stretcher.
After some time he was stretchered off and I have to comment on the Leicester fans and Pearson. Trippier was roundly booed by the home fans, something I find quite distasteful, but the comments from Pearson about us taking too long to get him off are nothing short of appalling.
There was always a chance we might concede another on the break. We'd thrown Shackell up in the hope of finding an equaliser but as we reached 90 minutes, with the board showing an extra seven to come, we still trailed 2-1.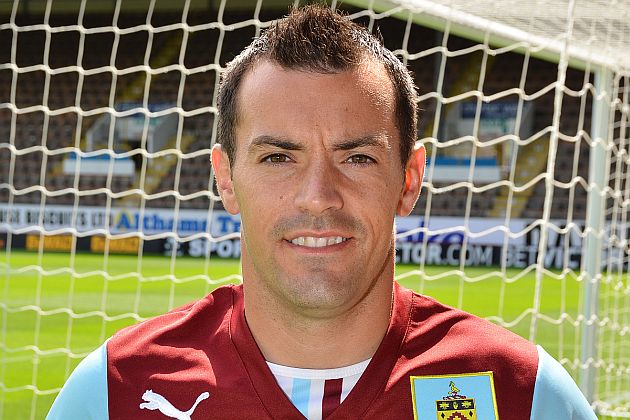 Ross Wallace won us a point with a brilliant stoppage time free kick
Then Arfield got the ball out to Wallace on the right flank. He turned Paul Konchesky one way and then the other before crossing low for Barnes whose shot was blocked. Leicester could only get the ball out to Arfield who was just outside the box and as he moved to get into some space he was fouled by Matty James.
Phil Dowd, who had a bizarre afternoon, giving a ridiculous first yellow of the game to Ward and feeling it was his role to help downed Leicester players to their feet, actually got this one spot on and awarded us a free kick.
I'm not too bothered where Schmeichel was as Wallace prepared to take it, but I do know where the ball went. It was a brilliant free kick over the wall and beyond the despairing dive of the Leicester goalkeeper. As it hit the net I, and almost 2,200 other Clarets went crazy. You'd have thought we'd won the league rather than just rescued a point.
But it felt like a win, it always does when you equalise so late, and the atmosphere as we left the ground at the end was terrific, made even better as we saw all the sulking home faces.
Our fans. What can I say? I've said it before that, on occasions, it is an absolute privilege to be in the middle of it, and yesterday was very much one of those days.
Dyche referred to it at the end and I'm told that the Leicester directors spoke of our support in the board room after the game, saying we'd surpassed that from their previous visitors this season including Everton and Man United. Our co-chairman John B told Clarets Mad that it was fantastic. "I would like to think we can replicate that when West Ham come to Burnley in two weeks time," he told me.
It was fantastic. It was very special. All through that second half we had constant renditions of 'We are the Longside, Burnley', of 'Sean Dyche's Claret & Blue Army', of 'Come on you Clarets' and the now very popular 'In our Lancashire Home' which even the Yorkshire contingent on our row joined in with.
It's only another point and we are still next to bottom of this league, but for me, of our seven games so far, I've only come off the ground once disappointed with our performance.
All we can ever ask of our players is that they give their all. Dyche has said often enough that the minimum requirement is maximum effort. Yesterday we got maximum effort and more, to go with it we got that passion and real desire from our players.
They all gave us absolutely everything. It looks as though Ings, Marney and Jones will be back for the Hammers; Taylor and Chalobah could be too. Tripps' injury might not be as bad as first thought and the only other player injured yesterday was Mee who took a knock.
Sean could have some real decisions to make in two weeks time, because it looks as though he's going to have a much stronger squad to select from.
I'm looking forward to it. I loved it yesterday. If we could just get that first win.
The teams were;
Leicester: Kasper Schmeichel, Ritchie De Laet, Wes Morgan, Liam Moore, Paul Konchesky, Riyad Mahrez (Anthony Knockaert 72), Danny Drinkwater, Dean Hammond (Matty James 78), Jeff Schlupp, Leonardo Ulloa (David Nugent 63), Jamie Vardy. Subs not used: Ben Hamer, Marcin Wasilewski, Andy King, Chris Wood.
Yellow Cards: Jeff Schlupp, David Nugent.
Burnley: Tom Heaton, Kieran Trippier (Michael Keane 86), Michael Duff, Jason Shackell, Ben Mee, Michael Kightly (Ross Wallace 79), Scott Arfield, Stephen Ward, George Boyd (Marvin Sordell 67), Ashley Barnes, Lukas Jutkiewicz. Subs not used: Matt Gilks, Kevin Long, Danny Lafferty, Steven Hewitt.
Yellow Cards: Stephen Ward, Scott Arfield.
Referee: Phil Dowd (Stoke-on-Trent).
Attendance: 31,448 (including 2.196 Clarets).