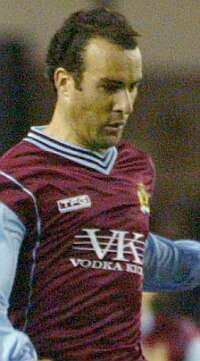 Graham Branch - badly at fault with the goal
A quick glance at the league tables shows clearly that we could very well be playing league games at Spurs and at Leeds next season but there again we could be heading to Doncaster for the first time since the dark 4
th
Division days.
There is no other way of looking at it, today's performance against Stoke was abysmal and many more like that and we will surely be on our way back to the 2nd Division.
Things are so bad at the moment that it is even getting to the Chairman who was boasting of having a third New Year in Division One, it is actually four Barry and not three. But somehow the chances of it reaching five are starting to look less and less likely.
It was always going to be a worry today as to who might score when the Club's own online betting site were giving the shortest odds on the first goal scorer being Delroy Facey. His name just doesn't seem to go away.
Today was a chance to at least end the run of defeats simply because the opposition weren't even particularly interested in trying to win it but were happy to defend and look for a 0-0 draw whilst occasionally hitting long balls up field to two dummies you simply would not have given.
Our only changes was the predictable ones of David May and Luke Chadwick replacing the suspended Arthur Gnohere and Glen Little. It could well have been that Little would have been out injured anyway but let's face it the man on the moon has as much chance of gleaning that sort of information from Burnley Football Club as anyone else.
Just as at Crewe we nearly got off to the best of starts with an early goal and Ian Moore will wonder just how he didn't give the Clarets the lead with the only effort he has had on goal through the Christmas period.
Former Chelsea keeper Ed De Goey made a mess of a cross from Fred West but Moore could only put his header onto the post and the chance of a good start was gone. We should really have enjoyed the moment because it was about all there was to offer in the way of entertainment throughout some of the worst football seen on the ground since we were promoted.
Richard Chaplow and Paul Weller had half chances whilst the assistant referee on the right wing came under threat from some Mo Camara crosses from the left wing as the temperatures dropped. It always seems colder when the game is not at its best and it is fair to say that it felt as though it had dropped way below freezing by the time Dermot Gallagher signalled the end of the half.
We had the usual wonderful half time entertainment of cheerleaders and the shouting leather coat before the players returned for what just had to be a better 45 minutes than we had already seen.
And there was some early excitement as Stoke decided to change their goalkeeper with Neil Cutler coming on for the limping De Goey although there had been nothing to suggest how the Dutchman had picked up the injury.
With the crowd settling down after this excitement the impossible happened when the team that wasn't trying to score a goal actually did so. And once again it was a ridiculous defensive mistake that cost us as Graham Branch, again subjected to playing in the centre of defence, gave away yet another goal by allowing the dreadful Akinbiyi to go through.
It was a good ball through to the striker from Burnley's summer target John Eustace but surely anyone playing at this level should not have allowed the Stoke forward to go through. But Branchy was the wrong side of him and the damage was done.
The 'Delilah singers' at the Cricket Field End saluted the man they have very little time for and they must have sensed, even with 37 minutes to go, that they had by now done enough to win it.
If it wasn't over then it surely was after 67 minutes when a second yellow saw the game come to an end for Marcus Hall. Now if there is something that Burnley do worse than anyone else it is to play against ten men (or nine for that matter). Referee Gallagher got the decision right but he certainly did us no favours.
Luke Chadwick looks like little boy lost to me on the left hand side and it was crying out to give him a go on the right especially with Hall now off the field. Any chance of that came almost immediately after the dismissal when he was taken off to be replaced by Jay McEveley.
He went into the back four with Branchy now being given a go up front as we had a big swap round. But if that substitution was a surprise the second was a sensation as one of the unusable subs came on.
Nobody could quite believe it when Matt O'Neill got up but sure enough he came on for the yet again very poor Mo Camara. It was his first appearance since the opening day of the season but in his short period on the pitch he failed to make any impact other than putting Stoke under pressure with a long throw.
The final whistle was greeted with boos from three sides of the ground and this really has to be the worst home defeat of the season simply because the opposition were a rank bad side who weren't even trying to win the game.
That says much about our performance, and please don't believe those who will try and have you think that we created chances. We created virtually nothing all afternoon and hardly put them under any pressure whatsoever.
It was an abysmal performance from which we got exactly what we deserved – nothing. And to make matters worse, with both Palace and Watford winning, we have now found ourselves sitting right on top of the bottom three.
Thanks Norwich, your win at least kept Derby, and their one game in hand, four points behind. But that's for now and much more of this form will surely see us heading for Doncaster next season.
I enjoy going to the big grounds, trips to West Ham and Sunderland this season have been superb days out. I want the chance to see us at maybe Leeds or Spurs again next season but before we can even think of that we need to put an end to this dreadful run and start winning games.
So we have to stop conceding ridiculous goals and perhaps it would help if we employed defenders in those defensive positions. I'm getting more and more worried as the season goes on and today was just quite simply not acceptable.
The teams were,
Burnley: Brian Jensen, Dean West, David May, Graham Branch, Mo Camara (Matt O'Neill 83), Paul Weller, Richard Chaplow, Tony Grant, Luke Chadwick (Jay McEveley 70), Robbie Blake, Ian Moore. Subs not used: Lee Roche, Mark McGregor, Joel Pilkington.
Stoke: Ed De Goey (Neil Cutler 51), John Halls, Wayne Thomas, Gerry Taggart (Kris Commons 24, Karl Henry 69), Clive Clarke, Darel Russell, John Eustace, Richard Johnson, Marcus Hall, Gifton Noel-Williams, Ade Akinbiyi. Subs not used: Chris Greenacre, Carl Asaba.
Referee: Dermot Gallagher (Banbury).