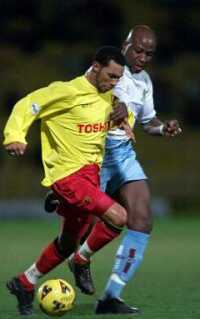 Arthur and Pennant
Happily for Burnley, at the end of 93 minutes, Elton was left to go and sing one of his 'Sad Songs' whilst the Clarets fans danced with delight after Paul Weller headed home the Clarets winner with virtually the last touch of the match.
Stan had decided to drop Ian Cox to the bench as he started with Kevin Ball at centre-half alongside Arthur with Graham Branch playing left back and Dean West on the right. Lee Briscoe went into midfield alongside Little, Grant and Weller with Taylor and Ian Moore continuing up front.
Early on it looked like the changes were paying off as the Clarets just about held the upper hand for the first 20 minutes. We might have opened the scoring when Arthur headed a Lee Briscoe cross at goal but saw it deflected wide.
At the other end the Clarets were finding it difficult to cope with Watford's loan signing from Arsenal Jermaine Pennant though Kevin Ball was as resolute as ever in the middle. On the other wing Lee Cook was also giving Dean West a hard time.
Ian Moore fired just wide at one end before Pennant turned inside Graham Branch and unleashed an unstoppable shot into the corner to make it 1-0 to Watford. Despite our bright start we were now up against it as Pennant and Cook controlled the game.
After half an hour Stan realised that Graham Branch was not the man to mark Pennant and replaced him with Robbie Blake, which allowed Lee Briscoe to fill in at left back.
The Clarets managed to weather the storm though and as half time approached just gave an inkling that they were not out of the match yet as a couple of promising moves might have brought an equaliser.
Playing with a control that has eluded them in recent matches Burnley did indeed start to get things going and Robbie Blake almost opened his Clarets account following some determined play from Ian Moore but his left foot shot was well saved by Alex Chamberlain in the Watford goal.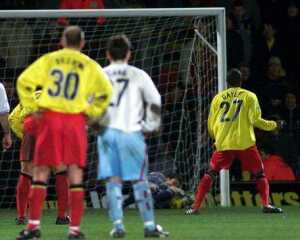 Marlon saves Gayle's penalty
On 60 minutes Ian Cox replaced Gareth Taylor as we reverted to a back 3 with Little and Blake pushing forward to help Moore but on 66 minutes it looked all over as Arthur was rather harshly adjudged to have been the guilty party following some mutual shirt pulling with Gifton Noel-Williams in the penalty area. Up stepped Marcus Gayle but he couldn't beat Marlon Beresford who continued his amazing run of penalty saves for Burnley after a 3 year absence.
You hoped it was the turning point and so it proved. Lee Briscoe fired in a free kick from the edge of the box that hit the post and on another day the danger would have been averted but there was Ian Cox to smash home the rebound for his first goal of the season.
Game on though I suspect most Clarets fans would have settled for a point at this stage and that's how it looked as the match went towards injury time. On 86 minutes though Brad Maylett replaced the tiring Blake.
Near the end Gayle headed wide when it looked easier to score but deep into the 3 minutes of injury time Watford fell to a sucker punch. Desperate to get all 3 points they committed too many men forward and when Little cleared upfield to Maylett it left the Clarets 2 against 2.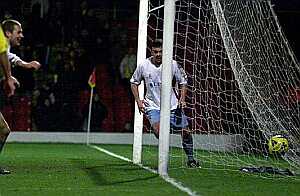 Paul Weller scores the winner
Maylett took his time and steered a cross over in the direction of Paul Weller who must get full credit for having the fitness and desire to get on the end of it and he headed home from close range to the absolute delight of the travelling Clarets fans.
The cross seemed to have got a deflection on the way over and if that was the break we needed to get our season back on track then it is one that was gratefully accepted. Maybe it was harsh on Watford and we certainly know how it feels to concede a last minute winner at home but, frankly, who cares?
All of a sudden the Clarets are back in the thick of the play off pack still with 2 of those lovely games in hand on most teams. As Elton lamented 'I've got myself in a bad patch lately, I can't seem to get much sleep' Clarets fans everywhere will be sleeping a lot more soundly tonight that's for sure.