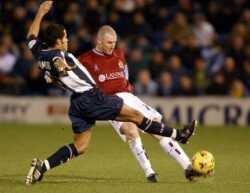 Lee Briscoe in action
Given the debacle at Cheltenham it was a surprise to say the least that the team saw only one change to an outfield player, especially when that change was the left sided Paul Cook in for the right sided Glen Little. The lack of width this left us with was to be crucial in a first half that was disappointing to say the least.
That said the Clarets almost took the lead as early as the second minute when we were awarded a free kick 25 yards out. West Brom clearly hadn't watched us take many free kicks this season as they felt it necessary to put a man on the line. In the end his presence only served to create confusion and with Baggies keeper Hoult distracted by the presence of Taylor on his 6-yard line he was lucky to shovel wide Burnley's first on target free kick of the Millennium.
The game settled into a quiet pattern with few chances at either end though it was good to see Marlon Beresford deal well with 2 dangerous crosses into the box. All too often for Burnley the only option was a big lump forward and whilst Taylor won some and lost some there were few signs that it would ever fall for a Claret.
One man who was making an impression was referee Mr. Jeff Megson-Winter who not only insisted on being the centre of attention but was clearly acting under orders from his 3rd assistant, Baggies boss Gary Megson. On 3 occasions the sight of his flame haired helper rushing from the bench shouting 'Hey Jeff' was enough for Mr Megson-Winter, despite not showing any previous inclination to blow his whistle, to award the Baggies a free kick.
The sad truth was that the Clarets were doing themselves more damage than Megson-Winter ever could. The Baggies Jason Roberts had served notice of his intentions with a forceful run into the box before losing control at the vital moment but he did not have to long too wait.
West Brom's opener on 36 minutes came from a free kick in a dangerous position, he unfortunate thing was that it was Burnley's free kick. A poor ball into the box was cleared and then both Ball and Ian Moore failed to win possession back leaving McInnes to thread a ball upfield to Roberts who was being marked by Dean West. The failure to leave either Gnohere or Cox back to deal with him was crucial as he ran clear, rounded Beresford and scored just when it looked like he had pushed it too far wide.
Worse was to follow 5 minutes later and this time Cox was at fault as he inexplicably failed to deal with a ball to Roberts despite being comfortably in position to either turn away with the ball or to belt it into the stand. Roberts v Beresford again and despite getting a hand on it Marlon just could not stop his shot going into the corner.
In a week where coin throwing has dominated the headlines Roberts chose to celebrate both of his goals by running to the Clarets fans making antagonistic gestures. If Roberts wants to enjoy the many privileges that go with being a professional footballer it is about time he learnt some responsibility. Fortunately it was only abuse that was thrown at him despite his best efforts to wind us up. Clarets fans 2 Roberts 0.
In first half injury time Ian Moore crashed a volley towards goal but Hoult showed good reflexes to tip the ball over and the chance to go in at the break with a morale-boosting goal was gone.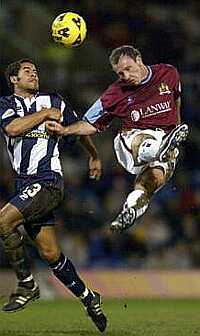 A flying header from Kevin Ball
Glen Little replaced Paul Cook at the start of the second half and immediately started to cause more problems for the Baggies defence than we had done in the first 45 minutes. At last Dean West had someone to pass the ball to and you just wondered if there was a way back into this against one of the most miserly defences in the division. Taylor was certainly kept quiet though his best contribution, a flick header from a free kick, saw Hoult tip the ball over the bar but it was West Brom who came closest to scoring at the other end.
A neat passing movement opened the Clarets up down the right and the ball was crossed to Dichio who blasted over an open goal from 6 yards. I allowed myself to believe that this was a turning point but I was only kidding myself.
Paul Weller came on for Alan Moore who went off clutching his hamstring and Weller seemed to make a difference to our previously lacklustre midfield. Combining well with Little, two dangerous crosses came to nothing despite begging to be blasted into the net and as time started running down you just knew it was going to be one of those nights.
On 67 minutes Robbie Blake was introduced for his debut at the expense of Ian Moore who ran himself into the ground again but for the third match running he barely had a touch of the ball. Blake showed enough nice touches during his time on the pitch to suggest that he is an excellent addition to the Clarets squad. His best touch signalled the end of the Clarets chances as after some neat skill in the box he rolled the ball to Tony Grant who hit his shot form 12 yards hard enough but straight at Hoult who should be credited for a good save nevertheless.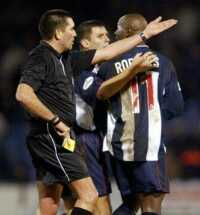 Roberts loses it
The end of the chances but not the end of the action as there was still time for West v Roberts the sequel – 'This time I'm all over you'. West certainly held onto Roberts as he looked to break from the half way line and for his troubles received a deliberate and clear elbow in the face. Referee Megson-Winter decided it was just a talking to for both players seeing as time was nearly up. Moments later Kevin Ball put in a challenge on Roberts that could best be described as firm but fair as he won the ball but left Roberts on the deck. Certainly Megson-Winter saw nothing wrong with it and there didn't seem to be too much wrong with Roberts as he sprang to his feet intent on causing Ball some harm.
Held back by his own players the referee consulted his assistant Megson and decided it was time he was subbed before belatedly deciding to run after him brandishing the yellow card. Roberts was led away down the touchline again gesturing to the Clarets fans causing me again to lapse into Tom Hark, 'Does anyone know how long to World War 3?'
At the final whistle there were a few boos but from where I was there were as many people applauding what had been a much improved second half performance. A pessimist would say that it was because West Brom sat back on their lead but an optimist might think that it offered some hope that the Clarets would soon get back on track. Or as The Piranhas might have put it:
'My friends say that we're heading for a grotty time, It's just a load of slapstick in a pantomime. We're heading for disaster, but I just don't care. Shut your eyes and count to ten, you wont be there.'