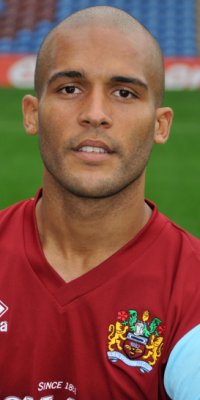 Clarke Carlisle - Man of the Match
I was pleasantly surprised when our ball was pulled out after QPR's to announce an away tie that was within reach and was a duplicate of a league fixture we had seen earlier in the season. The 2-1 result then, carried forward from the excellent work at Chelsea to show the absence of a hangover, boded well. However QPR on that occasion were certainly no mugs and had lacked a manager at that time.
The other thing I remember about the day was its considerable warmth when compared to FA Cup 3
rd
round day. Looking out onto the back garden at 11am and noting the persisting frost, I mandated an organised clothing set for all of us consisting of several layers underneath with full winter gear on top; much to the chagrin of the youngsters. A wise move it turned out to be.
The train/tube journey was uneventful as was the walk to the ground except for a few isolated frozen Burnley fans wandering the streets hoping for the holy grail of Turnstile Block 2 to heave into view between crumbling Georgian terraces. I pointed some in the right direction and finally arrived at a subdued Loftus Road ground.
The crowd seemed somewhat sparse which was saying something in this most claustrophobic of grounds. In fact it reminds me of a little West End theatre, close but comfortable seating, all near to or even overhanging the stage but without the plush faded velvet coverings. The BBC TV Centre was peering over the far home stand like an old commentator over one of those microphones with a rest for his nose. Given the drama of the previous league game, one of Burnley's increasing number of comeback stories this season, I wondered what theatrics awaited from a Pantomime season fixture.
With my toes starting to slowly succumb to cold, I reviewed the Burnley side. With two of our six defenders out and one doubtful, I was interested to see who would fill in at the back. As it happened, Kalvenes was passed fit and with Alexander returning to his previous role as right back it looked a halfway decent defence. Any back four with Michael Duff at centre half looks solid to me. As players lined up for the QPR kick off it seemed as if Wade Elliott was taking up a central midfield role with Joey Gudjonsson. With Blake and Eagles wide it was certainly an attacking four, but I think experimental would be a tactfully correct phrase.
QPR with new manager and new, but uninvolved, player Wayne Routledge on display looked similar to the previous side with Blackstock again in front alongside Di Carmine but with the much mentioned Kaspars Gorkss now at the back. As the applause for Routledge's woolly-wrapped pitch introduction subsided, a claret Wit nearby called out "Hello, Cardiff reject!" to much mirth.
As kick off commenced to a tannoy scream of "Come on you Super….!" (super what? I thought) I noted huge gaps in the home stands and a distinct lack of noise. New years hangovers and sub zero temperatures hitting the revenues it seems.
The first 10 minutes were quite cagey from both sides with lots of passes going astray but honours were even. Burnley started to come into it more with Joey providing energy in the middle to counter Ranger Mahon's grit. Both defences were on top until a break for Eagles from the centre circle was scratched by Stewart's outstretched boot struggling to be within the same post code as the ball but connecting with Eagles' pegs well enough. A stern talking to from the Ref resulted but nothing more.
Balls out to the left to Robbie seemed immediately destined for QPR possession as the magician's wand fizzled in the cold. An interesting tactic seemed to be all 11 Burnley players defending the box from corners, a more encouraging one seemed to be QPR's penchant for lofting long balls for Blackstock to meet. This seemed to cause paroxysms of histrionics from Sousa in the technical area in the manner of a panto Dame. On cue, Blackstock, providing his only notable contribution in a poor game from him, was caught lurking behind the Beast who was looking to distribute the ball. "Behind you!!" cried the several hundred Burnley supporters in the stand.
For most of the rest of the half the ever comfortable Jensen came for four speculative lobs into his area. The last being the most dangerous aimed at Gorkss but other than Delaney on the right giving Alexander a rather torrid time the rest was Burnley.
Disjointed though the play from the Clarets was, the best chance fell to Elliott on the edge of the D to give the top of the crossbar an awful spanking with Cerny struggling. Joey had several blasts that only troubled the inattentive behind Cerny's goal.
As a frigid minute of injury time brought a turgid half to an end, with the cold having conquered my feet by now, we were treated to a list of scores from the round but no entertainment. Here's hoping for more seasonal cheer from the second half.
To be honest, it didn't happen. Joey was tidy, Eagles industrious and ranging, Elliott dangerous but flattering to deceive, Carlisle and Duff pretty impenetrable, Kalvenes and Alexander mostly solid and Blake not playing in the same game as everyone else. Thompson and Paterson were doing their jobs pretty well but without much co-ordination between them. It was all pretty figgy and stodgy.
Interesting passing triangles between Paterson, Thompson and Elliott twice put Eagles through on goal, but the ball evaded his final touch like the melody on a last chorus of an embarrassingly rendered "Auld Lang Syne". Thommo tried an acrobatic kick over his shoulder that finished on the top net and Mahon, who ineffectually replaced Blake, skied one.
QPR ran at the Clarets penalty area time after time and then crossed perfectly for a finish from Di Carmine, Blackstock or latterly Agyemang had they the interest in doing so. But they were absent short of claiming for two tired and wooden penalty dives. Agyemang flattened Carlisle who rose again unharmed thankfully. Sousa in the technical area was exhibiting a good audition for the next series of Strictly Come Dancing. Owen Coyle wisely staying on the bench rather than risk a savage Paso Doble kick to the head from Sousa. I swear that the 4
th
official sought refuge in the Clarets dug out more than once.
And the cold was getting to my knees. We started playing for a draw, QPR started playing even more ineptly and the referee brought the game to a cold and bitter end.
However a replay at the Turf is a good result. No cards, no goals but no real problems that the annual Clarets Christmas crumble looked like bringing to the team after the last two games.
My Man of the Match is Carlisle who made QPR look like they needed the January Sales bargain of Routledge. Oh and the feeling has returned to my toes. Happy New Year.