It's a fourth successive 1-0 defeat to add to those at home against Arsenal and Leicester with the away loss at Everton in between them, but again it is a game from which we could have got something had we taken our chances and had we not had a homer on a referee who, not for the first time, cost us with certainly one appalling decision.
This time the game turned on a penalty decision midway through the first half. I don't think any fair minded Burnley fan will contest the decision to award the spot kick but quite how this joke of a referee Jon Moss could brandish the red card has left me joining the two managers, the players, the pundits and everyone else inside the ground absolutely mystified.
West Ham worked the ball down the left and when Duff caught Cheikhou Kouyaté there was no doubt, even from my vantage point at the far end, that we'd conceded a penalty. But astonishingly, after a short delay, Moss, whose movement and shape makes Phil Dowd look super fit, waved the red card to the astonished Duff.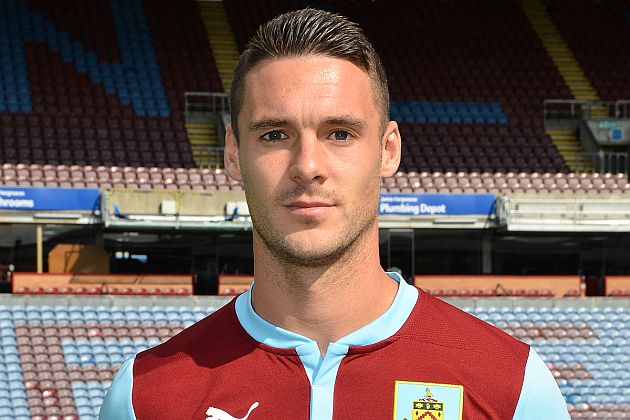 Jason Shackell was outstanding in a back three with Michael Keane and Ben Mee
Mark Noble scored the penalty, so we were 1-0 down, but now had to play three quarters of the game trying to get back into things with ten men.
It flattened us in the away end. Given our inability to score goals, we knew it was a major task facing us but it was a game when we could have been in front before Moss took over.
Prior to that, our only frustration was the sight of controlled parking signs placed exactly where we've parked, two minutes walk from the away turnstiles, on previous visits, but we quickly found an alternative after an easy journey down during which we bumped into Clarets Mad columnist Dave Thomas who was on his way to Kent rather than the Boleyn Ground.
Something to eat on Barking Road and into the Trevor Brooking stand which, for some Burnley supporters, affords an absolutely appalling view for £43. Thankfully, we were a few rows back and had a decent view despite having to stand for the entire game.
The good news was the return of Ashley Barnes. He came in for the only change but there were no places for either Stephen Ward or Fredrik Ulvestad on the bench; they were replaced by Steven Reid and Lukas Jutkiewicz who had started against Leicester.
West Ham had an early effort but we started to play some good stuff and created three opportunities for ourselves. Danny Ings, from a tight angle, shot just wide, claiming a corner in vain, and then Matt Taylor twice got excellent crosses in from the left; Barnes just didn't quite reach the first one while Ings headed the second over the bar.
At this stage things were looking good for us but then came that disastrous decision that changed the whole game.
As the game restarted at 1-0 we'd already got Michael Keane on the line ready to come on with us debating who might come off. We almost unanimously agreed on George Boyd who had again started the game in disappointing fashion.
But the question didn't need answering. Keane sat down almost as quickly as he'd got up. Ben Mee moved into the centre of defence with Taylor dropping into the left back position.
We were still trying to settle when a superb save from Tom Heaton kept the score at 1-0. West Ham looked as though they were keen to get another goal and effectively finish the game, but we defended well when we had to and might have even equalised but for Adrian saving well from a Barnes header.
It was still 1-0 at half time with Sean Dyche now having time with the players to get things organised and he did make the change that we'd expected when Duff left the pitch, bringing on Keane for the out of touch Boyd.
We went to a back three of Keane, Jason Shackell and Ben Mee in what was basically a 3-4-2 formation. It was always going to leave us a little exposed defensively but we tried to take the game to them and Ings, again, was off target. He did really well to get clear on the right but he opted for the near post and could do no more than hit the side netting.
If only he could get a goal. He is working so hard for the team but as each chance goes so does the frustration level increase.
Ings was to have another opportunity but Moss soon put a stop to that. He broke through and was clearly fouled inside the D. It was a clear free kick and a yellow card, but Moss, that far away he might as well have been playing in our defence, gave absolutely nothing.
He did card Stewart Downing for diving. He got this one absolutely right despite the rantings of the West Ham player. I quite approved of the chants of If you can play for England so can I aimed at Downing, but the throwing of cider bottles was clearly not. I got a shower but a 12-year-old girl was hit by this bottle. It's way out of order.
We did have a lot of defending to do in that second half, but that was only to be expected. We were well served there; Heaton was in top form and that back three were simply outstanding with captain Jason Shackell the best of the three.
We tried to find that equaliser but it just wouldn't come and so a fourth successive 1-0 defeat, a sixth game without a goal and almost certain relegation from the Premier League. I don't really believe in miracles and that's what it would take now, well certainly three wins and a lot of good results from elsewhere.
Yesterday though I was really frustrated at the end of the game. We had not played badly at all and, on another day, would have come home with something. But, just as was the case at Everton two weeks ago, we were lumbered with a referee who the whole football world knows will favour the home team. It happened at Everton with Mike Jones, who was up to his tricks again yesterday, and now it's Moss.
We are where we are in the league because we deserve to be, but it is just not right to come up against a referee like that. Sean Dyche said he ruined the game; he did just that and all but ended any hopes we had of getting something from it with only 23 minutes gone. How he'll cope at the cup final with no home team is anyone's guess.
There was great support from the travelling clarets, apart from the bottle thrower and the reaction from the fans at the end towards the players clearly showed that I was far from the only one there who thought we'd been done by the referee.
Down almost, but three games to go and I'm looking forward to them. Who knows, we might even score a goal.
The teams were;
West Ham: Adrián, Carl Jenkinson, James Collins, Reece Burke, Aaron Cresswell, Stewart Downing, Mark Noble, Cheikhou Kouyaté, Morgan Amalfitano, Kevin Nolan (Nenê 79) Enner Valencia (Carlton Cole 82). Subs not used: Jussi Jääskeläinen, Joey O'Brien, Alex Song, Reece Oxford, Matt Jarvis.
Yellow Cards: Enner Valencia, Mark Noble, Stewart Downing.
Burnley: Tom Heaton, Kieran Trippier, Michael Duff, Jason Shackell, Ben Mee, George Boyd (Michael Keane ht), Scott Arfield, David Jones, Matt Taylor (Ross Wallace 81), Danny Ings, Ashley Barnes (Marvin Sordell 79). Subs not used: Matt Gilks, Steven Reid, Michael Kightly, Lukas Jutkiewicz.
Yellow Cards: Ross Wallace, Ben Mee.
Red Card: Michael Duff.
Referee: Jon Moss (West Yorks).
Attendance: 34,946.