We'd contributed to an excellent game of football but an equaliser didn't look as though it would come until substitute Lukas Jutkiewicz won us a penalty.
The in form Ings blasted it down the middle past Brad Guzan and the whole game sprung to life again with Burnley twice, through Ings and then Jutkiewicz, going close to a winner and then Villa sub Jack Grealish spurning a last minute opportunity to win it for the visitors.
I was worried about this one. The wins against Hull and Stoke had given supporters such a lift that some thought a win against Villa was just about inevitable. That wasn't the case; it was never going to be the case against an established Premier League club who, just to give them a boost, had received the positive news of Roy Keane's departure the day before.
Just in case we did beat them, I had done the research and found that the last time we won three consecutive top flight games was in the 1974/75 season when, from late December into mid-January we beat Carlisle, QPR and Luton, the first and third at home and the second of them away which hoisted us into third place in the table just below Everton and Ipswich.
It was the fourth time we'd achieved a run of three wins that season, and this one came wrapped round that shock FA Cup defeat against non-league Wimbledon.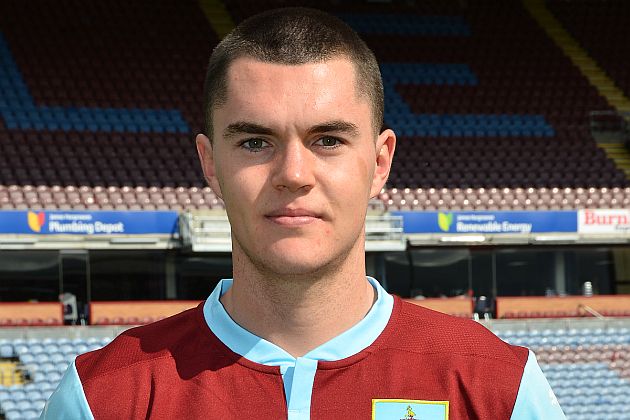 First Premier League start for Michael Keane
That one is stored for a rainy day but the other one I had ready was that Villa haven't won a league game at Turf Moor for quite a while, 12th September 1936 to be precise when they won 2-1. That's longer than we went between wins at Barnsley until Boxing Day 2010 and thankfully Villa's wait can go on a while longer.
I was looking forward to the game. Having said that, I've looked forward to every game this season and invariably enjoyed what I've watched. I could possibly have done without West Brom and I have to say the tension at Stoke was getting to this 62 year-old, but other than that this season is becoming a real positive for me watching my club.
I do understand why everyone was thinking this was a win. Villa have been struggling of late and we have been lifted by those two wins. We've even made some of the poorer pundits change their thoughts. The BBC's efforts at a Neville (Phil) said on Football Focus yesterday that he was beginning to wonder whether we'd go through the season without winning.
Mind you, that was bettered by John Hartson who questioned, when Sam Vokes was fit, whether Sean Dyche would be able to risk playing two strikers in the Premier League. Do these clowns not do any research?
We've had a few away fans in the Bridge this season. Of all of the games I'd suggest Sunderland had more fans in there than any other club, but yesterday it was purely claret and blue, although some did have rather strange West Midlands sounding accents.
Their team, and ours, both showed one change from those that played last week and the two players coming in were getting their first Premier League starts for their clubs after two substitute appearances.
Michael Duff, as expected, was ruled out with Michael Keane coming in. Keane, a late loan signing from Man United at the beginning of September, had previously made substitute appearances at Leicester and Stoke so this, other than an under-21 cup game against Hull and an England under-21 appearance, was his first Turf Moor outing.
On the Villa side, Paul Lambert brought in Joe Cole for his first start, preferring him to Charles N'Zogbia who was on the bench.
if any Burnley supporter thought that Villa would be easy pickings, they were given a rude awakening right from the start. I don't think any team has started a game against us better than this as they pushed onto us right from the start.
Dean Marney headed one off the line and then cleared another effort. Villa's delivery into the box was excellent and Cole was making up for lost time with some superb play.
But it was not one way traffic and we caught them out on more than one occasion. Ings got the ball caught up in their box when he might have played in Michael Kightly. He latched onto another ball inside his own half and he might well have gone on and scored had he got the better of Carlos Sanchez on the half way line.
There wasn't that long gone when I turned and said: "This could easily be 2-2," and this from the two lowest scoring teams in the league.
It was interesting to listen to the comments of former Villa player and manager Brian Little last night. He thought the first half had been an even affair. I'd have to say that my feelings were that Villa were the better of the two teams although when we did create anything they were more clear cut openings.
Moving into the last ten minutes of the first half, the game was being broken up with a number of incidents that rookie referee Graham Scott was struggling with. He'd yellow carded Kightly after failing to penalise Tom Cleverley similarly.
Marney was the next to see yellow and this incident, despite it being in the Villa left back area, I'm sure was a major factor in us going behind. I've no argument with the booking, Marney's fourth of the season leaving him just one away from a suspension, but he was then grabbed by Ciaran Clark which incensed both players and fans when he got away scott free.
We seemed all at sea on the pitch and in the stands and before we knew it we were behind. David Jones could only misdirect a header from the free kick. It fell to Andreas Weimann who slipped the ball into the box for Cole to run on and score.
Burnley appealed for offside but the decision was a correct one. It was close, but Keane, who had settled in well after a nervy start, was just playing him onside.
Scott had put himself under pressure. His lack of consistency was upsetting all around him. He did eventually yellow card Cleverley but seemingly for a reaction, not for the foul in Kieran Trippier, and he ended the half with two more yellow cards.
It came out for an Alan Hutton foul on George Boyd, right on the 45 minutes, but it looked a soft one to me. Trippier played the free kick into the box from the left; Sanchez headed it into the air and Ashley Barnes was first to it, heading against the post.
Barnes looked stunned as he got a yellow card for handling the ball. Yes, his arm was up but the pictures have shown he headed it and there was no contact with the hand.
It was the last action of a busy half. We'd more than played our part but Villa had been impressive and deserved to go in with a lead, although they shouldn't, as Paul Lambert suggested, have been out of sight.
The second half could almost be split into three parts. We started it well; we ended it unbelievably well, but there was a period in the middle of it when we really didn't look as though we would get back into it.
In the first spell, the closest we came was when Ings played in Kightly. He did really well to get past the defender in the box only to see his effort saved by Guzan. I thought it was a poor miss but having seen it again I'd say a lot of credit has to go to the goalkeeper for keeping this one out.
Tom Heaton was needed to keep out a deflected effort at the other end but a Burnley goal did look more likely in the opening ten minutes. It didn't come and neither did the push from us continue.
Villa closed the game down and slowed it down. Dyche's words were that they drained the life out of the game, so we tried to change things, bringing on both Jutkiewicz and Scott Arfield with 25 minutes remaining.
I don't think it worked and as we moved into the last ten minutes I'd resigned myself to losing this one. We didn't seem to have the wherewithal to get hold of the game again and I really couldn't see us scoring.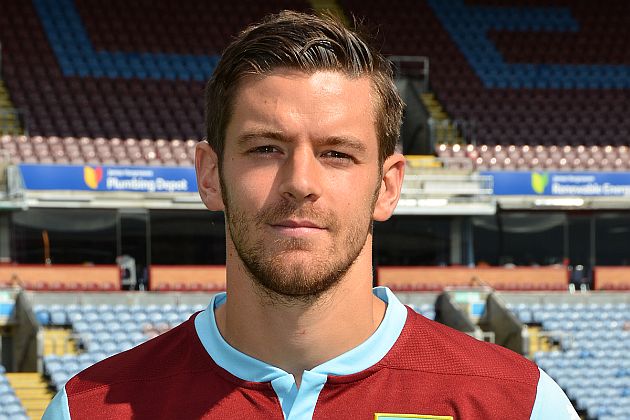 Lukas Jutkiewicz won the penalty
Ross Wallace, making his first appearance since scoring at Leicester, replaced Jones but, when the goal did come, it was out of the blue. The ball was knocked up for Jutkiewicz who was wrestled to the ground by Jores Okore. From my vantage point I never considered as to whether it was inside our outside the penalty box; I just saw Scott pointing to the spot.
This one, like the Villa goal, is a correct call from the assistant. It is inside. Ings duly stepped up and hammered it down the middle and with just over three minutes of normal time remaining we were level.
I was keen not to let the point slip away and I'd happily have taken the final whistle at that point, but it was into the added time for stoppages that the game could have been won, not once but twice, and then could have been lost as it all drew to a dramatic conclusion.
Wallace was the architect for us. He did ever so well down the right hand side on both occasions. The first cross was low for Ings. He beat his man brilliantly before stabbing the ball against the post, and a minute later Jutkiewicz headed just wide of the same post.
The home crowd were, by now, screaming for a win. We were surging forwards and you sensed that a winner might just be on the cards, but the last chance came at the other end when Jack Grealish, one of Villa's substitutes, was gifted an opportunity but shot straight at Heaton.
That was it, a draw it was, and, for the record, the last time we recorded three successive games without at this level was five years ago and the third of the games was a 1-1 home draw against Villa.
I was both happy and relieved with the point. You have to be relieved when you are behind going into the 87th minute and I'm happy for the same reason. Every point is precious in this league and Joe Cole said after the game that you have to respect each and every point you win.
There's been a negative reaction from some. Boyd and Jutkiewicz seem to have been this week's targets for those just waiting to criticise, but we came up against a very good Aston Villa team yesterday who played far better than I expected them to.
I don't think it was a poor performance from Burnley and a suggestion on the message board that we turned up for no more than five or ten minutes is laughable. It really is amazing what two wins does to expectations.
We're still 19th but we are right in the mix with a big number of clubs down at the bottom. And, no matter what anyone else is getting out of this season, I'm still enjoying it. We'll play again as we did yesterday and win, no doubt about that.
Let's just get behind the lads and see if we can't get another result on Tuesday.
The teams were;
Burnley: Tom Heaton, Kieran Trippier, Michael Keane, Jason Shackell, Stephen Ward, George Boyd, Dean Marney, David Jones (Ross Wallace 83), Michael Kightly (Scott Arfield 65), Danny Ings, Ashley Barnes (Lukas Jutkiewicz 65). Subs not used: Matt Gilks, Kevin Long, Ben Mee, Marvin Sordell.
Yellow Cards: Michael Kightly, Dean Marney, Ashley Barnes.
Aston Villa: Brad Guzan, Alan Hutton, Jores Okore, Ciaran Clark (Matt Lowton 90+6), Aly Cissokho, Ashley Westwood, Carlos Sanchez, Tom Cleverley, Andreas Weimann (Kieran Richardson 78), Joe Cole (Jack Grealish 67), Gabriel Agbonlahor. Subs not used: Shay Given, Bacuna, Charles N'Zogbia. Callum Robinson.
Yellow Cards: Tom Cleverley, Alan Hutton, Jores Okore, Ciaran Clark.
Referee: Graham Scott (Oxfordshire).
Attendance: 19,910 (including 4,046 Aston Villa fans).