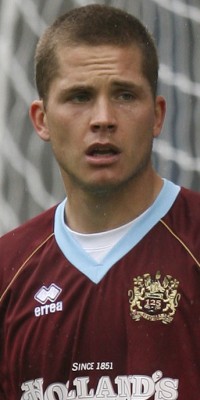 Joey Gudjonsson - man of the match
Looking to gain revenge from the defeat at Glanford Park back in August the result was never in doubt once Robbie Blake had given us an early lead against an Iron side that look an odds on bet for a quick return to League One. It was Robbie's third goal in three games and Ade Akinbiyi was also on the scoresheet to wrap up the scoring just past the half hour.
Somehow I wasn't expecting a classic, if truth be told I suspected this could be a scrappy game given the high winds which always make football difficult. A quick look at the pitch made things even worse. It looked very poor indeed and we soon realised it was going to play worse than it looked.
The players who won the game at Coventry last week were given the nod but with both Alan Mahon and Steve Jones ruled out with injury it meant a return via the bench for captain Steven Caldwell whilst forgotten man Garreth O'Connor claimed the last touchline place.
We started well and could so easily have gone in front when Wade Elliott and Blake combined from a corner, but Blake shot over the bar from an angle. However, he was much more accurate with his next chance as we took the lead.
Again it came down the right and when a James O'Connor cross was diverted by a defender into Robbie's path he made no mistake with a crisp right foot shot into the bottom corner from just inside the box.
It was all Burnley for a period and you sensed another goal, but we didn't get it and Scunthorpe, whilst hardly looking good, did come close to an equaliser a couple of times. Firstly they played the ball over the onrushing Brian Jensen but thankfully it went wide and then they hit the foot of the post with a shot from distance.
That was a signal for Burnley to grab the initiative again. Joey Gudjonsson was having a stormer in the midfield and his passing out wide was a real feature. The beneficiary was Elliott who was bang in form again. He was linking well with Graham Alexander and O'Connor. Scunthorpe were double marking him but it made no difference. They thought forcing him inside might nullify his threat but he was creating havoc for them.
And it was no surprise when goal number two came from an Elliott cross. It was brilliant stuff after Joey had once more got the ball out to him and Ade was right on the spot to head home. Was he offside? It was close but the assistant said no.
Quite how we didn't extend the lead ahead of half time I don't know but the nearest we came was from a free kick that Robbie put just wide of the upright with the keeper beaten.
Two goals up at half time, it really could have been much more. It wasn't just that we'd outplayed Scunthorpe but the quality of play made a mockery of the poor conditions. It really was outstanding stuff from the Clarets at times.
A good first half, and half time
sn't bad either as Jimmy Mac made his way out to the middle. I knew he would get a good reception but this one was very special with the applause hardly dying down even when he'd reached the centre circle. He was joined by youth team player Chris 'Scorer' Anderson for the draw, what a moment for the youngster to be alongside our greatest ever player.
The second half unfortunately never lived up to the first half although we certainly had our moments. Blake twice got in good positions but couldn't quite get a shot in, then he combined with Chris McCann to get the ball out wide to Jon Harley. His cross to the far post was met by Wade who just couldn't get his shot on target.
Wade and Alexander again linked well and the latter's superb cross was met by McCann and his header looked to be heading for the corner only for Murphy to save well at the expense of a corner.
Scunthorpe hardly threatened and if there was going to be another goal it was always likely to go our way, but it just wouldn't come. Again Robbie hit a free kick inches wide with the keeper well and truly beaten.
A third goal would really have ended the contest but in the end we had to settle for two. Coyle used his subs in the last few minutes and we even saw Garreth O'Connor get his first action in the first team since he replaced Wade in the 4-0 win over Plymouth in April last year.
Scunthorpe were poor, and I'd be very surprised to see them in the Championship next season, but they still need to be beaten, and in today's conditions that made it even more difficult.
Taking all that into account this was, at times, an excellent performance. Ade and Robbie were on the scoresheet again, the defence played well when called upon and there were also good performances in the midfield.
It was in many ways a game of two halves and I thought the two outstanding players in that first half were Joey Gudjonsson and Wade Elliott and I'm going to select Joey this week as my man of the match. He's finally beginning to look like the player we thought we'd signed a year ago this week.
But it was another good team performance, a third successive win, and seventh place in the Championship. It might be a frustrating time off the pitch with the on and off transfer sagas, but right now, on the pitch, it is pretty good stuff. Keep it going Clarets.
Just a final word about the referee today, 22-year-old Michael Oliver. I thought he did well, very well in fact. He made mistakes of course but his general running of the game was excellent. Well done to him.
A tough one next week - league leaders West Brom away from home. I think that's as tough as they come right now but what do I know? I thought QPR and Preston at home might be easy.
The teams were;
Burnley:
Brian Jensen, Graham Alexander, Stanislav Varga, David Unsworth, Jon Harley, Wade Elliott, James O'Connor, Joey Gudjonsson (John Spicer ), Chris McCann, Robbie Blake (Garreth O'Connor 89), Ade Akinbiyi (Steven Caldwell 90). Subs not used: Gabor Kiraly, Stephen Jordan.
Scunthorpe:
Joe Murphy, Shelton Martis, Jack Hobbs, Andy Butler, Marcus Williams, Matt Sparrow, Jack Cork, Grant McCann, Ian Morris (Jim Goodwin 45), Ben May (Paul Hayes 45), Martin Paterson (Jonathan Forte 65). Subs not used: Josh Lillis, Kevan Hurst.
Referee:
Michael Oliver (Newcastle).
Attendance:
14,516.