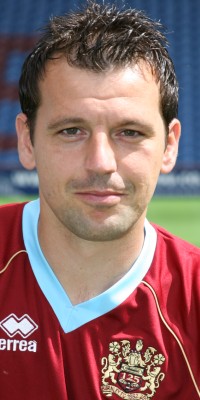 Robbie Blake - Man of the Match
I think most fans would have taken 2-0 before the game, especially after the embarrassment at Bloomfield Road a few days earlier. But it wasn't just keeping Arsenal down to two that inspired the songs at the final whistle; 'If you're proud to be a claret clap your hands'. No, it was the attitude of the team, the way we went out and played football and the all-round performance.
I glanced over to the Arsenal fans and thought about the one I talked to prior to the game, and how his opinion might have changed over the ninety minutes. "Boring long-ball rubbish" he announced- telling me how my team would set about playing. "Just like all the other Northern clubs, Blackburn, Bolton and the rest." As much as I protested, he was confident he knew what his team would be up against.
All Burnley fans, myself included, knew that Owen Coyle would send his team out to attack Arsenal and attempt to beat them at their own game. And if their game is all about youth and scoring goals- then we came very close to matching them when in the first few minutes our own 20-year-old Kyle Lafferty headed the ball against the crossbar.
The move came from nowhere really. Andy Gray appeared speeding down the right and swung a ball into the penalty area- where Kyle Lafferty timed his run to perfection and with his head powered an effort towards goal, where the ginger-permed 'character' that is Jens Lehmann was left stranded as the crossbar behind him was hit violently before the visiting defenders cleared any danger.
If us Clarets were to be encouraged by the bright start, then we would soon be reminded that you cannot afford to be confident when facing a team managed by Arsene Wenger. No sooner had we failed to score at one end, Eduardo was down the other with only Gabor Kiraly in the way of him and the goal. A great shot-stopper Gabor may be, but there are not many players right now who can finish just like Eduardo. Looking at it, maybe Gabor could have had a better go at saving it but when you give a forward of such quality so much space you are going to concede nine times out of ten. The replays of the goal make it seem even better, it was such a clever finish, which he just knocked softly into the bottom corner.
A goal down in the first ten minutes, it would now be a test of character for the team out there. Would they give up hope and let their foot off the gas, or push on and try and find the equaliser. It appeared that the Arsenal team had taken the same attitude as the fan I spoke to before the game. They looked surprised with all the attacking that we were doing and could not cope at times. And when Alexander sent a ball into the box, Senderos could only watch as it bounced off his shoulder into the path of Blake who seemed to snatch at the shot and put it over from what was not the best angle.
It was turning out to be a classic for the neutral so far, with plenty of attacking football on display from both teams. Arsenal were the closest to finding another goal though. When a corner was met by the head of a player in white, the visitors only had their lead kept to one goal by a good block on the line from either Gabor Kiraly or one of his defenders.
The last time one of the 'top four' travelled to Turf Moor Djimi Traore scored 'that' goal. Attempting to control the ball and turn away cleverly in front of his own goal cost him dearly as he put the ball into the back of the net for what turned out to be our winner. And when Kyle Lafferty crossed into the Arsenal box it was another Traore- Armand- that almost completed a move identical to that of his namesake.
Unfortunately he had a little more control over his feet than Djimi did, but when challenged by Wade Elliott he eventually lost out after a short scramble. The ball fell to Chris McCann who, had he managed to keep his shot a foot or so lower, would have levelled up the scores with Lehmann still on the floor recovering from trying to snatch the ball from Traore's feet.
Whilst the trend of passing, attacking football with pace continued from both sides, there were no more real threats on either goal. Nicklas Bendtner came the closest with a speculative overhead kick which Kiraly had no problem in stopping.
The half time whistle sounded and players would pack into the changing rooms for their briefings. I don't suspect that either manager would have been too disappointed with the first half displays. Wenger would be congratulating his players on a good half where they gained and held onto an early lead, while Owen Coyle must have been delighted with the number of chances his team had created and will no doubt have been encouraging them to keep it up, put the visitors under more pressure and try and get an equaliser.
It was Arsenal who created the first chance of the second half and I think that most of the ground must have thought Eduardo had got his and Arsenal's second when clear through on goal. Somehow, though, he managed to knock the ball just wide of Gabor's right post and it was certainly a huge let-off as Arsenal very rarely surrender a two goal lead.
After that scare, it was Burnley's chance to attempt to find the second goal of the game. The closest we came was from a Robbie Blake free-kick. It was a superb delivery into the penalty area, which found Chris McCann unmarked, although his technique was poor and the ball simply bounced off his head and over the cross-bar. Had he got over the ball and headed down, we would most probably be level.
As it was, though, the Gunners were still in the lead but were looking vulnerable at the back. Going forward, however, they were a force to be reckoned with and this meant a superb game of end-to-end football. When Kyle Lafferty sent his touch slightly more ahead of himself than he might have wished, though, Arsenal's win would be all but secured. After losing control, he lunged in with a sliding tackle to win back possession from the Brazilian Gilberto. He did come away with the ball, but referee Alan Wiley was quick to pull out the card us Burnley fans are becoming all too familiar with at the moment.
At the ground I thought it was a fair decision and, though I have yet to see a replay myself, most of the fans I have spoken to that have- both Clarets and supporters of other teams- have doubted that it deserved red. Red or not, it wasn't the cleanest challenge ever from young Kyle. Despite all these red-cards, I don't believe that we have been a dirty team at all. What we have been let down by is moments of madness, rushes of blood to the head and naivety. Both Chris McCann and Kyle Lafferty are young footballers learning their trade and we must remember that that have not got the experience that more senior members of the team have. Their red cards were both results of this inexperience. McCann will now know not to get wound up and retaliate after being fouled, while Lafferty will examine his motivation for going in like he did on Gilberto.
There can't have been many worse games than this for him to learn this, though. As mentioned, it was a superb game of football and we had every chance of getting back into it but a man and a goal down against a side of such quality and discipline, there was no way back.
Or so you would have thought. These controversial refereeing decisions seem to be spurring our team on rather than dampening their spirits. Take the Sheffield Wednesday penalty, every Claret in the ground was shocked that the referee allowed it to be taken in such manner, but the team responded by scoring within a minute of the restart. And yesterday, the red-card was followed by probably our best spell of pressure of the game.
With nothing to lose, we piled forward and created chance-after-chance. Robbie Blake and Andy Gray were at the fore of our attacking movements and those two were heavily involved in our best chance. Robbie sent a quality, weighted pass cross-field to Wade Elliott, whose cross was so nearly met by the head of Gray. Unfortunately Senderos got there first and headed clear. You could really sense the feeling of excitement and encouragement from the home stands as we continued to attack the Arsenal goal.
Piling all those men forward, however, left us exposed at the back and soon the inevitable happened and Arsenal doubled their lead and put their name onto the ball that will go in the pot for the fourth round draw. That man Eduardo was again a major force, playing the ball into Bendtner who rounded Kiraly before slotting home. He has now scored in both of his Turf Moor outings after getting one for Birmingham last season.
Eduardo tried the same trick soon after and I feared they would go on to create a healthy scoreline that would in no way reflect our spirited performance. This time Kiraly managed to pull the ball away from the Croatian's feet and the score stayed at 2-0.
But the players would receive great congratulations from the fans and their manager at the end of the game. Predictions saw fans expecting a heavy defeat, but Coyle had sent his team out to attack and this unsettled the Premiership leaders, who were obviously much more used to having the opposition hoof the ball up and hope for the best.
I think this performance summed up Owen Coyle's time at Burnley. It was full of excitement, encouragement, fast, passing, entertaining, attacking football, but being let down by losing a player. Oh, and of course it was another home game without a win.
Live on the BBC, we had shown the country just what we are about. The only disappointment was the poor attendance, although the fans can take no blame for that. No, the club must take full responsibility for the scandalous ticketing arrangements. Following this and Blackpool, surely whoever is in charge of this department, must be getting a severe dressing down.
But this was not a game for negatives. It was a brilliant cup tie that provided entertainment not only for fans of both teams, but for the neutral too. Picking a man-of-the-match was very difficult. James O'Connor won the award at the ground, although for me he gave the ball away too easily. Obviously he is not there to pick out brilliant long-range balls, but against Arsenal you cannot afford to waste possession as much as he did. That is not to say he didn't play well- he did. He was all over the place, breaking up attacks, but he was beaten by our best attacking player.
I would give it to Robbie Blake. He has taken criticism from many recently but I thought his performance yesterday would not have looked out of place in the Arsenal camp. His passing, vision and skill at times were awesome and he was involved in most of our forward play. He dropped very deep and took the ball forth from midfield superbly. He provides that link into the final third that we had sacked previously and if he can put in more performances like this, I'll be delighted.
So no cup run this year, and maybe in a few month when there are teams like us still in the draw, this game will be forgotten, but now that matters not. We took the game to the best team in Europe and they looked under pressure. It wasn't a reserve side either like we faced against Liverpool and would have done had we drawn another top side like United. Wenger promised to play a full team at Turf Moor and although his star players like Adebayor and Fabregas were left out, everyone who played was recognisable and had played a part in taking them to the top of the English football.
If you're proud to be a Claret, clap your hands.