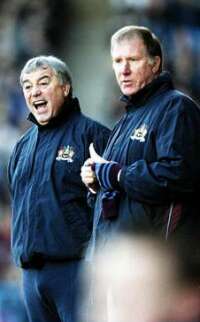 Stan and Sam - two of tonight's star gazers
That it featured two teams vying for Premiership status does not bode well at all and the defeat was made worse when viewing the other games played tonight. Only Birmingham and Wolves won, making this one of those key evenings in the late seasons results when the division really takes shape. Why Clarets home form has become such a concern no one seems to know, but I for one, thought performances of this low standard were a thing of the painfully distant past.
Birmingham were a poor and predictable team, lacking any real ambition to go forwards, under Steve Bruce's leadership they are certainly not out to entertain, but Stan's motley crew on the evening were deservedly beaten, failing to muster a serious attempt on goal throughout, yet enjoying 90% of the second half play. Birmingham only managed three shots at goal.
From the first whistle to the last, tactics and selections were wrong, reflected in the early substitution to enable two up front, Moore coming off the bench to replace the unfortunate Cook. The players seemed not to know what to do with the ball, there was therefore no quality of passing, movement or defending. It was a night when virtually every player had an off night, a night when few passes found their man and a night of total frustration, the only plus the surprise return of Steve Davis.
With the kick off delayed for fifteen minutes, due to late pitch preparations, the crowd were reminded to keep their tickets, just in case. The last thing anyone needs of this game is a souvenir. We certainly weren't waiting for the mass of Birmingham fans to file in, their pathetic huddle of 500 or so, restating the grim followings in teams visiting Turf Moor this season.
And so to the event, or more damp squib as it became the more the night progressed. The game was scrappy from the kick off, littered with stoppages courtesy of the whistle happy Mr Harris, time wasting and general slow play by Birmingham buoyed by their blatant off side trap continually catching lone striker Taylor. Clarets were disjointed, Branch constantly picking the wrong options with his passes and Briscoe having to play an unaccustomed playmaker role in the centre of midfield. It was poor fodder for the low attendance, no doubt affected by the possibility of another postponement, but more affected by the inept display in front of them.
With the midfield out of shape and balance, Taylor was increasingly left isolated, the balls played up to him more in hope than purpose and for the visitors it was easy to contain the home side. The defence looked suspect throughout, Cox often guilty of poor ball control. The goal when it came, explains Clarets current poor form at home. Branch retreated from Devlin out on the wing, allowing the ball to be played in to Mooney who headed down and under a static Beresford, whilst three defenders looked on, an extremely poor goal to concede and yet again Clarets would have to come from behind to get anything from the game.
Realising a tactical error, to boos Stan replaced Cook with Ian Moore, the move correcting none of the shortcomings in the midfield. The nearest Clarets came to an effort on target came with five minutes remaining in the half, a Cox header going just over, wow.
The start of the second half saw Branch replaced by fit again Steve Davis, a welcome return. Alan Moore summed up the night with a wayward effort following a good deep West cross, before Lazaridis replaced an injured Woodhouse. Clarets appeals for a penalty were ignored, after Purse clearly put his hand in Moore's face as he raced into the area, but it was all too brief a moment of expectation raising on the night.
As the game threatened to open up , Birmingham's tactics changed to one of niggly fouling, ably supported by poor officiating. Cue a foul on Ian Moore a yard outside the area and in the "D". Mr Harris strides back a referees ten yards, the wall lines up eight paces away, refuses to budge then as Mr Harris turns his back, the wall step forward a further yard. Briscoe has to take a free kick with the wall all of six yards away, it was to be one of those cheek blowing nights.
Blake replaced Alan Moore with twenty minutes remaining as Clarets started to throw men forwards. Pity then that the ball to them was so poor, often hit aimlessly and too straight, no one capable of taking his man on, the midfield constantly losing out in 50:50 challenges and for Birmingham it was just too easy for them to clear their lines and keep Bennett in a shot free zone. Ian Moore was clean through with fifteen to go, but failed to control the ball and the chance was gone, as were Clarets other half chances when presented with a succession of free kicks around the edge of the visitors box.
Birmingham had a goal chalked off for offside following Weller's poor headed clearance, before Mooney tried a volley over Beresford from forty yards, the keeper going full stretch to tip away the shot, yes a shot! The four minutes of added time, saw Ian Moore booked for a frustration based foul, before the boos rained down as Mr Harris finally blew for time.
Att:- 13,504
Star Gazer
The lot of them, including those in the dugout.
Glass Half Empty
This was as poor a performance as any I've seen since Clarets returned to the 1st Division. The less said the better.
Star Geezer
This space intentionally left blank.
Glass Half Full
There are no positives from a performance as poor as this.