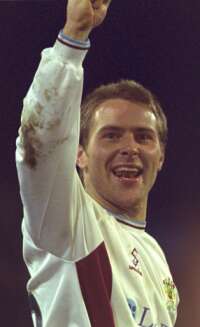 Star Geezer - Ian Moore
Gone was the zip and high tempo that blew PNE away three days earlier, replaced by a more predictable and at times laboured performance particularly in the second half, against a side that at best could only be described as hard working. Ably assisted at times by Mr Bates and his son, Bratfer deservedly ground out the point their second half performance merited, Clarets not quite able to resist the aerial threat posed by Bratfer, though the performance of new boy Johnson suggests his pairing with Ian Moore is one to savour, outright pace once again the undoing of Bratfer, in Clarets better spell that was the first half.
As had occurred against PNE, the pace and link-up play between the new front pairing caught they eye and there were numerous first half openings that suggested three more points and the psychological seventy point barrier would be breached, come the end of this game. The point gained will be welcomed though in this week, a week of further jittery results for the top teams.
Clarets took to a wet pitch, surprisingly missing Alan Moore, not even on the bench. The returning Glen Little would have a disappointing night and centre stage went not surprisingly to debut boy Gascoigne, the watching journalist galleries as packed as the home stands for the night. From what was a bitty game, Gascoigne's role was as the game, occasional flashes of inspiration, two top class shots that fully stretched Combe in goal and a booking to round off the night, Mr Bates preferring a yellow to his one and only foul.
Picky is Mr Bates' middle name, his performance one that contributed greatly to the stop-start affair and one in which he failed to give a clear penalty, deeming a first half foul on Johnson as a fair shoulder charge. Still a return to a streakerless game, Bertie Bee wearing his new police outfit is where we are up to, as we crack on and once Paedophilia, sponsored by Poxidance, had got out of the way, the game began albeit quietly.
First blood almost went to the Clarets on ten minutes, Gascoigne's quickly taken free kick producing a good save from Combe needing to be at full stretch to tip the ball away, a move that finally brought the home crowd to life. The penalty incident came amidst bright play from the Clarets. Moore's good run ended with a square ball to Johnson who appeared to be flattened from behind square on to goal and only six yards out. Thank you Mr Bates!
Beresford was next in action, superbly stopping Ward's powerful downward header, Bratfer rarely breaking forwards at this point from their two lines of five formation adopted in the first half, they clearly intent on getting men behind the ball. For the Clarets it was the Johnno and Mooro show, good interplay and pace becoming a factor, yet it was Johnno's poacher instinct that scored the opening goal. Little's cross was headed down by Cox where Johnson instinctively stuck out a leg to fire the ball into the roof of the net from close range. Tom Hark bellowed all round and you sensed more goals would follow. Instead an equaliser could have come within a minute, Jess' header when unmarked was too straight, allowing Beresford to tip over, a lucky escape for the Clarets.
Minutes later and Ball was right place right time, blocking Wetherall's shot before Ward pushed Thomas over, the crowd reminding him of his time at Ewood in no uncertain terms. After a bout of head tennis from which Wetherall missed the target, when well placed, Clarets began to dominate and until the break threatened Combe's goal on numerous occasions.
Mooro had a good run and shot, before being put through by Johnson and after creating space to shoot, Combe parried the first shot before Moore scuffed his second. Showing renewed confidence, a neat lob over his man by Moore was followed by a run at goal before an obstruction brought the move to an abrupt end, Gascoigne's curled free kick howling just over the angle.
A neat build up then saw West and Little combine well, setting Moore free, who in turn squared to Johnson, but in taking the ball first time the shot was wide and a good move came to its end. Thomas was booked for shirt pulling as his feud with Ward continued, the last activity of an eventful first half.
So to half time, the return of ginger Pele and sadly Paedophilia, once again the girls looking across the line to see what the next move was in a show of ambivalent pom pom waving.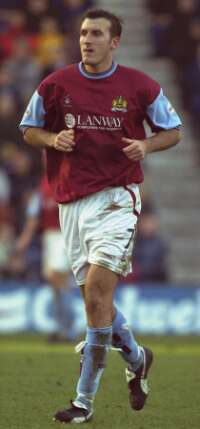 Star Gazer - Glen Little
In to the second and Bratfer's initial eagerness saw them try and take the game to the Clarets, yet it was Johnson who had the first effort, a neat shot on target following a good run. Mr Bates went needlessly name taking after Gascoigne's solitary foul of the game.
Moore frustrated all around, when after beating three men on the hour mark, he failed to either pass to the unmarked Johnson, or retrieve the loose ball when well placed. A disappointing Little was replaced by Blake, Stan briefly electing for a 4-3-3, whilst Bratfer continued to exploit the space in front of Briscoe to build most of their aerial pursuits on goal. Halle's booking for dissent allowed Mr Bates to apply the 10 yard rule and from the corner of the box Gascoigne arrowed one to the far top corner, Combe desperately clawing the ball away from under his bar.
Immediately play switched to the opposite end and Grant did superbly well to clear from under his cross bar as Bratfer threatened once again. Blake and Moore combined well for the latter to cross low and hard, unfortunately the ball arriving just behind Johnson, his last action, being replaced by Maylett to warm applause all round. Combe could not hold onto a Gascoigne shot with fifteen remaining, but the tide was by now beginning to turn, the inspiration and creativity drained from Clarets midfield as the minutes ticked away, once again the team sitting deep whilst Stan frantically waved them forwards.
Though a scrappy goal for the equaliser, it was no real surprise when it came, Cox and Thomas finally succumbing to an aerial attack from which the bobbling ball was bundled home by Jorgensen with twelve minutes remaining. With six to go a tired Gascoigne was replaced to great applause and standing ovation as another crowd favourite, Andy Andy Payton finally made it to the pitch. Showing great awareness and determination his first shot at goal came after only ninety seconds and his time on the field showed that his predatory ways are still with him.
Jorgensen had a late shot on the turn saved by Beresford before Clarets launched their final assaults in search of the missing two points. Maylett and Payton set up Ball (of all people) for a late blast at goal, before deep into injury-time, Andy Andy Payton launched himself at once last header, which he could not quite direct on target, before Mr Bates blew, Clarets banking another valuable point. Four points from two home games, a good return at this late stage in the season as Clarets move, albeit temporarily, up to third spot.
Att:-19,479, Clarets second highest gate of the season.
Star Gazer
Glen Little. Played far too deep to be effective. With Gascoigne, like Stan willing him forwards, this was a largely ineffective and subdued performance from the bendy man.
Glass Half Empty
Once again Clarets played well in the first half, only to then sit back and defend deeply at home, the defence missing the presence of Steve Davis. Stan says it's not his style but the players seem to adopt this pattern of play all too often, causing severe loss of fingernails on Row R.
Star Geezer
Ian Moore. Just how fit is this guy? A tireless performance and in his new found partnership with David Johnson, he seems to have found a playing partner complimenting his own style. His performance deserved a goal and it will be good to see the partnership last a full game once Johnson's stamina levels increase.
Glass Half Full
Again some superb football played in the opening half where the movement off the ball and the passing options were at times a joy to watch. Combining the pace of the front men to the inspiration from the midfield pairing of both Grant and Gascoigne, the opening forty five minutes at times demonstrated just how far we have progressed in recent times.