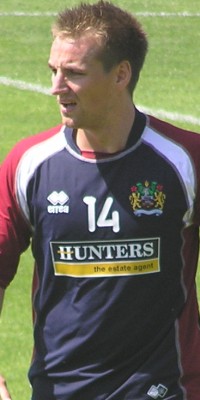 Garreth O'connor - scored from the penalty spot
If we thought Plymouth were bad last week then Brighton were considerably worse and that tells its own story as we have picked up just one point from the two games and let's be honest we looked just what we are today, a team down near the bottom of the Championship.
With Sheffield Wednesday earning themselves a point last night we kicked off bottom of the league, but knowing a victory would lift us at least two places, in fact it would have lifted us seven places.
We wouldn't have to play well to beat this Brighton side but quite simply we turned in a horrible performance that had the word relegation written all over it, on an afternoon where tedious and boring were two words oft used in the stands at Turf Moor.
Steve Cotterill had promised to bring Gifton Noel-Williams back into the starting line up and he did, at the expense of John Spicer, with Graham Branch, who played so well up front on Tuesday, reverting to a position on the left hand side of midfield. Otherwise the side was unchanged with captain Frank again on the bench after recovering from a hamstring injury.
This was a game that had been billed as a 'must win' game but it didn't start well and nothing much happened in the first ten minutes or so. Then, bad news for the Clarets as Danny Coyne went up for a ball and collapsed in a heap on the ground, clearly with a knee problem.
After an initial check, physio Andy Mitchell called for a stretcher and thankfully we had Brian Jensen on the bench. As the game got underway again Danny was taken to the dressing rooms and full credit to the Brighton fans who all applauded him. Adrian Boothroyd and the Watford fans could certainly learn something from them.
Burnley actually got on top for a while after this and but for goalkeeper Henderson we could so easily have gone in front. He twice saved well from Ade Akinbiyi and dealt with another couple of efforts but then disaster struck again at the other end.
We'd had to change goalkeeper the first time Brighton got into our box, on the second occasion we found ourselves a goal behind. Scoring against the Clarets from corners is becoming one of the easiest things in football and this one was embarrassing as we were caught out again, this time with a short corner, and when the ball came over loan player Paul McShane was totally unmarked and able to score with ease.
Thankfully it only took us ten minutes to draw level and it came from the penalty spot. It was not obvious just why we had won the spot kick but apparently it was for a foul on John McGreal. No matter, Garreth O'Connor made no mistake with a shot that keeper Henderson will be delighted he didn't get a touch on so powerfully was it struck.
That should have been the signal to take command and we did have most of the play for the rest of the first half and really should have found ourselves in front by the half time whistle. We didn't and had to settle for going in at half time with the score at 1-1. Surely we could see this lot off in the second half.
There really is not a lot to say about the second forty-five minutes, not unless you want to feel suicidal. It was awful football from Burnley and to be honest we didn't deserve another goal to go on and win it.
Brighton were content at 1-1 and hardly bothered going forward, the poor Beast in goal had very little to do other than hold on to a routine shot. We should have scored though, Branchy had the best chance but put his effort over the bar.
But you never got the impression that we might get a goal despite having most of the possession. We were weak in midfield where we created little and frankly the front two today were something of a joke. Ade very much had an off day and Gifton is in such bad form at the moment you wonder just how he got back into the side.
Steve Cotterill made another couple of substitutions – John Spicer came on for Branchy but couldn't get anything right, and then Frank came on for John McGreal who had succumbed to a bad looking injury. If things weren't bad enough.
They always say if you stay near the bottom long enough you will start playing like a bottom team and there is no doubt at all that we did today against a side that just weren't good enough.
We cannot afford too many performances like this, or the consequences could be frightening. The point did see us off the bottom but a win would have seen us climb seven places, frankly we did not deserve to climb those seven places on the back of this performance.
For me the man of the match cannot come from the attacking end of the field, we offered precious little, and I'll go for Keith Lowe who continues to impress in the centre of defence. But we'll need more than good defensive displays to get us out of the current mess.
The teams were,
Burnley: Danny Coyne (Brian Jensen 12), Michael Duff, Keith Lowe, John McGreal (Frank Sinclair 77), Jon Harley, Garreth O'Connor, Micah Hyde, James O'Connor, Graham Branch (John Spicer 68), Gifton Noel-Williams, Ade Akinbiyi. Subs not used: Wade Elliott, Karl Bermingham.
Brighton: Wayne Henderson, Paul Reid, Paul McShane, Guy Butters, Kerry Mayo, Sebastien Carole, Richard Carpenter (Colin Kazim-Richards 45), Charlie Oatway, Albert Jarrett (Alexandre Frutos 51), Leon Knight, Jake Robinson (Alexis Nicolas 55). Subs not used: Alan Blayney, Gary Elphick.
Referee: Eddie Ilderton (Tyne & Wear).
Attendance: 11,112.