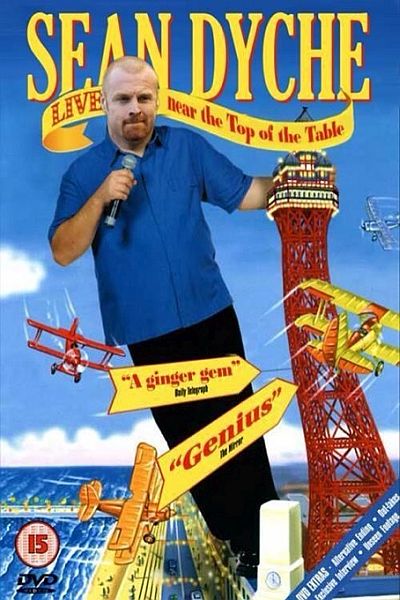 Sean Dyche live near the top of the league
That we have to wait a while longer was due to Derby's win at Doncaster just over a couple of hours later but this was another massive three points for us that pushed us ever closer to where we need to be.
It was scrappy at times, but the goal, when it came, was an outstanding finish from Michael Kightly four minutes into the second half that had the (now covered) Gene Kelly rocking and by the final whistle it felt as though it might be on the verge of collapse as we celebrated this latest victory.
Our trip to the seaside this year took us via the now unfamiliar route of the dock road in Preston and the A583 after warnings of delays on the motorways, but we were there as planned ready for our pre-match meal (it just has to be fish & chips, bread & butter and a pot of tea) before the now traditional tram journey back towards Bloomfield Road.
This was my first time on a Blackpool tram since I became, last November, eligible for a bus pass, but those tight councillors on the Fylde Coast decided to withdraw the concession at the start of April forcing me to pay the full adult price.
Once the tram had passed the North Pier there were simply countless Burnley supporters on the prom, prom, prom but there was no brass band playing tiddely-om-pom-pom, just the chants and songs from these fantastic supporters, many of them sadly unable to get tickets.
I wrote about the privilege of being amongst the Burnley supporters a week and a half ago at Oakwell and it was to be the same here in the Kelly Mark II as, from before kick off to the end, the Burnley fans there lifted the volume incredibly in support of their team.
That team was, as expected, unchanged, for this game against a team on such a poor run of form that they are now heading into a relegation battle and could find themselves playing League One football just three years after coming out of the Premier League.
They'd been wound up by their player/manager Barry Ferguson and it was evident from the start of the game that they didn't intend taking prisoners, but they were soon on the defensive with the Clarets winning a corner in the very first minute after a good move down the right.
The first effort at goal came from Kightly but straight at home goalkeeper Matt Gilks and in the eighth minute the two shaped up again with Gilks once more coming out on top.
Defender Jack Robinson played the ball into Kightly's path and he was one-on-one with Gilks. In fairness the goalkeeper closed him down very quickly but Kightly really should have done better than to see his shot saved.
The ball ran loose, Kieran Trippier crossed but Ashley Barnes was felled at the far post by Tony McMahon. Referee Michael Oliver waved play on but surely had he seen McMahon's actions he would have been getting his red card out of his pocket.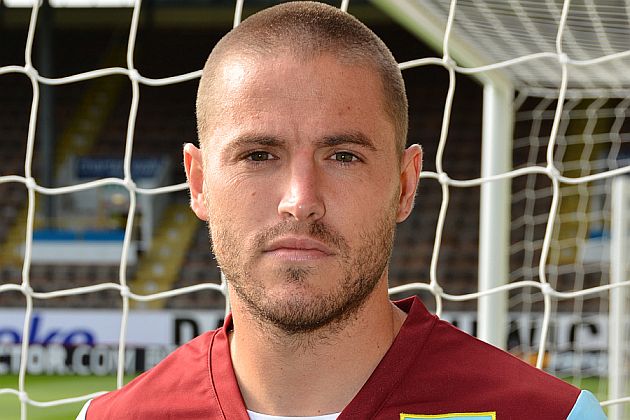 An outstanding Michael Kightly goal won the game
The Blackpool defender landed on the top of Barnes and then, shockingly, as he got up, shoved his hand into Barnes's face.
Maybe this is what Ferguson had meant when he said they'd be going out all guns blazing, and it certainly applied to a challenge by him on Trippier which again, incredibly, escaped the attentions of the Premier League referee.
Had the Kightly effort gone in then we could have had a different game, but, played on another poor pitch, it was generally a scrappy affair during the first half. Having said that, we got to half time with absolutely no defensive alarms and we had been the better side. As the teams left the pitch I felt that it just needed that goal.
We didn't have too long to wait either although the second half started just like the first with us winning a corner in the first minute and from which we should have taken the lead.
The right wing corner look, to all intents and purposes, to be our trademark corner kick, but as it reached Michael Duff he took the ball rather than dummy it. In doing so he created himself some space in the box but then reverted to being a central- defender and put his shot wide.
But, in just the fourth minute of the half, and perfectly timed for the Clarets Mad First Goal Sweep, we took the lead.
Blackpool cleared the ball from the edge of their box but only to David Jones who quickly found Trippier to his right. Tripps moved it on to Kightly on the right touchline and from then it was pure class.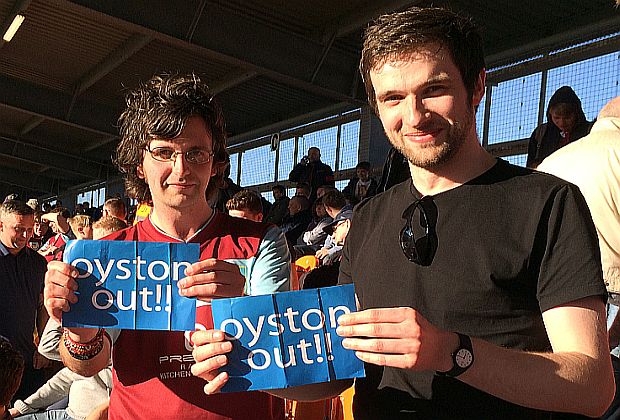 Unity amongst football supports - Oyston out!! say Burnley fans
Kightly played the ball inside to Dean Marney and then moved in to receive the return pass. He got himself into position and his shot, from the edge of the box, found the net just inside the far post giving Gilks no chance whatsoever.
It was a goal to confuse Sky with eagle eyed viewers immediately spotting that the 0-0 at the top left of the screen was changed to 1-0 in Blackpool's favour, although not for too long.
It was Burnley who were a goal up and we looked more than comfortable with that for much of the remainder of the game once we'd got past the 53 minute demonstration that saw tennis balls thrown onto the pitch in protest against home chairman Karl Oyston.
Such is the poor relationship between fans and chairman at Blackpool that the Oyston's arrogantly turned up to the game with their own tennis racquet, and this at a club that were playing Premier League back in 2011.
It's certainly not the sort of thing we want to see at Burnley. 'Oyston Out' banners were unveiled and our co-chairman John B joked: "I'm safe. They can't spell Banaszkiewicz."
Some fans joined the tennis balls on the pitch forcing a delay but Dyche was alert to it and getting to his players to tell them to remain calm and to keep their concentration. His counterpart Ferguson was furious with his supporters. He'd asked them to keep the demonstrations outside of the game and cut an angry figure as he helped throw the balls off the pitch.
By the time we restarted I had to enquire as to whether we led one-nil or fifteen-love.
The football hadn't been great up to that point and, to be honest, it seemed to take some time to get going after it. It really had flattened things. We didn't look too likely going forwards but we were having absolutely no problems defensively.
Goalscorer Kightly was replaced by Junior Stanislas but a couple of minutes later there was even more fun and lack of unity with the home club as coach Bob Malcolm appeared to punch Stephen Dobbie just before he was brought on.
Oliver moved in and sent the coach to the stand and after the game Ferguson said very abruptly that he would deal with it.
Incredibly it was us who got the first yellow card of the game, perhaps, unsurprisingly, it was Marney and, after another speaking to he was replaced by Chris Baird.
With ten minutes to go it looked all over but then Blackpool started launching missiles into our box. Some of the high balls were worrying the seagulls overhead but when that happens it certainly starts to ask questions of defenders.
Duff and Jason Shackell had just about ever answer, to such an extent that, despite all the supposed pressure, they only really had one shot on goal. That came in stoppage time and ended with Trippier producing a brilliant piece of defending to head over.
It really was something special from the right-back, but Tom Heaton said after the game that he would have saved the shot from Blackpool substitute Andy Halliday.
That was it for Blackpool, that was it for the game and when the final whistle went the points were in the hands of the team who had clearly been the best on the day.
The Burnley fans inside the ground were very much in party mood and so were those in the Blackpool bars catching it on the big screens.
"You have to find different ways to win," has been one of Sean Dyche's mantras all season so I was flabbergasted to read a thread on the message board entitled 'Why did we sit back and let Blackpool come at us?'.
Some still haven't been listening to the manager. Some still don't understand what on earth you have to do to defend when missiles are being launched into your box.
Thankfully the only dissenting voices inside Bloomfield Road were home fans. At the final whistle there were more pitch invasions and further demonstrations. It was so vociferous that I wondered whether Frank Teasdale was there reminiscing on his time as Burnley chairman.
Players, fans and manager celebrated and I don't think I've seen a smile as wide as that on our manager before, but he was soon back to his mantra.
After the game he said: "It's another part of the business we have taken care of, it's a big result. That's 11 away unbeaten and we had to work hard.
"The interesting thing is Derby have changed from 'we're in the play-offs' to 'we could still beat Burnley'. If you think of my mantra, it's never changed. Just 'one game at a time', and it's authentic. The next game comes around Monday.
We're not up yet; Derby ensured that by winning at Doncaster, so my bottle of red wine remains, for now, unopened. But, as the Sky commentator said at the final whistle: "The Premier League flag is ready to be raised at Turf Moor, the Premier League badge ready to be stitched onto those famous Burnley shirts".
The fat lady has cleared her throat. I can't wait for her to start singing.
Don't forget the mantra - it's Wigan on Monday.
The teams were;
Blackpool: Matt Gilks, Tony McMahon, Harrison McGahey, Craig Cathcart, Jack Robinson (Andy Halliday 44), Chris Basham, Isaiah Osbourne (Stephen Dobbie 70), Barry Ferguson, David Perkins, Neal Bishop, David Goodwillie (Louis Almond 56). Subs not used: Faris Haroun, Andy Keogh, Tom Barkhuizen, Elliot Grandin.
Yellow Cards: Isaiah Osbourne, Tony McMahon.
Burnley: Tom Heaton, Kieran Trippier, Michael Duff, Jason Shackell, Ben Mee, Michael Kightly (Junior Stanislas 68), Dean Marney (Chris Baird 81), David Jones, Scott Arfield, Danny Ings (David Edgar 90+4), Ashley Barnes. Subs not used: Alex Cisak, Kevin Long, Ross Wallace, Keith Treacy.
Yellow Cards: Dean Marney, David Jones, Michael Duff.
Referee: Michael Oliver (Ashington).
Attendance: 16,098.