Sometimes I write match reports following good performances and sometimes when the performance hasn't been anything like good enough. It's not often the case that ninety minutes will include both extremes but that was very much the case here.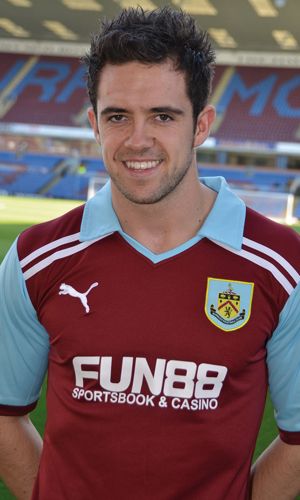 Outstanding second half from Danny Ings
We were as bad as we've been at any time this season during a first half when we came off the pitch very thankful to be level. Then we came out for the second half, scored an early goal and turned in a 45 minutes that left the visiting fans in the Milton End of the ground ecstatic.
I think we were somewhere on the M40 that I learned that neither Steven Hewitt nor Cameron Howieson were anywhere to be seen at Gawthorpe for the youth game so guessed, quite correctly as it turned out, that they had travelled with the first team.
That proved to be the case with both, as it was last Saturday, warming up ahead of the game. This time, though, it was Howieson who got the nod for the fifth place on the substitutes' bench in a squad that was otherwise unchanged from that which had drawn against West Ham last week at home.
I had some concerns ahead of kick off. We were going into the game on a run of seven games without a win and facing a Portsmouth side who had defeated Birmingham and Hull in their last two home games and were fighting for their lives. I suspected it might just be a difficult afternoon.
It started that way. Portsmouth were much better than us in the first quarter of an hour although they did get the benefit from some very bizarre decisions by Stuart Attwell. Watching this game there was so much clear evidence as to why he's no longer required at Premier League level.
He wasn't getting anything seriously wrong; the problem was he wasn't getting too many decisions correct. He awarded a goal kick when Jason Pearce cleared a Burnley cross over his own bar, wrongly overruled his assistants on throws, and then incredibly gave Portsmouth a corner when Lee Grant, in possession of the ball, was virtually wrestled to the ground and then thrown over the touchline.
From that corner we struggled to get the ball and it led to three or four more corners before we finally cleared the ball. Ross Wallace hit it up to the half way line where Martin Paterson looked set to get onto the ball. He didn't get there and Pompey defender Karim Rekik hit the ball back fifty yards to concede an unnecessary corner to Burnley on the left flank.
Dean Marney took it, David Edgar stepped over the ball and Kieran Trippier came in to hammer the ball home for another goal from our trademark corner routine. We were second best but had gone 1-0 up and now I thought the heads might go down in the Pompey side.
Not on your life. They were level in three minutes through David Norris who converted a Luke Varney cross from the right and for much of the first half they threatened to repeat that time and time again.
We were awful, absolutely awful, and Portsmouth had found the way to goal down our left hand side where Ben Mee, David Edgar and Danny Ings between them were simply appalling, although in fairness I was struggling to find much to enthuse about in any other area of the pitch.
We tried switching players from one position to another too often and it just went worse but incredibly as half time approached it was still 1-1 and could have been better but for a deflection robbing Mee of his first Burnley goal. Even so, Jamie Ashdown had to make a terrific save to deny him.
But both teams went in at half time with their respective managers having some tough questions. Howe must have been as shell shocked as we were on the away end, so bad were we, whilst Appleton will have been asking how on earth they'd failed to score more than one goal given the number of opportunities they had.
Some of his fingers would surely be pointing at Luke Varney and Tal Ben Haim in particular. Had they delivered better into the box then they surely would have seen their side in front.
A number of Burnley fans left at half time. "I've had enough," said one as he passed me to go off looking for a nearby hostelry, but he, and his friends missed what proved to be an amazing turnaround after half time as the Clarets eventually went on a goal rampage.
What was the catalyst? Was it the change in formation? Was it Ings moving up front or was it the early goal?
That early goal came within 75 seconds of the restart as we were all taking our seats again and it was a good goal too. Quite what Edgar was doing out on the right I'm not sure but the central defender delivered a brilliant cross for Ings to head home his first Burnley goal.
Even then, we'd had to deal with a Portsmouth corner and, like the first goal, it came almost directly from clearing it.
This time there was no quick response from Pompey. The chimes were dulled, there was to be no more clapping and feet stamping to Mike Oldfield and at no point did I ever think we were going to surrender the lead again.
Yes, their heads dropped, but this was a different Burnley altogether and Ings, so poor in the first half, was absolutely sensational in his more favoured striker role.
We even survived a couple of injuries. The familiar site of Martin Paterson limping off the pitch came soon after the goal and then Mee was forced off with a back injury. On came Austin, for Pato, and with no defenders available it was McQuoid who replaced Mee.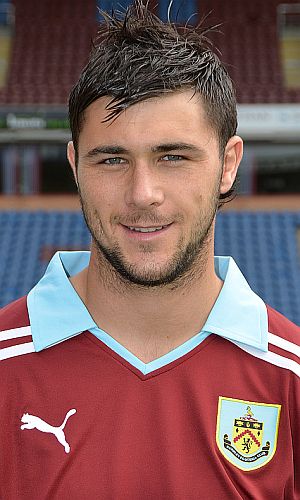 Charlie Austin, first sub to score away hat trick
Pompey made a couple of changes themselves and they had their moments including one almighty scramble in the box that referee Atwell ended by awarding us a free kick.
Another goal, and we were threatening, would surely wrap this one up and that's exactly what happened. We won a free kick on the left. Wallace played it into the box. It was missed by McQuoid but Austin was alert to it, got a first touch (maybe off his hand) before scoring from close range.
That was it, the points had been won. This Portsmouth side were now a spent force and the only question was whether we'd get any more.
McQuoid nearly got his name on the scoresheet twice. The first time he hit a shot just over and then forced a save out of Ashdown and the score was still 3-1 when the board went up for six extra minutes.
Then, Charlie took over and made that stoppage time his own with two more goals to complete his first ever professional hat trick.
He latched onto a poor Jason Pearce back pass, took it round Ashdown and slotted home to make it 4-1 and then gave us an entertaining celebration with his shirt waving above his head. He got a yellow card, quite rightly for that, but it was perhaps a surprise to see the referee get something correctly.
The removed shirt exposed what we initially thought was shoulder strapping but there were calls from the crowd for him to also remove his bra.
The shirt didn't come off again after the fifth when he blasted home after being played in by McQuoid although for a second I thought it was. It was the ball he wanted and deserved not a red card.
Portsmouth had gone completely. In that last period we'd just walked through them at will and had we played another ten minutes then goodness knows what the final score might have been.
Never mind, 5-1 was more than enough, and it is only the third time I've ever seen Burnley score five goals away from home in the league. The first occasion was the 6-2 win at Wrexham in 1991 and more recently the 6-5 defeat at Grimsby, the night Arthur Gnohere got injured between the ears.
Below I've listed some of the four goal wins in the league away from home over the years.
I'll settle for that. The first half really was horrible but the second half had just about everything as we threw chucked the kitchen sink at Pompey. That second half gave us some real positives. Many will point to Austin and no one can underestimate a hat trick, but for me the real shining light was Ings. He was simply outstanding.
I suspect we might not be going there for a while. In a perverse way I'll miss the almost derelict looking Milton End stand with the 1950s facilities. What I won't miss is the junior Neanderthal welcome committee waiting outside at the end forcing us to be held inside the ground for a few extra minutes. I think they'd be better employed trying to raise some money rather than trying behaving like something from football grounds of yesteryear.
The teams were;
Portsmouth: Jamie Ashdown, Tal Ben Haim, Greg Halford, Jason Pearce, Karim Rekik, Scott Allan (Marko Futacs 69), George Thorne (Luca Scapuzzi 81), David Norris, Joel Ward (Kelvin Etuhu), Luke Varney, Chris Maguire. Subs not used: Ricardo Rocha, Ashley Harris.
Yellow Cards: Chris Maguire, Marko Futacs, David Norris.
Burnley: Lee Grant, Kieran Trippier, Michael Duff, David Edgar, Ben Mee (Josh McQuoid 71), Dean Marney, Marvin Bartley, Ross Wallace, Chris McCann, Danny Ings (Junior Stanislas 90+4), Martin Paterson (Charlie Austin 52). Subs not used: Brian Jensen, Cameron Howieson.
Yellow Cards: Lee Grant, Dean Marney, Charlie Austin.
Referee: Stuart Attwell (Nuneaton).
Attendance: 15,739.
Footnotes
Yesterday was just the tenth time Burnley have won an away league game by four or more goals in post war football with just one of those, the earliest of them, by five goals.
They are:
Colchester United, 4-0 in 1998/99
Wrexham, 6-2 in 1991/92
Cambridge United, 4-0 in 1985/86
Sunderland, 4-0 in 1965/66
Leicester City, 6-2 in 1961/62
Birmingham City, 6-2 in 1961/62
Chelsea, 6-2 in 1960/61
Preston North End, 4-0 in 1958/59
West Ham United, 5-0 in 1946/47
Charlie Austin became only the third Burnley player to score a hat trick in a game having come on as a substitute and the first to achieve that in an away game.
The first was Andy Payton in the League Cup tie against Hartlepool United in 2000/01 and the second, in 2006/07, was Gifton Noel-Williams against Barnsley.