Somewhat ironic, I thought, given it was the sale of Fox that was the tipping point in our season; the stage when you knew we were neither going to be here nor there come the end.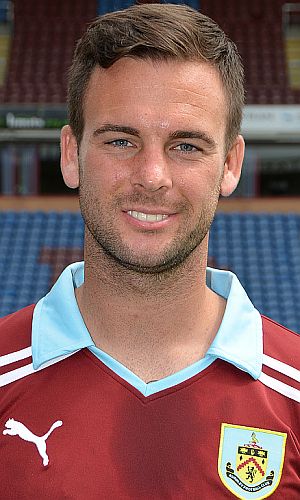 Danny Fox - interviewed after winning promotion
Fox leaving, or perhaps more the manner of it, was that one that made no sense and clearly destabilised the manager, the players and the supporters. What might have been, had we been able to retain the services of the likes of Fox and Jack Cork, if we'd been able to tweak the squad rather than decimate it. But we couldn't, we didn't and we are, as the awful management-speak goes, where we are; right in the middle, as I expected.

A couple of hours earlier and the match had started after the 4000 mascots had left the pitch. This was the epitome of the end of season game, so much so that I considered I could use three words and have this report done. Not much happened.
Sure there were two goals, but this was a game played at such a pedestrian pace with few moments of real quality, I wondered how Turf Moor stayed so quiet. Surely there were some people snoring? My pal Niles was VIP-ing it up in the Bob Lord and he texted me at half time to describe the first half as the "worst half of football ever". And that's coming from someone who watches Liverpool.

Indeed the first half was completely tragic, much of it spent trying to spot David James who was trying to blend into the background in his luminous acid groove gear. It was one of those games where you lean back, stretch across a couple of seats and put your feet up on the ones in front as it's clear that you won't need to get up in a hurry.
That is unless you have someone insisting on sitting on the seat right next to you, despite the rest of the row being free. Suddenly, something happened. Ross Wallace got into the box on the left and fired a shot over the bar. Down the other end, Bristol's not-remotely-tricky winger, Bolasie, tricked himself a couple of times and fell over. It must have been his boots' fault as he swapped them at half time for a pair that blended in with his socks, thus increasing his trickery rating by 3 points.
Then came the best move of the half (and probably the match) resulting in the best chance of the half (and probably the match) for Charlie Austin. Stanislas played an excellent through ball down the line for Lafferty, who found Austin. Austin cut inside his man and curled his shot wide when it seemed easier to score. A couple of overhit long balls trickled through and were picked up by Jensen, enabling his fan club to meet their quota of "Beast" chants for the half, and that was it.

Half time brought a festival of waving. Firstly David Eyres and the Parkinson family, followed by the Youth Team and coaches who have done themselves proud this season.
Then there was Barry Kilby, waving goodbye after 13 years as Chairman. Barry deserves a lot of credit for what he has done for the club in that time. He's got his critics and that's fair enough, as no one is above criticism, but I'll always say that it's easy to criticise when you've not been there at the time, making the decisions. I don't agree with every decision and I'd like to think I'd have done certain things differently, but the fact is that Barry cared enough and had the bollocks to put himself up there and run the club.
The reality is that, like the majority of people, I've no idea what it's like to run a football club. That Barry has managed it for 13 years is pretty good going and he steps down with the club stronger than it was when he took over. He oversaw what I think will prove to be the most successful and exciting time that I'll experience watching Burnley, so I wish him all the very best.

I've just realised there's another half of football to cover yet. Or actually, there isn't really because the second half only provided a few more noteworthy incidents than the first. First, I got a text from Niles about 5 minutes in: "Wallace. Garbage. Discuss." "What's to discuss?" I replied. Wallace then chose that moment to play a lovely through ball to someone, Bartley I think and a minute or so later, jinked inside and cracked a shot into the side netting. Then he was subbed for Jay Rodriguez to make what you'd expect to be his last appearance for us. Understandably, it wasn't his best.
Stanislas played another good ball between two defenders for Lafferty to cross, but we didn't score. Then, David James sat down. Whether he injured himself sitting down or not is unclear, in fact, maybe he'd fallen asleep through boredom. Either way he went off and, without a goalkeeper on the bench, defender Liam Fontaine went in the sticks.

After a while, we decided to have a shot at him, Danny Ings having a pop from 25 yards past the scrabbling Fontaine. Good goal; James would probably have saved it. Shortly afterwards Lafferty gave the ball away and someone scored for Bristol, no idea who, but it was a decent finish. Did anything else happen? I don't think it did. A season summed up in a game. Kieran Trippier was by far the best player on the pitch and he's one of the players you expect may be difficult to keep hold of in the summer. My hope is that there is less of a need to sell than last close season, mainly because we did the bulk of our cost-cutting then, but I'm realistic and if Premier League teams come in offering significant amounts of cash, then it's understandable if we let the players go. Our problem is it will get harder to keep replacing them.

If we can build, we can improve, but so much is going to depend on what happens in the summer. What I don't want us to do is lose players to our rivals. I don't want to hear the same interview I heard on Saturday, with Kieran Trippier replacing Danny Fox.