When there's no World Cup or European Championships to occupy them, the football fan apparently struggles to make sense of life on a diet of cricket, tennis, cycling, international swimming and even rugby league.
This isn't true of course; I suspect most are glad of the break and even those who can't cope without some form of football in their lives can probably tune into Sky Sports 27 for coverage of Manchester City's end of season tour to Equatorial Guinea.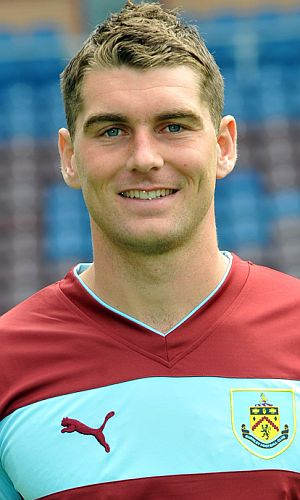 Sam Vokes could form a partnership with Danny Ings
What makes it less true this season is that it's an even less long summer than usual with the kick off, for those in the less important leagues, brought forward to August 3rd. Granted that's only a week earlier than usual, but it's only three days after July. It's only half way through an Ashes series. It's holiday season. It's too bloody early.
But here it is, a brand spanking new season is upon us and no ordinary season is it, for this is the season where the Football League celebrates its 125th anniversary. Quite rightly, much had been made of this milestone with certain fixtures taking place in each division to mark the occasion; Burnley versus Bolton Wanderers being one of them. What better way to celebrate the traditions of the past 125 years than with a Lancashire derby between two of the league's founder members, moved to a 12.15pm kick off at the behest of a subscription television company?
One of the last places I would normally expect to be at lunchtime on the 3rd of August is Turf Moor but there I was and, to be honest, it felt a bit odd. It didn't feel like the first day of the season. It wasn't anywhere as exciting as usual.
I'd been at Old Trafford the day before under a blazing hot Manchester sun watching a full day's cricket where, admittedly, not a great deal happened in terms of the match but it had still been a hell of a good day, full of fun. And booze. It had been worth being there just to see David Warner get booed to the crease, wave his bat around for approximately ten minutes, request the daftest review in the history of cricket and get "Cheerio'd" out again.
All sports are improved by the presence of a pantomime villain and for the first day fixture against Bolton last season, we'd had Owen Coyle. It made for a very different atmosphere to the one experienced this time round. It certainly made it easier to write about the game, believe me.
So the football was back, the sun was shining, the pitch looked immaculate and the PA system had been turned up for the benefit of any Burnley supporters living on the moon. The only thing missing was the fans. There are probably many factors why so many stayed away yesterday – holiday season, the daft kick off time, the game being on TV – and it all added up to make it feel like this wasn't the first game of the season, with an atmosphere that barely got a few decibels higher than the sound of 10,000 people chatting amongst themselves. Hopefully things will improve as we get past the summer and into the season; hopefully the team gives us something to shout about.
On the pitch we'd started brightly, zipping the ball about on the deck and carving out a few half chances, yet as the game went on it was becoming (as expected) all too apparent how much we will miss Charlie Austin, if we don't sign a decent replacement.
Our attack looked toothless and one-paced, there is no one attacking the ball in the box. Vokes and Ings could strike up a complimentary partnership, but it doesn't look like one that will score enough goals. The latter nearly did score a goal, bursting into the box from the former's knock down, past a pedestrian David Wheater who had to stretch to block the imminent shot. The shot itself was utterly powder puff and seemed to be going wide but, having struck Wheater's boot, spun slowly and beautifully into the bottom corner of the net.
This got our tails up and we started to apply a bit of pressure but again struggled to create anything really meaningful, never really testing Wanderers' awful goalkeeper with shots from outside the area. Bolton's equaliser was predictable and a very decent goal it was too, Pratley finishing a move he started by drilling the ball low into the corner from Eagles' intelligent cutback. Eagles, having been booed from the minute his name was read out, raised his hand apologetically to those in the Jimmy McIlroy Stand, but stopped short of offering to rescind the goal which was most unsporting of him. This was ten minutes before half time and that was pretty much the end of any real threat on either goal, both sides meandering their way to a deserved draw with some pretty football and some strong defending.
Many observers have Bolton down as one of the favourites for promotion. They didn't look any great shakes yesterday, which shows once again how tight and competitive this league can be, but the difference between us and them is evident looking at their bench. They had players who could come on and change the game, as Craig Davies nearly did. Our two major signings of the summer so far looked solid enough, but without a bit more adding, we've not got the strength in depth to be perhaps where we could be. Hopefully the summer isn't over yet in terms of players coming in. In fact, hopefully the summer isn't over yet full stop, no matter what the hype machines might have you believe on the return of the football season. Of course the summer isn't over, there's still half the Ashes series to go, it's only just turned August and it's only just started raining.