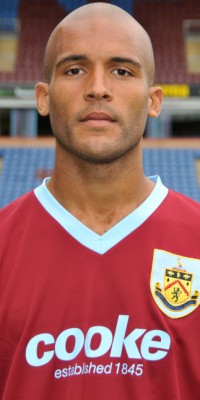 Clarke Carlisle - Man of the Match
I seriously wondered whether it was worth going to the game yesterday. Having read some of the comments left by Burnley fans I'd learned that all the new signings were not of the standard required, that the new manager was a poor appointment who would take us down and to cap it all we were playing the best team in the country.
There was even a suggestion I saw that with the signing of Leon Cort at the age of 30 it was destroying the system so expertly put together by the previous manager of bringing in exciting young talent - presumably he was referring to Richard Eckersley, Brian Easton and Fernando Guerrero. Team first, squad later, one successful manager once told me.
It proved to be a long day after I left home just after 10:00 a.m. to watch the youth team play Rochdale. Just a few minutes before arriving at Gawthorpe I received a useful, if belated, text which read "Do you know the youth game is off?"
Overnight frost had changed the morning plans giving me longer to worry about this forgone conclusion to follow later in front of the ESPN cameras.
Around an hour before kick off came the team news. Although the trio of new boys were all there at the Turf only one was playing. Danny Fox, the latest signing, had a watching brief whilst awaiting international clearance, Nicky Weaver replaced Diego Penny on the bench with Cort getting the nod to play alongside Clarke Carlisle in the centre of defence.
Graham Alexander and Chris McCann both missed out after picking up injuries at Horwich on Tuesday. Andre Bikey came in, as did Kevin McDonald whilst Robbie Blake was back in the starting line up with David Nugent back down on the south coast wondering if anyone is going to pay him.
Chelsea's named a strong line up, but there again they never name anything else, with their skipper John Terry in the side. There was no injunction to prevent Ancelotti confirming his place.
If I didn't know how good Chelsea were then I certainly found out last August when they beat us 3-0 at Stamford Bridge. That day they were truly awesome and despite there being no Michael Essien, despite there being no Jose Boswinga and despite there being no Didier Drogba it was still a side capable of beating anyone else in the Premier League.
Being led out by Phil Dowd was a worry given his last two Burnley games, but we needn't have worried. He didn't do much refereeing in this game but just about allowed the Chelsea captain to take over.
It was probably no surprise to see Chelsea gain the early initiative but this served to place new signing Cort in the spotlight. On a number of occasions he got excellent blocks in to prevent the league leaders from going in front.
We survived it and started to take the game to Chelsea and had a decent spell, but it all came to a very abrupt end when they took the lead. It was so swift, and so precise in its execution, starting from goalkeeper Petr Cech who threw the ball out to Joe Cole on the right. He moved forward and hit a ball across which eluded Tyrone Mears and fell for Florent Malouda.
He pulled the ball back low and Nicolas Anelka had got away from Bikey to slot home from close range and the mountain we were facing had just got somewhat higher.
We did all we could to get back into the game but Laws was forced into a change when Christian Kalvenes had to come off. It was David Edgar who came on for his home debut.
Robbie got free just over the half way line and was checked by Terry who received a yellow card. I've seen reds come out for those, but not for teams like Burnley against Chelsea. Soon after the yellows were evened up with Bikey getting his fifth of the season.
It was still 1-0 at half time and probably that was a fair reflection of the first half. It had certainly been a lot better than the doom mongers had been suggesting.
I thought we'd changed manager again during the half time interval when Long Ball Joe (Royle) came past me clutching a cup of coffee. He was on his way back to the commentary position just as Ian Britton, always assured a warm reception by Burnley fans, also received a good ovation from the Chelsea fans as he came out to make the half time draw.
Five minutes into the second half the game changed. After the ball broke for us in the midfield it came off Bikey onto Blake who played a lovely ball through for Fletcher. The striker hasn't netted since the West Ham debacle at the end of November but he did brilliantly here to get past Alex and once past the Chelsea defender he made no mistake, volleying past Cech.
Burnley 1 Chelsea 1 - we'd got our first league goal since Boxing Day and were back into this game although I suspected Chelsea might just up the tempo a bit. They did, and we had our scares at times. But we defended manfully and as the second half progressed I suddenly got this idea that we might even hang on for a draw.
With just over ten minutes to go I said how disappointed I'd be now to lose it having got to this stage at 1-1. I really shouldn't have opened my mouth. Cort got the ball away for a corner and when Lampard took the flag kick from the right Terry did what apparently he does best - he scored.
You knew there was no way back a second time although within a minute Mears went on a right wing run only to be dumped over an advertising board. How on earth two officials in close proximity didn't see it as a foul is anyone's guess but Dowd's total disinterest in Mears' welfare was shameful. Well done Cech who was the first to run to his aid.
A long range effort from Eagles was all we could offer and the final whistle signalled a fourth successive defeat.
It had been better, no doubt at all about that. It probably had to be after Reading and Bolton. Bikey came back and turned in a superb performance in midfield, new boy Cort played well, but for me the man of the match was Clarke Carlisle who had an outstanding game at the back.
A draw would have taken us out of the bottom three. A win would have incredibly taken us to fourteenth. The result kept us in that bottom three and there really are no guarantees. We could well be relegated but I do believe we have enough about us, enough quality, to stay up.
Whether we do or not will depend on how quickly we can end this winless run. I really do think we can do it.
The teams were;
Burnley:
Brian Jensen, Tyrone Mears, Clarke Carlisle, Leon Cort, Christian Kalvenes (David Edgar 35), Wade Elliott, Kevin McDonald (Martin Paterson 60), Andre Bikey, Chris Eagles, Robbie Blake (Steven Thompson 72), Steven Fletcher. Subs not used: Nicky Weaver, Michael Duff, Joey Gudjonsson, Frédéric Nimani.
Yellow Cards:
Andre Bikey.
Chelsea:
Petr Cech, Branislav Ivanovic, Alex, John Terry, Ashley Cole (Deco 77), Joe Cole (Daniel Sturridge 72), Frank Lampard, Michael Ballack, Yuri Zhirkov, Florent Malouda, Nicolas Anelka. Subs not used: Ross Turnbull, Ricardo Carvalho, Paulo Ferreira, Nemanja Matic, Fabio Borini.
Yellow Cards:
John Terry.
Referee:
Phil Dowd (Stoke-on-Trent) assisted by John Terry (Stamford Bridge).
Attendance:
21,131.