Whatever your view on the penalty incident that saw Kieran Trippier sent off in only the 15th minute, it is very much the case that it had a major effect on the rest of the game as the Clarets had to battle manfully against 10 men for 75 minutes.
No one can know the answer but, given what I saw, I'd say we were the better side and on another day with no red cards we would surely have won the game comfortably. As it was, we were still unfortunate to lose it.
It was all looking good ahead of kick off. We'd just won three on the trot at home without conceding a goal and hopes were high of another victory to lift us back into the top half of the table.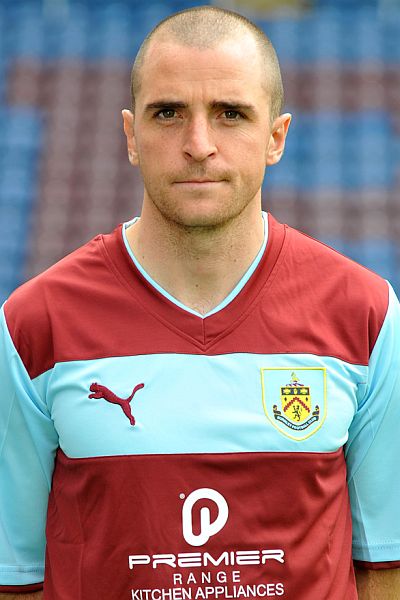 Dean Marney filled in at right back after the red card
The team news was as expected. It was looking as if Ben Mee wouldn't make it with Danny Lafferty, who has made a big impression on manager Sean Dyche, getting another start, and further up the pitch on the right hand side it was a first start under the new manager for Junior Stanislas who came in for the suspended Ross Wallace.
It was a mixed start to the game. We had one early attack and then a poor ball from Charlton goalkeeper Ben Hamer gave Chris McCann a chance from some distance out but he couldn't get close to the unguarded target.
Charlie Austin had his first attempt at goal when he rose to head a Kieran Trippier cross against the net but just on the wrong side of it.
Charlton hadn't offered too much but on the quarter hour had a fantastic opportunity to take the lead when referee Bobby Madley awarded them a hotly disputed penalty. There was so much happening in the box it was hard to work out exactly what had happened. I've read that they hit the bar twice and that they hit it at least once before the penalty incident, but that wasn't the case.
It was the first effort that Trippier was adjudged to have handed. He then cleared the second effort from the line with his right foot and then they hit the bar. As Turf Moor breathed a huge sigh of relief, Madley stepped in. He awarded a penalty for handball and sent Trippier off.
Trips looked bemused by it all and as he passed Hamer on the way off he was clearly indicating to him that he had not handled it. Had he? I'm not sure. I've watched it over and over in slow motion but can't be sure he did, in fact I'm inclined to think he didn't, so Madley must have been very eagle eyed to be certain as he clearly was with the red card coming out very quickly.
The one consolation is we didn't go a goal behind as Lee Grant went down to his right to deny Charlton's leading goalscorer Johnnie Jackson from the penalty spot, and once the game settled again it was Dean Marney who dropped into right back in what was now basically a 4-4-1 formation.
Had they converted either of the last two opportunities then we'd have been a goal behind but would still have had eleven players on the pitch. We had the discussion and the view was that we'd have rather that header gone in rather than hit the bar, that we'd rather be trying to come from a goal behind with all our players on the pitch.
Even with ten players we looked the more likely in the first half, although the loss of Trippier meant no marauding from him down the right and also, with the reduction in players, made it more difficult for us to get players up in support of Austin.
The nearest we came to scoring was via a long range shot from the again impressive Brian Stock which Hamer did really well to save at the expense of a corner, and from that corner Duff saw his header cleared off the line.
We were looking quite solid and the only chance Charlton created came late in the half when a ball was played up to Haynes after a Stanislas mistake but again Grant was equal to it as he turned the low shot for a corner.
It was still level at half time and there was a strong belief that the number of players on the pitch should have also been levelled after an elbow by Rob Hulse on Jason Shackell. He has previous for it at Turf Moor, having been sent off for elbowing Mark McGregor in January 2004 when at West Brom.
He was penalised with the assistant flagging but incredibly no further action was taken by Madley and that was to prove significant when the result of this game was decided.
For much of the second half there didn't look too much likelihood of a goal. For the most part we looked comfortable and in attack we came up against yet another opponent in the totally inept assistant referee in front of the Bob Lord Stand.
On one occasion he flagged us offside from a ball played by a Charlton player. Even Madley spotted that one was incorrect, and then, incredibly, stood motionless as Hamer came out of his box to collect the ball as Austin came in.
Charlton were offering little to be honest and you wouldn't have sensed that they were playing against a team with one less player. Chris Powell brought on yet another player with a Turf Moor red card history in Ricardo Fuller but it made little difference.
We looked comfortable and when the winner came it was unexpected. Hulse beat Lafferty in the air following a ball into the box from the left. He headed it back across for Haynes who had pulled away from Shackell and was able to head home.
Dyche responded. He brought on Danny Ings and went on to introduce both David Edgar and Sam Vokes, but in truth we rarely threatened to equalise. There was just one half chance when Austin headed towards goal and then tried to poke home a rebound.
It wasn't to be. We'd lost. It's so difficult to sum it up because of how the game went. It's hard enough playing with ten men but to have to do so from just the 15th minute makes it doubly hard.
Dyche said he thought his players were magnificent. Midfielder Stock said after the game: "The lads left everything on the pitch and gave everything and we can take a lot of heart from the performance which will stand us in good stead for the rest of the season."
He added: "If we can build on the heart and passion we showed today and the commitment we have in the dressing room it will bode well. Everyone is united. The lads get on very well with each other and that's something I have not been part of for quite a few years now and that's something that is going to stand us in really good stead for the season."
The passion and commitment was definitely there. The problem was the decision made by the referee made it very difficult for us for the rest of the game. I recall Steve Cotterill saying once that you can't prepare to win a game, just to play well, because outside forces such as referees can prevent you winning. Whichever way you look at it, the decision from Madley yesterday made it very difficult for us.
It's successive defeats now and I can't say we deserve either. After the elation of beating both Wolves and Leeds we are very much back down to earth. There'll be no Kieran Trippier at Hull, but he'll be back in time to play against his former loan club Barnsley and then for the next home game whoever that might be against.
It's been a difficult game to report on because of the penalty incident. It's certainly very difficult to be critical despite the result. And I still don't know whether it really was a handball.
The teams were;
Burnley: Lee Grant, Kieran Trippier, Michael Duff, Jason Shackell, Danny Lafferty (David Edgar 78), Brian Stock, Dean Marney, Chris McCann, Junior Stanislas (Danny Ings 72), Charlie Austin, Martin Paterson (Sam Vokes 83). Subs not used: Brian Jensen, Joseph Mills, Marvin Bartley, Cameron Stewart.
Red Card: Kieran Trippier.
Charlton: Ben Hamer, Chris Solly, Michael Morrison, Leon Cort, Dan Seaborne, Eggert Jonsson (Ricardo Fuller 53), Bradley Pritchard, Johnnie Jackson, Salim Kerkar, Rob Hulse (Matthew Taylor 90+2), Danny Haynes (Dorian Dervite 86). Subs not used: David Button, Danny Green, Scott Wagstaff, Bradley Wright-Phillips.
Yellow Card: Johnnie Jackson.
Referee: Bobby Madley (Wakefield).
Attendance: 11,405.