In the end it all looked comfortable as we trooped off home drenched from the pouring rain. Goals from substitute Keith Treacy and Sam Vokes in the last sixteen minutes might well have been followed by more as the Glovers began to look a well beaten team.
It could have been so very different. For much of the time before the opening goal we didn't look like a team that was moving towards any sort of win, let alone a comfortable one, and it took the introduction of Treacy along with Scott Arfield to provide the impetus for us to take the points.
By the final whistle the points were ours, and one good friend of mine, who was unable to get to the game because of illness, said later that it was still three points. It was, and that's what mattered above all else.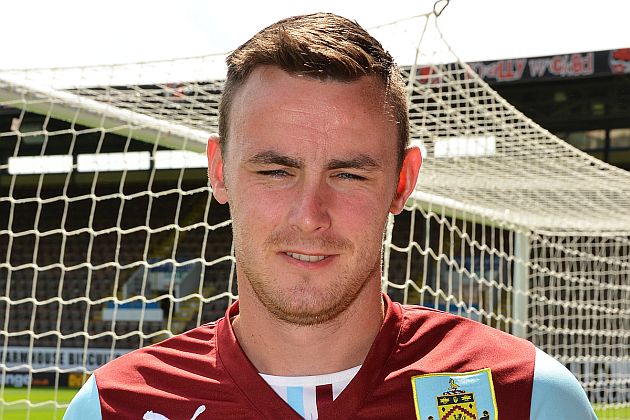 Keith Treacy opened the scoring
I can never explain it but sometimes I go to games full of confidence. Setting off for Hillsborough a week ago I was like that and my confidence was fully justified. Yesterday I didn't have that confidence at all. I was concerned that it might just be one of those games, one we were expected to win where we never lived up to expectations.
Although not intended to be a report on the weather, there was nothing untoward as I left home. It was fine, just a light breeze, although there was just a hint of rain before I reached the pub around an hour and a half before kick off.
It poured with rain as we enjoyed the pre-match refreshments but was, thankfully, fine for the walk up to the ground, and it was then that we learned Burnley were unchanged from the team that had won at Sheffield and with the same seven substitutes.
Yeovil's signing of 20-year-old Manchester United goalkeeper Sam Johnstone had been reported during the morning and the team news also confirmed he would make his Glovers' debut, coming in for former Burnley trialist Marek Cech who was injured last week.
We just never seemed to get going in the first half against a resolute and workmanlike Yeovil team and it was hardly the most entertaining football we've seen this season, although by this time the wind had increased and it was making it somewhat difficult for the players.
They say goals means entertainment so, in some ways, it was no surprise to see the players go off at half time with the score still goalless, but the simple matter is that it shouldn't have been and both teams missed chances that really should have been taken.
The first real effort of the game was actually on target. It came from Ross Wallace who struck a shot from distance to test Johnstone. The young goalkeeper was up to it and saved well down to his left at the expense of a corner.
Then came the chances. Poor defensive play from Burnley allowed James Hayter a shooting chance but he failed miserably, hitting his shot into the lower tier of the Jimmy Mac, and then, down at the other end, Sam Vokes, played in by Dean Marney, also missed the target with a shot from the left hand side.
If they were good chances, then the next two were even better. Perhaps the worst miss of the lot came from Liam Davis. Yeovil got the better of Danny Lafferty and the ball reached Paddy Madden who saw his shot parried away by Tom Heaton.
It dropped ever so kindly for Davis who was well inside the six yard box and had the goal at his mercy. Only Kieran Trippier on the line provided any resistance but it mattered not as Davis incredibly hit the shot over the top.
We really had struggled in the first half to find any rhythm or pattern to our play but with referee Scott Duncan, the latest official to have a very disappointing game, looking at his watch at the end of it we got our best chance.
Wallace and Trippier linked up on the right and Trippier's cross was perfect. Vokes got there first but he too couldn't keep his effort down and the header sailed over the bar.
If we were hoping for better in the second half we actually got worse, certainly as far as the weather was concerned. The wind increased and then came with it the heavy rain. Up in the Longside Upper I was getting wetter and colder thinking: "This is August, we're not into the winter yet."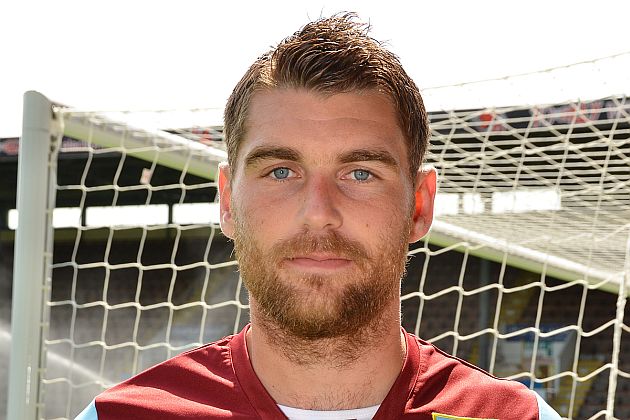 Second goal of the season for Sam Vokes
The game I thought suffered and it was, at times, certainly favouring Yeovil as they were giving wind assisted options in attack.
Even so, they tailed off. They looked as though they had run out of ideas and we were looking more than comfortable, even if we didn't look as though we might create anything.
Then came the changes, and the game changed. Wallace and Junior Stanislas were withdrawn. Neither of them could have been surprised given their performances. Arfield came on for Stanislas on the left and Treacy for Wallace on the right. The game changed.
Both of the substitutes more than played their part. Almost immediately Arfield took on the full back to put them under pressure. We hadn't done that all afternoon. Treacy followed it up with a run down the right, and then, in somewhat bizarre fashion, gave us the lead.
He'd gone over to the left and had the ball by the corner flag. He came inside the defender and curled a right footer towards the near post. It sailed into the net off the underside of the bar.
Did he mean to do that? Treacy will know the answer but I think not. Does it matter? I know the answer to that - it's no. Was the goalkeeper at fault? Maybe, but it could not have helped him as the ball hit the underside of the bar. What did matter is that we were in front.
Arfield tried to follow suit and get a goal of his own. He burst through their defence only to slide a shot just wide.
It was all Burnley now. We won a free kick on the right taken by David Jones. Danny Ings climbed in front of Jason Shackell to head against the foot of the far post. Arfield was first to the rebound and thundered in a shot. It was going wide but cannoned off Vokes into the net.
Suddenly it really was all happening. Johnstone saved well from Jones and then got down to deny Treacy who had made a superb run, a feature of his cameo, to get on the end of a Dean Marney pass.
The last Burnley chance came when Treacy set up Vokes but he too was denied a second by a goal line clearance.
There was just time for Ryan Noble to get a Burnley debut and then for Heaton to save from Michael Ngoo but when the final whistle blew Yeovil looked a well beaten side and Burnley looked as though they'd a lot more goals left in them.
By the time I got home drenched, the first 70 minutes had been forgotten. We'd eventually got it right and when my friend referred to the three points I smiled and realised that seven points out of nine had given us a decent start to the season.
It's four weeks to the next home league game. We've got to go to Brighton and Derby before that as well as fitting in Preston in the COCUP. 14th September the next time we play a league game at Turf Moor. I'll need to check, of course, to see who that's against.
The teams were;
Burnley: Tom Heaton, Kieran Trippier, Kevin Long, Jason Shackell, Danny Lafferty, Ross Wallace (Scott Arfield 68), Dean Marney, David Jones, Junior Stanislas (Keith Treacy 69), Danny Ings (Ryan Noble 90+2), Sam Vokes. Subs not used: Alex Cisak, David Edgar, Ben Mee, Brian Stock.
Yellow Cards: Dean Marney, Ross Wallace, David Jones.
Yeovil: Sam Johnstone, Luke Ayling, Byron Webster, Danny Seaborne, Alan Tate (Michael Ngoo 65), Kevin Dawson (Joe Ralls 82), Ed Upson, Joe Edwards, Liam Davis, James Hayter (Sam Hoskins 65), Paddy Madden. Subs not used: Chris Dunn, Jamie McAllister, Sam Foley, Joel Grant.
Yellow Cards: Liam Davis, Byron Webster.
Referee: Scott Duncan (Newcastle).
Attendance: 10,085.