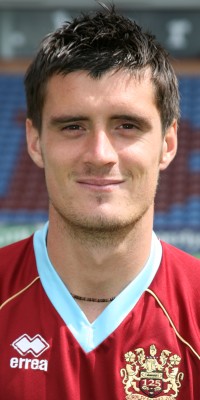 Stephen Jordan - outstanding until injury forced him off
"Hopefully next time I get the opportunity to report on a match for you, it will be much more upbeat and positive." I think it's safe to say that it will be.
It was only a few days ago, but that awful night against Hull seems such a long time ago. Walking out of the ground there were a lot of fans calling for Steve Cotterill to go, but I'm pretty sure most of them will have been surprised when the news broke through on Wednesday. It's been a hectic week and I don't think anybody realistically expected much from our visit to Leicester with all that had gone on.
I want to take this opportunity, if I may, to thank Steve Cotterill for the work he has done at Turf Moor since replacing Stan. I have been one of his biggest critics in the past year or so, but I still firmly believe that appointing him was the right decision by the board, I don't think anyone else could have turned around the club in such as way as he has. From the training ground, to the playing staff, to the reputation of the club Steve has had a massive impact at Turf Moor and I hope that is what he is remembered for. He never really seemed to get it right on the pitch, though, and I think it was time for him to move on. I just hope that the next man can come and have such an impact, whilst giving us something to cheer about on the pitch.
But it was Steve Davis in control yesterday, and boy was he supported. I don't think anybody could have more support in the caretaker role as Davis had yesterday. He loves the club and the fans certainly love him. In fact, he was my favourite player when I first started watching the Clarets so I was personally delighted that he took the reigns, and even more so that he got that win in what will probably be his only game in charge.
I have family near Leicester, so we stayed the weekend and took my Auntie, a Claret, and my cousin, a Liverpool fan, along. The last game we took my cousin to was a defeat at Coventry two year ago when we were pretty poor, so I was hoping we could show him a good performance. It was certainly going to be an experience for him anyway- Rocky was sat just two or three rows behind him.
As expected, the team was unchanged other than Harley coming for Unsworth. We got off to a bright start too, winning a corner in the first few seconds. That came to nothing, but soon after, Clarke Carlisle was so close to opening the scoring from another corner. Blake was getting ready to swing the ball in, until Carlisle drifted into the box unmarked calling for the ball at his feet. He got it and was unlucky to see his first-time shot go just wide. He's already scored one spectacular goal for us, and has come close on a few other occasions, I can see this guy getting us quite a few goals.
We again came close not long after, Blake played Gray in with a clever through-ball but the top-scorer's first touch let him down and goalkeeper Fulop didn't have too much trouble in collecting the ball. But we didn't have long to wait before Gray would make up for that by giving us a very deserved lead. Wade Elliott got himself another assist, playing the ball to Gray, who collected the ball, turned and fired a superb shot into the bottom corner of the goal.
It couldn't have gone any better so far, but then we noticed Jordan on the floor in considerable discomfort. We already had a makeshift defence, with Duff, Caldwell and Unsworth missing and losing another defender would mean Chris McCann slotting into defence as he did a few times last season. Jordan received treatment on the side for several minutes before coming back onto the field, but it was clear that he couldn't continue and he was replaced almost immediately. I suspected we may bring James O'Connor on to add a more defensive element and protect our extremely depleted back line, but Mahon was the man to come on and I did worry that Leicester may take advantage of our problems at the back. Tony joked at half time that we were losing defenders faster than season ticket holders, but I just hope that Jordan is fit for the next game as he was outstanding while on the pitch. It's such a shame that as soon as he comes into form he has been moved out of position and now picked up this injury. The only positive was that we now have a two week break.
The second half came and Leicester seemed to be growing desperate, using all three substitutions early in the second half to bring on attacking players in an attempt to score their first goal against us at the Walkers Stadium. But they need not have bothered, they caused no threat whatsoever and we were simply too good for them.
Alexander, Carlisle, McCann and Harley - four players that have come in for some criticism from certain fans - were not going to let any of the Leicester forwards past them, and they were left to try a few efforts from way out that were more speculative than spectacular and never troubled Gabor at all.
We were attacking the far end in the second half and when the ball was down there, you didn't know whether to look at the game or up at the clock which seemed to be going in slow motion. It was under that clock that Kyle Lafferty should really have doubled our lead. Robbie Blake played him into acres of space on the left with a beautifully weighted ball and he could have had a few touches, took himself into the area and placed the ball into the back of the net. Unfortunately he tried to go for the first time volley, but failed to get the contact he hoped for and the ball rolled into the arms of Fulop.
That set us up for a nervous final few minutes, but we held onto our lead and came away with a score that is becoming rather familiar at the Walkers Stadium - a 1-0 win. Steve Davis played in our first one when Ian Moore scored our winner, and he received a heroes reception when he came over with the players and remaining coaches at the end of the game.
It was a special game and a special result. The highlight of Steve Cotterill's time at Burnley, for many fans and probably Steve himself, will have been that superb win at Luton with John Spicer in goal. The end of that game saw the whole team and management get together in a huddle. That happened again yesterday and it was fairly obvious what was being said. Steve Davis said that a result would be dedicated to Steve Cotterill and he would have been proud of that. As will Steve Davis, and us fans.
It was one of those games that makes you proud to be a Claret. After such a week, we couldn't have hoped for a better resolution. Our next game will almost certainly see us have a new manager in charge, and if he gives us more games like this we can't complain. My weekend was topped off by a gorgeous carvery this dinner time.
Well done Steve Davis. You'll always be a Claret legend.