On Christmas Day, my uncle, a staunch (and thus, deluded) Leeds United fan had assured me we would have no trouble dispatching Brendan Rodgers weary Liverpool side. Despite being a man whose opinion on footballing matters I would scarcely pay attention to (after all, this is a fully paid up member of the 'Champions, Champions of Europe ' fraternity), I shared a similar sense of optimism about this fixture. As I buttoned up to venture towards The Turf I just hoped the lads had not consumed too much 'Plum Duff' as Stan so famously coined following a Boxing Day horror show, somehow with this squad and manager I knew I need not worry.

On arrival at the ground, I noticed the club shop had slashed the price of the black away kit by 50%. If it had been a 99% discount you might just have tempted me..maybe. I somehow think they will struggle to shift that stock. It was a cold, but dry Turf Moor, perfect Boxing Day weather, and you could hear quite a few people fancying our chances. I think there is no greater gauge of how well we have done that there is genuine belief when even the mighty Liverpool rock up.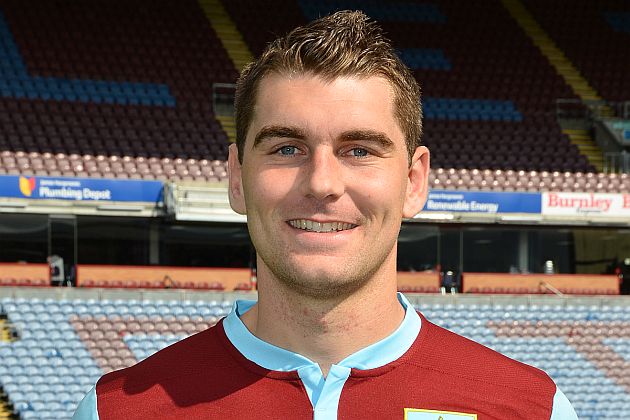 Sam Vokes was back but sadly without being able to provide the headline
There had been talk in the media and hopeful speculation on the message board that today might be the day that Mr Vokes made his long awaited return from the terrible knee injury he had suffered against Leicester City last season. Such a key player in our promotion and such a massive loss to us, what a fillip it would provide if he was back. As the teams ran out of the tunnel for the pre-match warm up, my eyes darted across our squad to see if there was any sign of him. Then, I saw him, Burnley's number nine. What a fantastic lift it was to see Sam back at Turf Moor again. The thoughts of a Vokes header winning this and giving me an easy headline were already in my head, surely not?

Unsurprisingly after his superb form (and one of the best goals I have had the pleasure of witnessing a Claret score last Saturday), Ashley Barnes maintained his position up front alongside Ings in an unchanged team from the eleven that competed so well at White Hart Lane. Liverpool lined up with their Italian enigma Mario Balotelli on the bench and no recognised centre forward in their line up. A front three of Sterling, Coutinho and Lallana promised pace, flair and a definite threat on the counter - something that worried me before kick off. My Dad whispered in my ear as it kicked off "It's days like this when you know you are in the Premier League". I couldn't agree more, what a fantastic sight a full Turf Moor is.

The game started with plenty of early possession for Burnley, but nothing really of note. The fifth minute arrived and, to a man, Turf Moor rose and gave a fantastic show of support for Clarke Carlisle after the terrible news of his accident a few days prior. The minutes applause was almost ruined in the worst way imaginable as Raheem Sterling suddenly raced through and tapped in - thankfully whilst in an offside position.

The Clarets were dominating the early exchanges and bar a deflected shot from Coutinho that was easily held by Heaton, this was one way traffic. Marney and Jones were dominating the midfield against a pedestrian Gerrard and Boyd was playing like a man possessed. In the fourteenth minute Ings raced clear of the ageing Liverpool Captain and wrong footed Jones, unfortunately against the post and out, before Barnes blazed the rebound over. Rather innocuously, Brad Jones (the Liverpool keeper) was then substituted for flapper extraordinaire Simon Mignolet. I had seen enough of the dodgy Belgian previously to know this could only improve our chances.

Burnley continued to press, and I really don't think I am showing any bias when I say Liverpool were struggling to cope. The defence of Kolo Toure and Martin Skrtel threatened to buckle at any moment. Barnes head over the bar, Arfield shot narrowly wide and Boyd had a fantastic shot from twenty yards whistle wide. At the other end, Lallana should have done better after latching on to a poor David Jones backpass, but shot tamely at Heaton. You could hear the comments around the Turf already, and I said the same to my Dad, "We need to score before half time, they can't be this awful all game". Sadly the goal was not to come, but I must give so much credit to the team for that first half. The energy, the verve, the solidity of Keane and Shackell at the back, the entire team from back to front were outstanding, and we should have been at least one ahead.

I suspected Rodgers might change things at half time, so bad were Liverpool, and it was German midfielder Emre Can who came on for the clumsy Kolo Toure. Can certainly brought a greater element of control to the team, that was evident straight away playing in the right back position. Still, the early exchanges did not show any real threat from Liverpool and the expected improvement on the first half showing from them was not yet seen. That all changed with half an hour to go.

Coutinho got in behind Jones and lofted a ball over the defence. Raheem Sterling, who really is lightning fast, raced clear. Was it offside I wondered? I couldn't tell from my position but Sterling darted forwards like a knife through hot butter and took the ball around Heaton before slotting away. It was a goal out of nothing, and totally undeserved. To our credit, our heads did not drop and the response was almost immediate as five minutes later, Keane headed agonisingly just wide from a corner that was caused by the flapping Belgian exhibiting some bizarre behaviour. As the game wore on, Liverpool, to their credit, began to slow play down and kill the match off. We needed something, a lift from somewhere.

With just over ten minutes to go, the call was made, Vokes entered the fray. The crowd response was something akin to the second coming of Jesus Christ, but sadly my headline writing premonition was not to be as 'that last chance' never quite came for us.

So, a defeat, and a totally undeserved one. A fantastic showing from our team with so many positives to take. I am sure the media will fornicate over Liverpool's 'Return to form' but any fan who attended the match knows the truth. It is disappointing that our first half display didn't reward us with the goals it should have, and in this league not putting teams to the sword when you are on top will cost you, as it has today.

Still, a nice easy fixture on Sunday at The Etihad to look forward to - I wouldn't change it for the world.