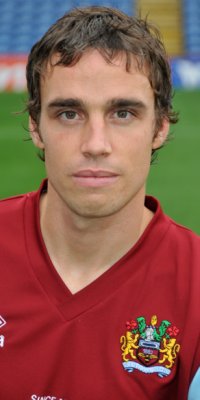 Michael Duff - Man of the Match
The game wasn't for the most part the best to watch and I kept thinking of old football reports that used to refer to these ties as typical cup games. I'm not sure what a typical cup game is but this certainly wasn't it.
I've been watching football long enough to be able to recall the days when the FA Cup was a big competition, when crowds were always higher than for league games. Teams even used to go away for special cup training ahead of the big day.
That's not longer the case and it was typical of today's football that there were well over 4,000 less at the game than the recent league fixture between the two sides.
Our journey down was a trouble free one apart from the freak weather that hit Staffordshire. Incredibly everything went white all of a sudden as the temperatures plummeted with a bit of fog thrown in.
Even so were at the ground before 12 noon which gave us plenty of time to explore the area (otherwise known as having lunch and a drink or two) ahead of the game. We continually deliberated on what the team might be.
We knew we had problems ahead of the game with suspensions and injuries. Owen Coyle had hinted that Christian Kalvenes might not be ready to start after an absence of over two months but in the end he got the left back berth instead of the suspended Stephen Jordan.
Also out from last Sunday's defeat at Doncaster were Steven Caldwell (suspended) and Chris McCann (injured) and their replacements were Joey Gudjonsson and Steven Thompson. We were only able to name six substitutes.
Bes Berisha is back with us but we are probably still awaiting the international clearance. Having said that I wouldn't have expected him to take up the remaining substitute position in any case. Remco van der Schaaf was again nowhere to be seen, apparently kidney problems this time. We could though have put Gabor Kiraly on the bench. Bolton had two keepers on the bench last season so why not us?
The unfamiliar line up once again saw Wade Elliott in the centre of midfield as the Clarets defended the end where the visiting fans were housed. I'm not sure how many were in the lower tier but there was certainly a healthy following upstairs.
We started well and took the game to our hosts. We won an early corner which came to nothing and then when Chris Eagles broke through he was fouled by Damion Stewart who received a lecture from referee Tony Bates.
In what was really QPR's first attack of the game they got in a shot from an angle which Brian Jensen saved comfortably and he even got it away well enough for it to go for a throw in. It wasn't a difficult save but it proved to be the only one he had to make all afternoon.
QPR got into the game more and twice had what looked to be very good opportunities when balls fell for them in the box. They failed to make contact with the first and the second went hopelessly wide.
It had all become a little tedious with defenders on top, but they had no answer to Elliott when he thumped a left foot volley onto the bar. It came from a corner that was only half cleared and the winger cum midfielder hit it with some power from just outside the box.
Whether it would have counted I'm not sure. The assistant's flag went up for offside but whether that was on the shot or following the rebound wasn't clear but the home side were relieved.
It led to some pressure from us but it all came to nothing and in fairness the 0-0 scoreline was about right as the half time whistle sounded.
QPR pushed forward at the start of the second half but it didn't last long and we were soon back to the midfield stalemate. That was until Eagles was played in. It was never an easy chance but a bad touch took it away from him and in trying to rescue it he took it too wide and could only hit the ball into the side netting from a tight angle.
With just under twenty minutes to go QPR hit their best form of the day and for four to five minutes they did put us under some pressure. But it came to nothing, not even a shot at goal, and that was it for them.
We were comfortable and could have even won it when Alan Mahon, on as a sub for Robbie Blake, got in a late shot. But it went wide and wouldn't have beaten Cerny had it been creeping inside the post.
But the 0-0 scoreline was a right one and we have to fight it out again a week on Tuesday when hopefully Owen Coyle will have a few more players to select from.
I couldn't look beyond our two central defenders for the man of the match. It was great to see Clarke Carlisle back in form but he's just been pipped for me by Michael Duff. Is it any surprise there were no goals with the way these two, and Kaspars Gorkss for QPR, all played in defence?
I'm already looking forward to the replay. I know we could have done without yet another game but we've enjoyed one cup run this season and being greedy I'd like another. I have always liked this competition and always believe it as a poor day when you go out of it. We're still in and tomorrow we'll find out the incentive for winning the replay when the fourth round draw is made.
Today we didn't see a great game by any stretch of the imagination, but we saw a Burnley team deal with all their problems and more than earn themselves this replay. Now let's go and win it.
The teams were;
QPR:
Radek Cerny, Peter Ramage, Kaspars Gorkss, Damion Stewart, Damien Delaney, Mikele Leigertwood, Gavin Mahon (Hogan Ephraim 61), Martin Rowlands, Lee Cook (Emmanuel Edesma 45), Dexter Blackstock, Samuel Di Carmine (Patrick Agyemang 72). Subs not used: Jake Cole, Paul Connolly, Joe Oastler, Matteo Alberti.
Burnley:
Brian Jensen, Graham Alexander, Clarke Carlisle, Michael Duff, Christian Kalvenes, Chris Eagles, Joey Gudjonsson, Wade Elliott, Robbie Blake (Alan Mahon 72), Steven Thompson (Jay Rodriguez 86), Martin Paterson. Subs not used: Diego Penny, Adam Kay, Alex MacDonald, Ade Akinbiyi.
Referee:
Tony Bates (Stoke-on-Trent).
Attendance:
8,896.