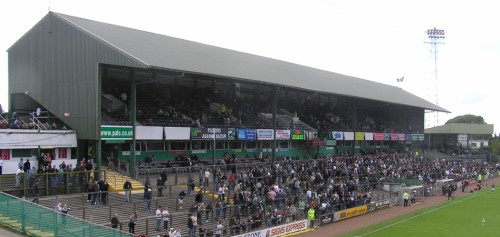 Home Park, Plymouth - don't go there in colours


14:00 – arrive at the ground – its official I don't feel comfortable in Plymouth…too much recent history between the clubs. Plymouth joins Cardiff and Millwall on the "don't go there in colours" list. Still sunny day, decent hamburger and a light wallet… well it would be at £23 a ticket. Thought about trying to get Craig in for half but at 19 with a semblance of a beard didn't think the stewards would wear it even with the bribe of a Ginsters pasty.
14:15 Healthy following starting to build up despite the petrol scare…. Many South West Clarets around, some I've not seen for ages.. the adrenaline starting to build up.. surely we can't lose to Plymouth – no manager, not won in seven, we played well at Preston…
Big Dave wanders in - I think we've got a plane bore (or just a plain bore… lol) on our hands … "only took 45 mins you know" but admitted to setting off at half past seven this morning. No team news gleaned on the plane but had a nice bacon sandwich – useful mole then, our Dave… he then disappeared to see if there was anyone else to tell about his odyssey … everyone's heads go down to avoid his gaze and the pie queue empties…..
14:50 Me, Dave, Craig sit down and Tony and Luton sit behind…. Get my paper and pen out to much ridicule from the MessageBoard crew – eh when you get to nearly 50 with no eyesight you need every bit of help you can. Team read out – same 16 as PNE, Dave settles the tension by eating mints – doesn't hand the bu**ers round – I bet he nicked the sick bag off the plane too.
15:00 Good turn-out confirmed, much better than last year – not sure how much I remember however about last year …. hospitality freebies and all that.
15:15 Good start… good balance to play and generally playing to feet. Plymouth look weak in midfield and dodgy at the back.. every Argyle attack coming down their inside left channel and we are handling that easily. Elliott goes on a couple of mazy runs and sends useful looking crosses into box. Akinbiyi scores but ruled correctly offside. Derbyshire (on loan from the dark side) shoots wildly over. O'Connor puts Akinbiyi through again and the ball is blocked again for a corner. Game played mainly in the Argyle half … great for the Clarets, crap for the reporter eyes can't see who is who at the other end of the pitch. Dave hasn't spoken about his plane journey for twenty minutes….
15:30 Still on top but doubts are starting to build … so much possession but so little penetration (ok cut the titters there), superb move between Hyde and O'Connor, ball slipped to inside left channel, Ade's first touch is, well, a pass to the keeper.. beginning to dawn on me that the big striker, when not being caught offside is having one of those days ….Clarets on top, inside right channel, Akinbiyi through , right hand side must score, hits the keeper. One minute later, Akinbiyi clears off the line from an Argyle corner Nasty tackle number 1 , this one on Harley.. yellow card but on a bigger stage would have got a red… ref starts his descent into becoming a figure of ridicule for both sets of fans (nothing new there then)..

15:45 Dodgy last 15 .. sitting too deep.. Ade continues to be caught offside….. the boy from the dark side shoots over again… bad foul number two, this one on Duff…. Only two mins added time… Tony looks at me in disbelief
16:05 Burnley kick off
16:06 Burnley kick-off again… individual errors have cost us Steve has said, this one certainly did. Hyde inexplicably dribbles the ball after being passed to direct from the kick-off, loses the ball, into the box, out again .. back in, goal! … Dave doubles the mint intake but still doesn't share, see sick bag poking out of his pocket.

16:20 Further descent from ref, Akinbiyi clean through in the inside right channel ,ref blows, free kick to…. Burnley. O'Connor breaks through but has no legs and defender gets back to dispossess. Harley falls over in the box and gets booked for diving… NO, screams me and Dave, told it WAS a dive by Tony… we sit down on our hands as daddy has told us off…I start thinking of Forest and West Ham but can't think why.. Hyde shoots over… second recognition.. make it two of those days as GNW joins Ade in the totally ineffective club.
16:35 Branch on, bursts through on the left … can't help thinking Plymouth are not a good side Branch shoots from an angle he had made too tight and the keeper blocks… Ade simple header from 9 yards out no contact, Branch forgets to follow up…..thoughts of Forest and West Ham deepen but still can't think why… Argyle shoot narrowly wide…. Also can't work out why no sub on for either of the ineffective strikers…. Luton bemoans there is no plan B whilst I'm still looking for plan A.
16:50 Another three points dropped… GCE maths used to work out we have 6 points from a fifth of the season extrapolated to 30 for the season… 22 short of Stan's "we'll crack on" figure. We are really in trouble despite yet again being in the game throughout… Coyne made two great saves as Burnley pushed forwards, GNW weakly headed over and Branch narrowly headed wide… then at last an unstoppable shot from Harley almost bursts the net with keeper beaten, trouble is , whistle went 2 seconds before.. Tell Dave I'm going to China in a few weeks time – will he text me any goss – by plane? he looks at me hopefully…..decide to leave quickly.
17:00 Sulking in car, Forest, West Ham - lightbulb oh yes…
TOO GOOD TO GO DOWN