Granted, there's the odd funny quip that makes him the media darling that he is, but mostly it's his West Country drawl saying the same thing over and over, for about ten minutes. A good editor could easily get him down to three.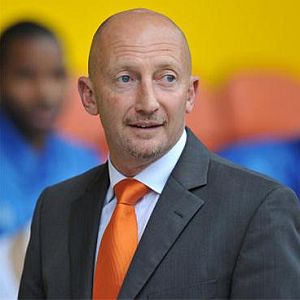 Ian Holloway, even worse on a gridlocked Parliament Street
The only thing that makes an Ian Holloway interview more tiresome than usual is if Radio Lancashire's Ian Chisnall is conducting it. The erstwhile Seasiders correspondent's interview technique seemingly involves preparing a lengthy list of almost identical questions (mostly along the lines of "What about [insert player]? He was pretty good eh?"), which he will ask in their entirety regardless of whether he's already had the answer to them.
Probably the only thing that could make one of these interviews more banal is when you're moving at 100 yards per hour, in increasingly snow-bound traffic, with little prospect of moving much further for some time yet. Which we were. For this was around an hour into a journey home that would clock in at four and a half hours, rather than the usual 45 minutes. Parliament Street was gridlocked. We hadn't even reached the chippy by the time Jason Tindall came on (after Holloway, naturally) to talk about the 90 minutes of frostbite we'd all endured earlier.
Tindall said we were below our best in the first half and it was hard to disagree. Burnley had started fairly brightly, but an inexplicably delayed attempt at a clearance by Ben Mee was charged down by former Angels DJ Paul Taylor, who ran on and fired high into the roof of the net; Lee Grant applying the "don't touch yellow snowballs" rule, not that he'd have been able to anyway. This clearly unsettled Burnley and Peterborough had further chances to extend their lead, most notably when someone hit the post. Could have been anyone to be honest, as by that stage I was more concerned about which of my gloved fingers would survive the afternoon. I reasoned that I still had feeling in four and a few halves, so got back to watching the match.
Speaking of gloves, not one player on the pitch was wearing any, which was pretty odd. Plenty of players were in short sleeves as well, which was even odder and a number of times you'd see them stood blowing into their hands to warm them up. The abject first half performance prompted our nearby professional moaner (formerly known as 442 Brian) to enquire "What's the matter lads? Is it too cold?" Of course it was too cold, although not for the two blokes in front of me who, pre-match, were discussing how many layers each had on. Thermals, 3 pairs of socks, 2 pairs of trousers, 3 t-shirts, jumper and a coat was the tally, yet surprisingly neither looked like a Michelin man.
Half time arrived without much else having happened apart from the temperature continuing to drop and most of the ground headed for the concourses, leaving Steve Kindon with the worst half time draw gig of all time. Under the Jimmy Mac stand a pile of Holland's pies were ritually sacrificed in an attempt to appease the snow gods. Looking on the bright side, I considered I'd be back home with a hot Vimto in a couple of hours time. Incorrect. A couple of hours later I was listening to Gary Hickson asking for people to text him and tell him what the travel conditions were like. Someone texted him from Parliament Street to tell it was gridlocked, but a woman with a spade was doing a grand job of helping people get over the bridge. The bridge seemed a polar expedition away at that point. This was turning into one of those days when you think you'd have been better off not bothering.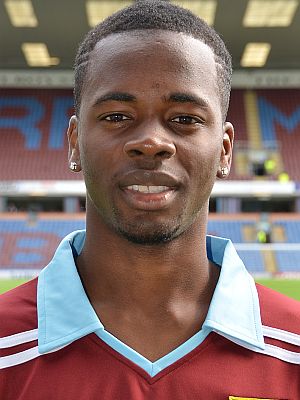 Zavon Hines was on by the time we scored
At least the second half of the match had been an improvement on the first, albeit played in even more wintery conditions than its precursor. What can only be described as an ice shower battered the ground for the first 10 minutes and you wondered who exactly had decided this winter football was a good idea. Burnley were far better after the break, with almost the entire half played in front of the Jimmy Mac stand, but we just couldn't get the break we needed. But an equaliser did eventually come and it was no ordinary equaliser. To give you an indication of how late the goal came, Zavon Hines was on the pitch. Hines fed a neat ball to Jay Rodriguez who turned and ran with the ball in an arc towards the left wing and then back in towards goal. The Peterborough defence employed a futuristic tactic whereby they opted out of putting any kind of challenge in whatsoever and Rodriguez went on and on and in. It was a Roger Eli special. Ish.
There was still time to push for the winner and it should have come via the penalty spot when Mark Little, fresh from appearing as Joe Mangel in Neighbours, reached for the skies to block Ross Wallace's shot. It wasn't shown on the telly, so just watch the highlights of the Scotland v England rugby match from later in the day and you'll see Charlie Hodgson copy the move to score the only try of the game. Unfortunately, Colin Webster chose this moment to commit the refereeing crime of the century and not award the clearest of penalties.
And that was it, thank God. The ground emptied quicker than ever as everyone rushed off to listen to Holloway on the radio. And sit in the traffic. For hours.
I got home quicker from Forest.