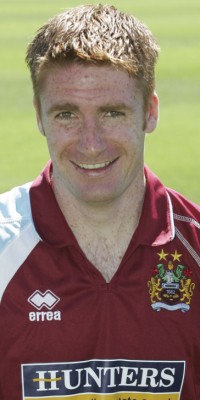 James O'Connor - tried to be positive
Steve Cotterill recalled Frank Sinclair to the defence, again moving Wayne Thomas back to centre-half alongside Michael Duff. In midfield Eric Djemba-Djemba made his home debut, as did goalkeeper Mike Pollitt and the returning Ade Akinbiyi. Joey Gudjonsson was named on the bench alongside Kyle Lafferty, who made way for the return of Gifton Noel-Williams against his former club, one of 4 former Potters in the Clarets line-up.
Ade received the expected rapturous welcome from the Longside on his return to Turf Moor, and in advance of kick-off I expected to be watching a Clarets side who would be full of renewed vigour, looking to press ahead with a play-off push and the impetus provided by our recent signings.
The Clarets started relatively brightly with an early left foot shot from Gifton saved, and Wade Elliott and Frank Sinclair were seeing quite a bit of the ball down the right hand side with Djemba-Djemba and James O'Connor looking busy in the midfield. However we didn't have it all our own way with Sidibe having an early free header on goal which was to be a warning of more to come.
Early on, the Clarets did string a few passes together, working crossing opportunities on the right. Sinclair put the ball behind the goal from a good position after a slick passing move, whilst Wade Elliott worked an opportunity to threaten the Stoke goal but crossed behind everybody when well-placed. Shortly after, Djemba-Djemba worked the ball into Gifton's feet and his shot on the turn was blocked for a corner. Wayne Thomas had a far post header saved, then 3 corners in quick succession followed but a combination of poor delivery and solid defending kept the Clarets at bay, however Michael Duff had a reasonable shout for a penalty dismissed by the referee, despite being held back and spun round as he tried to make a run into the area to get on the end of one of the corners.
However, Duff was then to be spun round again shortly after. This time it was on the edge of his own penalty area as the tricky Ricardo Fuller turned him and headed towards the right edge of the area and to the by-line before firing in a low cross which was touched in from close range by Mamady Sidibe for the opening goal. It was all a bit too easy for Fuller to create the chance as he left Duff trailing behind him before providing Sidibe with a tap-in. The warning signs had been there prior to this point as Frank Sinclair was looking like someone who'd not played in a while, and Thomas and Duff were making life difficult for themselves with some poor defending.
Fuller nearly made it 2-0 after turning Thomas and Duff inside out but shooting tamely to Pollitt's right hand side from the middle of the penalty area when it looked simpler to score. Credit to Pollitt however for closing down the angle and making the save.
Gifton then had a shot kicked away from just inside the 6-yard box as the Clarets tried to get back into the game but Stoke went back up the other end and after a series of flicks from Sidibe and Fuller, the ball broke free for Darel Russell to shoot but he fired over. Ade Akinbiyi had a headed chance from a Jon Harley cross but didn't threaten the goal and the Clarets went into the half-time break 1-0 down.
Kyle Lafferty replaced the ineffective Chris McCann at half time and took up an advanced position on the left hand side of midfield as the Clarets tried to get back into the game. The second half brought more misplaced passes and frustration, but as expected the Clarets started the half relatively brightly, no doubt after a few pointers from Steve Cotterill.
Again a succession of corners were forced, and Wayne Thomas had a powerful header on goal. However, a crazy few minutes saw Stoke almost extend their lead. Thomas dived in on Fuller 2 or 3 times in quick succession when a cool head was required, and a chance was created for Sidibe who saw Pollitt dive to his left to save. Sinclair questioned Thomas's actions but Sinclair himself was defending no better, miscuing headers and missing tackles as the whole defence appeared to be on different wavelengths, although Pollitt was calm and assured behind them.
Darel Russell was provided with 2 further shooting opportunities as we backed off again, one tamely into Pollitt's arms when the space opened up for him on the edge of the area. The second chance taken more quickly and fired over the angle of post and bar, but not by much. Gifton headed wide from a James O'Connor cross but then Steve Cotterill played his final 2 cards, firstly bringing on Joey Gudjonsson for Eric Djemba-Djemba, and then shortly afterwards the disappointing Wade Elliott was replaced by Garreth O'Connor.
It was Garreth's namesake James who then started to bring his level of performance down to that of his colleagues as he lost the ball in midfield, resulting in a shot from Matteo which was saved easily by Pollitt. Garreth O'Connor then worked himself some space in the Stoke area, but passed up the opportunity for a shot, and the chance was lost.
The referee had by now booked both Lafferty and Gudjonsson for a couple of trips but there wasn't really a bad tackle in the game worth a yellow card. Gifton received little support from the referee against the physical Duberry and Higginbotham, and whilst the referee was fussy and inconsistent, he wasn't quite as bad as his last recent visit to Turf Moor.
Finally, almost at the end of the game, the Clarets had the best chance to score as Lafferty cut inside from the left, and hit a powerful shot which although straight at Simonsen, he couldn't hold. The ball bounced towards Noel-Williams around the penalty spot and he headed back towards goal, but it was grabbed by Simonsen at the second attempt, under pressure from Akinbiyi, when it looked like Noel-Williams really should have scored.
Time remained for Stoke to have a final sniff of goal as Thomas and Pollitt got in a mess, leaving Sinclair battling for the ball in front of an unguarded goal but the game finished with a large amount of frustration for Clarets fans and players alike.
For me, Burnley were too sloppy in defence with Duff, Thomas and Sinclair all culpable. Fortunately, Pollitt was secure behind them whilst Sinclair can be excused to some extent on his first game back after injury. However, it was probably one of the poorest games I've seen him have in a Burnley shirt, whilst Michael Duff was a shadow of the player he has been for most of the season.
In midfield, after a reasonable start, Wade Elliott faded badly, Djemba-Djemba looked confident and composed on the ball but vanished in the second half, and Chris McCann looked uncomfortable again on the left of midfield where his lack of any pace or trickery makes it difficult for him to beat a man, and I think he looks better in the centre.
Up front, Gifton was frustrating, whilst the game seemed to pass Ade by as he never got near the ball apart from a couple of good lay-offs in the first half. Kyle Lafferty tried to get into the game on the left hand side but didn't make the impact Steve Cotterill was no doubt expecting, while Gudjonsson showed positive flashes of what we can expect from him, and Garreth O'Connor looked a little lacking in confidence, which is maybe to be expected after being on the fringes of the team for a year now.
It's difficult to choose a man of the match from such a poor performance, but for at least giving it a go, and looking like the one player who was trying to be positive and get amongst the Stoke players, I would give the award to James O'Connor.
Overall, we were sloppy and slow. Too often the build up saw the ball go backwards or passes went astray, or behind the intended recipient, crossing was poor, and again we forced a number of corners, with little resulting from them. The defending was poor, and surprisingly Stoke didn't take advantage, meaning that we had a chance of sneaking a point right up to the end, when really it would not have been deserved.
Credit to Stoke for putting on a professional performance as they did everything they had to do, without every really being tested. Sidibe and Fuller are a handful, and irrespective of our encounters with Fuller in a Preston shirt in the past with dubious penalties and all, he is a talented player at this level, even though there's not always an end product to his pace and tricks.
We need to get back on track, and fast, if anything is to be achieved this season, or soon we'll be looking more closely at the bottom of the table again as the play-off pack stretch away and the teams at the bottom close up on us. It really shouldn't be turning out like this, and I don't believe that Andy Gray is so irreplaceable that we're a one-man team. The new signings and the existing players need to get their act together quickly before the renewed optimism and impetus we thought we had this month, is replaced by a realisation that our season is fizzling out again after a promising start.
I believe we can get back on track, but we've got to do it quickly. There's no better place than next week at Derby, when maybe, some will be least expecting it.