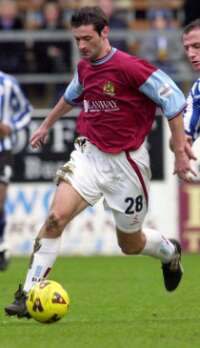 Star Geezer - Alan Moore
Why was there such concern for this game, why were Sheffield Wednesday seen as banana skins? Yes the squad was reduced to its bare bones, but the form guide gave no clues, other than Clarets recent inability to score goals from the last three games, as the rationale for the half empty glass brigade to be out in such force.
Well that was 2.30 and the doom and despondency merchants were all around at 5.10 when trudging from the ground, after witnessing Clarets poorest home performance of the season deservedly returned nil points. Not that Sheffield Wednesday were a good side, far from it. Other than perfecting time wasting and general tactics of frustration (though understandable from their lowly position), there is little to worry any one here, but Clarets were simply inept in all areas from the first to the final whistles and nobody would deny the Owls the points, nicked away in injury time courtesy of Kuqi's well taken goal.
A promotional blip or a cause for greater concern, we will have to wait and see as the Clarets dropped to fifth spot, their lowest position since early November. Certainly next week's Cup game against Cheltenham needs to be a morale booster, or the bitter wind that swept the stadium yesterday will be a warm one compared to the one ringing around the Turf in the next few weeks.
Once in the ground there were some worrying trends before the game started. Why did Paedophilia return to display unimproved pre-match dance routines? Who let Arthur out in white boots? Why after winning the toss, did Cox elect to play in the unusual direction of the Jimmy Mac Stand? Why did the teams not come out when "Let Me Entertain You" rang around the ground. The answer to the last question is easy, neither team were capable of entertainment. Never mind, to the game then.
With a bitterly cold wind blowing around the stadium, Clarets played towards the Jimmy Mac end. Minus the injured Weller, Little and Johnrose, the midfield basically picked itself, other than for Cook who strangely started on the bench and even more strangely never entered the fray, a costly error in many ways as throughout Clarets lacked quality and craft in breaking down Wednesday's fragile looking defence, often going forwards more in hope than with senses of guile and purpose, the long ball tactic being more wayward than telling.
The early stages of the game were messy from both sides, Taylor and Pressman clashing in the first of a number of 50:50 collisions after a quarter of an hour. Nicos clearly had decided on a no catching policy and flapped at early crosses, though he could do little other than hope as Kuqi's first time shot whistled just past the post, following Ekoku's run and cross when leaving the hapless Branch in his wake. Branch was to have another unhappy day at left back, clearly not his preferred position.
Clarets were proving weak up front with only Briscoe's whipped in corners providing any threat, whilst at the other end, a rare defensive lapse from Cox, letting the ball roll over his foot almost let Wednesday in on twenty minutes. The game was going nowhere in the half, Clarets, suffering communications lapses between centre halves and keeper, were in turn being matched by Wednesday's clear intentions to waste time whenever possible, creating a natty little game of plastic bag watching as litter swirled up in the breeze.
On the half hour Clarets managed an attack, Grant's pass picking out West who in turn nodded down to Briscoe, only to see a first time shot go just over. Cor, such excitement! Cue panto land at the other end with Wednesday taking the lead. Arthur was second to a harmless looking cross, Ekoku swung a leg, missed the ball, the draft causing Nicos Tofalloveros and McLaren couldn't help but smile as he tapped home from five yards in front of the watching Wednesday boys. Come back Crichton, all is forgiven, we whispered whilst in gob smacked mode.
Clarets tried to respond but in truth couldn't due to their own inabilities on the day. Alan Moore, whose upper body moves at twice the speed of his lower body, tried hard, but failed to cross with any regularity or quality, whilst the rest of the midfield sought to dispense with responsibility at the earliest opportunity, Ball in particular looking a pale shadow of his former self. Up front, Taylor looked slow and predictable, lacking fight against the combative defenders and Moore found cul-de-sacs wherever he went, the two generally isolated from anything in support of their efforts. So half time came with some relief, at least the second couldn't get any worse, could it? It didn't, but it didn't get any better either.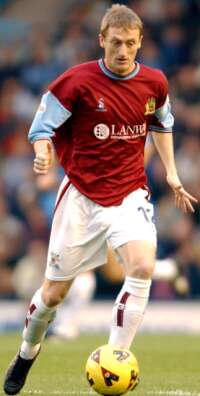 Star Gazer - Tony Grant
Maylett immediately replaced Branch, with Briscoe reverting to his more suited left back role, leaving Ball and Grant to look after centre midfield for the remainder of the game. Well that was the plan, but it's execution left a lot to be desired, completed passes not being either's forte in the game. Arthur clearly seized his moment during Stan's chat changed boots, the natty white ones now binned in favour of more traditional colours.
In truth the game became a bore, Clarets tried to up the pace, but were frustrated by poor discipline on their part, repeatedly caught offside, whilst Wednesday continued to act like England slips, dropping at every opportunity, slow walking at dead ball positions and testing more the crowd's patience more than that of the weak official in Mr Pike, howls of derision accompanying the visitor's tactics. Twenty minutes in and poor control on Taylor's part saw a half chance lost following good work between Maylett and Alan Moore. Ex-Rover Broome was less than sympathetically treated by some, when being stretchered from the field half way through the half.
With twenty minutes remaining, Clarets were given a lifeline, Westwood needlessly handling Moore's cross into the box for a blatant penalty. Step forwards Gareth Taylor for his first goal via boots this season, Pressman's ample frame obligingly moving out of the way of the straight shot. Cue Tom Hark and milliseconds of merriment in ninety seven minutes of dire straits.
Alan Moore caused confusion in the Wednesday ranks with a great cross to the far post when finding Taylor and West unmarked. Unable to communicate with each other, they fluffed the chance and Clarets last moment of the game had gone. With fifteen to go of normal time, Papa.......... replaced an ineffective Ian Moore, before Quinn replaced Hamshaw. Pressman in chasing a horrid back pass, collided with Taylor and after an eternity got up only to fall over again, rookie Roberts taking his place in goal for the last ten minutes.
Cue the injury time board and "lucky" seven went up, the game hardly on a knife edge, though there was still time for Clarets to press the self destruct button. Two minutes in and Grant's dreadful pass across the half way line was easily cut out and returned releasing Kuqi ahead of a dozing Arthur. Advancing quickly, Arthur had no chance to recover and Kuqi's powerful drive was under the flailing body of Nicos and Wednesday regained the lead.
Still Clarets could do nothing about the game and in a similarly defensive fiasco move in the final minute, Kuqi was hauled down on the penalty spot by Arthur conceding a penalty, Mr Pike somehow deciding that it was not a goal scoring opportunity, so only booking Arthur in the process. Sibon's low kick was easily collected by Nicos having the audacity to come off his line, Mr Pike drawing matters to an unsatisfactory close. Things can only get better.
Att:- 16,081
Star Gazer
Tony Grant - Early season midfield dominance has been replaced by anonymous performances of late, typified by this pathetic display. Noticeable for being on his backside more than Ian Moore, he epitomised this display with an awful pass that led to the winning goal.
Glass Half Empty
No League wins now from four and a team that whilst down to bare bones also appears very low in confidence. This was not a display from a team that had one defeat in thirteen when it took to the field. There is more missing, much more than the creativity of Glen Little, though the trend in this dip is as that in October, he's not playing and neither is the team. The midfield in particular was poor, lacking width, creativity, quality and general effort in support of the front two. One shot on target and that a penalty reveals a very sad story.
Star Geezer
Alan Moore - Worked hard throughout the first half and carried the only threat to Wednesday. Though disappeared as the game progressed, he was the only person in the team willing to take a man on.
Glass Half Full
Arthur changed his boots at half time.