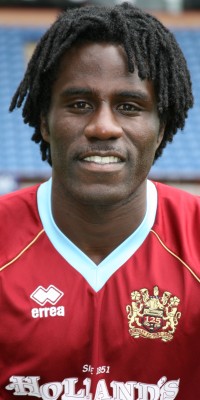 Ade Akinbiyi - left the field to great acclaim
In the recent past it has taken the best part of two seasons to clock up seven away wins, but this is a different Burnley side.
I'm going to buck the trend here. Popular opinion has the Ricoh as being soulless and lacking in character, but I rather like it. Maybe it's the steeply raked seats, or the white wall behind the seats to our left which gives it a vaguely continental feel, but I reckon that in the unlikely event that Coventry ever fill the ground, the atmosphere would be quite impressive. That said, the catering is poor, and I wasn't keen, on buying a coffee, that I had to go to a pretentiously named 'condiment station' for the milk!
Yesterday's defection of Andy Gray forced Owen Coyle into playing a 4-5-1 formation, with Ade Akinbiyi as the lone striker. Well, it has worked before, and it didn't take long to work again here. After a Brian Jensen mistake in the second minute, which he retrieved, and a booking for Graham Alexander in the ninth minute for his second foul in as many seconds, a good pass sent Wade Elliott away down the right. His cross was turned in by Ade to put Burnley one up. Ade did not hit his shot particularly strongly, and the keeper will be disappointed that he did not save it instead of letting the ball go under his body and up into the roof of the net.
The goal seemed to wake Coventry up, and they should have scored a couple of minutes later when Michael Mifsud lost his marker, David Unsworth, and failed to benefit from a free header. It was pretty much all Coventry now, although Robbie Blake had a powerful shot saved after an Ade lay-off, and it was no surprise when they equalised after 26 minutes. Woeful defending, in which Burnley had two or three chances to clear, left Michael Doyle the simple opportunity to fire home from close range.
We continued to hang on, although our lack of pace in the centre of defence was sometimes exposed, and we did have a couple of good efforts, one a run and shot from Elliott, who was excellent throughout, and another from Ade after being fed by Jon Harley. There were two bookings, the first when the referee ran 15 yards to move a free kick just inside the Coventry half back by two or three yards. Robbie Blake promptly rolled it forward a couple of feet, and was booked. Pathetic. The second, which was to prove important, was Kevin Kyle, for jumping into Harley.
As the second half began, I was worried that we might not be able to hold out for 45 minutes, but after ten nondescript minutes, the crucial moment arrived. Kyle, who had been the subject of derision from the home fans, committed a nasty looking foul from behind on Alexander, and received his second yellow. Sometimes being reduced to ten men provides a side with renewed determination, but not today. Burnley made effective use of their numerical advantage, and started to take the game to Coventry, although, moments after Alan Mahon had replaced James O'Connor, a long range effort only just cleared the angle, with Jensen beaten.
On the hour, a cross to the far post from Chris McCann was met by Ade, who hooked the ball goalwards from an acute angle, only for the keeper to grab it as it was about to cross the line. On 65 minutes, poor defending let a Coventry forward through and into the area, where he came crashing down. This was at the far end, and I'm sure I wasn't the only one with my heart in my mouth, but the referee waved play on.
Three minutes later, and the away end erupted .Doyle, Coventry's first half hero, turned villain as he lost possession in a dangerous position. The ball was moved forward to Ade, who delayed his pass perfectly to allow Robbie Blake to stroke the ball home.
We never really looked like surrendering the lead for a second time. Coventry were restricted to a few corners (all sponsored by Ian Neale Construction), and although there was an uncomfortable scramble in the Burnley area in the last minute of the 90, we were home and dry. If anything, we could have increased our lead. Elliott had a penalty claim turned down, and Steve Jones, who had come on for Ade with ten minutes left, looked as though he was trying to prove to Owen Coyle that he has a future at Turf Moor.
Ade left the field to great acclaim from the travelling fans, and anyone who thinks he has no role to play at Burnley should look very carefully at his performance here. He scored one goal, provided an assist for the other, and gave the Coventry defence an uncomfortable time throughout. John Spicer came on for Joey Gudjonsson, who is now fully justifying his place in the squad, and Stan Varga was booked for a nothing challenge, and, after four minutes added time, that was that.
This was another generally solid and effective display, so different from the New Year's Day shambles. It seems likely that we may be strengthening the squad during the coming week, and now that we've laid our home hoodoo to rest, and resumed our away successes, I think we can look forward to the rest of the season with quiet optimism.