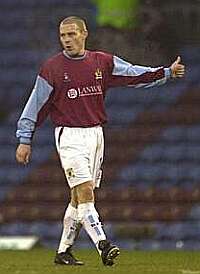 Thumbs up from Ian Moore
I'm normally far to optimistic for my own good but as the game kicked off I started to have real doubts and was just praying that in 90 minutes time we wouldn't be seeing the Canvey players turning cartwheels in front of their delirious supporters. Say you'll be there in the 4
th
round draw was really all I hoped for as far as the Clarets were concerned.
Well, Burnley will go into Sunday's draw but our passage was certainly not without a struggle against a Canvey Island side who will surely be in the Conference next year.
No man is an island but Canvey manager/owner Jeff King comes close both in terms of size and also in his absolute control in all areas of running the club. His team did him credit yesterday and they can be justifiably proud of their performance at Turf Moor.
After the first 20 minutes friends who had been confidently stating that it would be 'a stroll in the park' were now beginning to ask which of the two sides on show was the First Division one. The one plus was that, this being the FA Cup, we were playing with the highly visible white ball that we are supposed not to be able to see in the winter months.
Despite my worries I always fancied our defence to keep them at bay and generally speaking we did though Miller slammed a 20-yard shot just wide of Nik's post to make sure we were awake.
Then on 22 minutes Glen Little managed to do what he failed to do against Man City and that was to confidently stick the ball in the corner of the net from the penalty spot after the ball ran to him following an Ian Moore cross and a mishit clearance. In truth it was our first shot on target.
The goal allowed the Clarets to exert a degree of control on the game that had eluded them prior to it and we started to play some nice football though it was good to have Kevin Ball in midfield who harried the Canvey midfield constantly when we lost the ball.
One of the most bizarre sights of the first half was Gareth Taylor lining up to take a free kick on the edge of the Canvey Island penalty area. I would have loved to be a fly on the wall at the team meeting when it was decided that a centre forward who has not scored with his feet all season should take our free kicks. Taylor duly despatched it high into the wooden seats of the Cricket Field stand.
I've never understood why Glen Little doesn't take them, unless they are from a wide crossing position and it was from just such a kick that the Clarets made it 2-0 on half time. Glen played it in at the required height and speed for Ian Moore to glance it beyond Harrison in the Canvey goal.
With Gareth Taylor going off seemingly injured at half time Stan chose to match their 4-5-1 formation and we probably looked more comfortable because of it. In fact we might have ended the game as a contest early in the second period as Ian Moore headed over following some good work from Dean West and Taylor's sub Paul Weller. Then Little seized on some confusion between Harrison and Bennett but dragged his scuffed attempt at a chip just wide.
Unfortunately Glen limped off shortly after this when appearing to pull his hamstring chasing for a long ball down the wing. Hamstrings don't tend to heal quickly and it could be 3 or 4 weeks before we see Glen again.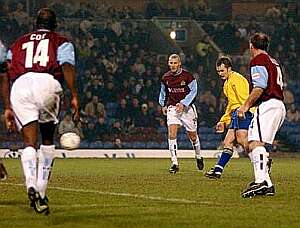 Lee Boylan scores for Canvey
If this was a blow worse was to follow as on 67 minutes Canvey got one back. It was a move worthy of a goal as some neat approach play saw their best player Spencer Knight waltz past Dean West and set up Lee Boylan for a chance which he took well, side footing home from 8 yards
A nervous last 20 minutes? No, not really and if anything Canvey were probably guilty of throwing too many men forward too early. Whilst they weren't causing us too many problems they were leaving gaps in their defence which we were able to exploit.
On 78 minutes Arthur went forward strongly and with few defenders about he set up Ian Moore who curled one into the top corner for game over.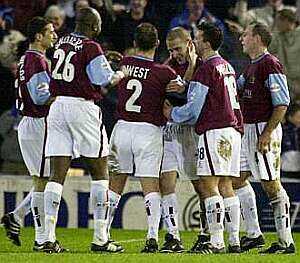 Ian Moore celebrates his hat trick
Dimtri Papadopoulos came on for a nice little cameo at the end and set up Ian Moore for his hat trick goal when he cleverly nodded a Kevin Ball cross down to him 6 yards out. Morro smashed it gratefully in to the roof of the net for his first Clarets hat trick and he was to show visible signs of frustration at not being later awarded the sponsors Man of the Match. Instead this went to Kevin Ball who did as much as anyone to ensure that we would be there in the 4
th
Round draw.
The match ended in some amusement as half the crowd seemed to have bets riding on Burnley winning 4-1 and were actively urging Burnley not to score! P.etc and Ian Moore duly obliged.
At the end Canvey received a deserved round of applause form all 4 sides of the ground and maybe one or two Clarets fans will from now on be casting an eye down to the Ryman League results to see how they are doing.
The crowd of 11,496 was probably higher than most Clarets were anticipating and it did prove to be an enjoyable afternoon of football in the end.
I had started the match singing 'All that I want from you, is the promise you, will be there.' Mission accomplished as far as I was concerned.