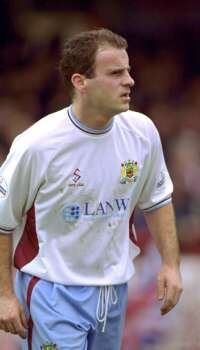 Star geezer - Dean West
Where now though for the Clarets, slipping up at home once again, without a league win in 2002 and collecting only one point from the last twelve? After the debacle of Whaddon Road, in the words of Stan, this has been a back to basics week, where cracking on in the league was paramount. Well this in parts was a very basic performance indeed, lacking penetration, craft and pace against a quick, well organised, hard working Baggies team, who in Roberts, were well equipped to attack on the counter, as they were to decisively prove.
You knew it was a big and important game. There were the national TV cameras, a well known ref. in the shape of Mr Picky or Jeff Winter to his friends, yet more significantly, seventies style, there were toilet rolls and nice pink ones at that, thrown from the Jimmy Mac stand at the commencement of both halves. Boasting a strong bench, in Blake, Weller, Little, Johnrose and Armstrong, Stan elected to return Cook to the starting line up; otherwise it was as at Cheltenham, except for Marlon's gloves returning between the sticks.
In what was to prove a bright opening to the game, it was the Clarets who had the first opening, Hoult was down smartly to deflect a free kick in the first minute. The game was tight and competitive in the early stages with few chances being created, both keepers collecting whenever needed, Marlon in particular showing confidence and solid handling in taking the ball from crosses.
Grant's shot (??) on the quarter hour hit the Bob Lord (I kid you not) before Roberts' power started to show, a neat lay off allowing Clements a shot wide of goal. Neither side was able to make a break through, West Brom content to contain, whilst Clarets could find no room whatsoever beyond the two lines of four put before them. Alan Moore was making little progress, Ian Moore kept bouncing off his namesake and Gareth Taylor floundered constantly, conceding fouls as though this was his mission for the night.
Going forwards, Clarets were rather predictable and the long ball back to front stuff proved easy for the visiting defenders. Attempting to beat Clements on the half hour, Alan Moore was given the benefit of the doubt, Clarets getting a free kick twenty five yards from goal. Unsurprisingly Albion pulled all ten men behind the ball. Cook's ball in was easily cleared and the pace of the counter attack illustrated the difference on the night between the two teams.
West was caught too deep as Johnson's through ball to Roberts was played keeping the danger man on-side as he raced clear. Marlon's forlorn attempt to be first to the loose ball allowed Roberts to put the ball one side then nip the other of the stranded keeper, before coolly slotting home from eight yards. Game on, boing, boing. As Clarets wrestled with the task of what to do, Roberts was put free by McIness, Cox misjudged the pace of the ball, slid nicely out of Roberts way and for the second time in five minutes, Roberts was stood arrogantly in front of home fans after putting the ball beyond Beresford, the ball almost saved as it bounced on into the empty net.
Two nil and disaster, thank you Cox. Clarets were losing the battle in midfield, Grant and Ball proving more and more ineffective as the game progressed towards half time, the athleticism of the visitors, now buoyed by a two goal cushion making the task all the more difficult. A neat one two between Taylor and Ian Moore on the stroke of half time, saw the latter's first time shot acrobatically tipped over by Hoult, Clarets taking forty four minutes between shots, typifying a major reason behind the current problems, home or away. So to mutterings of home discontent as the pundits muttered over a half of few chances. More importantly what could our Stan do about the midfield where our cause was most hampered and just how injured were Blake, Little and Weller?
After a quiet first half, Cook was immediately replaced by Little as Stan set about the task in hand. Gary Megson by contrast set his stall out, the two lines of four were even more compact than in the first half, with Dichio dropping back to help whenever needed, leaving Roberts the lone man up front. Clarets would need to be quick and creative to break down the resolute opposition, yet would muster neither in the half, except for a final ten minute flurry that would be more huff and puff than creative and incisive.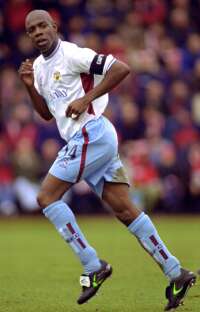 Star gazer - Ian Cox
The intriguing battle raged on between Arthur and Roberts, with Mr Winter favouring Roberts throughout, much to the arm waving frustrations of our Arthur. Five minutes in and Hoult tipped over Taylor's speculative header, moments before Dichio missed an absolute howler, blazing over from six yards after Alan Moore had conceded possession. The error was to prove costly and minutes later Moore limped from the field after aggravating a hamstring, Weller entering the contest.
From this point on, Clarets carried more threat, West, Little and Weller working the ball well between them, if creating little as a result for the strikers to feed on. Taylor finally made it into the book for persistent fouling on the hour mark, before Ball's toe-ender went well over as Clarets continued to press with little effect. Little and Weller worked the ball well between them half way through the half and Little's low cross deserved an alert striker to finish, though neither were awake at the time. Ian Moore made way for debutant Blake, Stan now having made his three substitutions, but not changing the shape of the team for the last twenty five minutes. Beresford's sliced kick prompted chants of "dodgy keeper" from the visitors, "not as dodgy as our other ones" chanted our terrace wit nearby, the game now becoming a test of patience more than anything else.
With fifteen to go, Clarets should have pulled a goal back, Little's low cross, watched at the far post by Cox and Taylor, rather than tapped home into the waiting goal. With ten to go, the other side of Jason Roberts began to show. First he tangled with West, appeared to throw out an arm, but got away with it. Then he tangled with Ball, only one winner here and as Roberts was dumped to the ground, it prompted a handbags session in the nearby area, whilst JR was treated.
Obviously feeling mistreated, having finally returned to his feet, the red mist set in and before Megson could get him from the field he managed to get booked and almost sent off in his little tantrum, Dobie eventually replacing him. With five to go, Little set up Blake who's clever ball across set up Grant unmarked from ten yards. Blasting goal wards, Hoult saved with his legs in a good save/bad miss scenario as Clarets searched in vain for a late consolation. It was not to be.
For the Clarets, the games in hand issue appears the only consolation as they fade into play off contenders. Seven further games in February will make this a key month. On this form it looks like a disappointing month and with the next three games away, it will be a long haul to get back to the top two from here. But you never know.
Att:- 15,846
Glass Half Empty
The midfield has lost its way, the combination of Grant and Ball providing little in the way of a threat to the opposition and little in the way of support to the strikers or defenders. Defensively, Clarets need a leader, yet sadly at a time when he is so desperately needed, Davis remains weeks away yet, the good run of Cox/Gnohere having run out of steam. Whilst Clarets could bemoan their luck at times, the overall performance did not merit any points from a very important fixture
Star Gazer
Ian Cox. Complacency has crept in to his game and a lack of alertness cost both the second goal and a glorious chance to pull a goal back midway through the second half.
Glass Half Full
This was a much improved performance over the last League display versus Sheffield Wednesday and against the most impressive of visiting teams to visit the Turf this season. Whilst Clarets could bemoan their luck at times, there were key chances for Cox and Grant, whilst West Brom took two out of only the three chances that came their way.
Star Geezer
Dean West. Worked tirelessly down the right hand side, single handedly in the first half. Support play with Weller and Little in the second half allowed Clarets to create more chances and find ways round the defences of West Brom.