A first Burnley goal for January signing Ashley Barnes, a Sam Vokes penalty and a late third from substitute Michael Kightly to wrap things up left over 1,860 noisy Burnley fans singing their way out of The Valley as, for once, those behind us all won.
The result, ultimately, was what the day was all about; getting the three points. The performance fully deserved it too on a day that was almost a perfect one from start to finish.
You never quite know how the day will be when you lock your front door behind you to set off on another trip. In the last two we've had mixed emotions with that incredible win against Blackburn at Ewood before, three days later, conceding a late, late goal at Birmingham and then having to spend hours on the road on a nightmare journey home.
As always I leave with the hope of everything going well, of which that result really is the most important, but rarely does every single thing go to plan.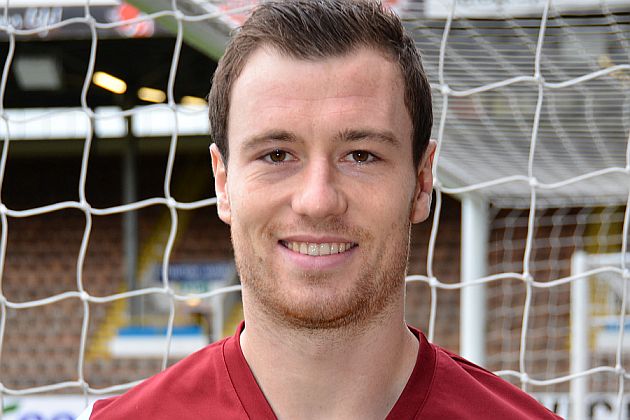 A first Burnley goal for Ashley Barnes
Almost immediately we hit our first problem. The A56 was closed between Huncoat and Rising Bridge so that necessitated a quick change and a drive into Accrington and through Baxenden before rejoining the A56.
By that time Clarets Mad had received its few minutes of national publicity as I joined Georgie Bingham and former Portsmouth, Newcastle and Coventry striker Micky Quinn on the Weekend Brekkie show. Shameless plug HERE (at 19 minutes).
We were soon back on our chosen route and to be honest I cannot think of anything else that even provided a hiccup all day.
By around 12:30 we were parked up at Blackheath station ready for the short walk to the Hare & Billet to find a number of Clarets already there including our genial host John B who was soon afterwards joined by his wife Tracy and both Sonya and Barry Kilby who seemed far too concerned at the goals Derby were scoring against Little Billy of Nottingham's lot.
There were close to 100 Clarets there in the end so a big thanks to John for arranging this ahead of the big game that is closest to his home in London. I wonder how many other clubs you will find in the country where chairman, former chairman and their wives join supporters in such a way before a league game. It's that one club mentality that Sean Dyche speaks of so often.
It's a four minute train journey to Charlton from there and it gave me the opportunity to speak to a few home fans. The ones I met were as courteous as any opposition fans I've met all season. They were generous in their praise of Burnley this season but thought that maybe we were visiting them at just the right time for them after they'd won in midweek against Bournemouth.
I like The Valley. It looks like a proper football ground. Even the away end, the one part of the ground built prior to them moving out in the 1980s, is more than acceptable although I have to say it doesn't really cater for anyone much taller than five feet.
The one thing I don't like about this ground is what's in the middle - the pitch. It looked appalling a year ago when a Charlie Austin goal gave us a 1-0 win; it looked even worse yesterday and there were puddles in the six yard box in front of us prior to kick off.
It's a shocker. I'm not quite sure how a pitch can get that bad. At its worst ours was better than that and the only one I can think of that could rival it is the mess that was at Bloomfield Road last season.
We all knew that Danny Ings was out again and I think most of us knew that Kieran Trippier would miss a Burnley game through injury for the first time. The big debate seemed to centre on whether Ross Wallace would continue or whether there would be a recall for Michael Kightly. So, Sean Dyche sprung a surprise by starting with neither and giving Junior his first league start since the beginning of August.
I was surprised. But who am I to question this manager? I shouldn't have been surprised. He'd played really well there last season on that pitch and he's from Kidbrooke which is less than three miles away so, I assume, would really want to impress in front of his family and friends.
There's something different about Charlton when the teams come out onto the pitch. Most clubs use entrance music these days, pioneered I think with Everton and Z Cars in the 1960s, but nowhere else have I seen away supporters join in as much as I have at Charlton. I took a look round yesterday at the Burnley fans, many of whom could not resist offering a few lines to that red, red robin that was, as always, bob, bob bobbing along.
It's unique; I can't help but sing-a-long, but I don't think we sung it again, for the rest of the game was played to a background of Burnley songs from our supporters who turned in a simply wonderful off field performance yesterday that I was so proud to be in the middle of.
Dean Marney plays for us, I know where Super Jason Shackell put the ball and the ongoing renditions of the old favourite 'In our Lancashire Home' (which our Yorkshire member blatantly refused to sing) was just brilliant. A massive well done to all those involved in instigating this; absolutely brilliant.
But to the game, and for the club pessimist and those with concerns, it was a game we needed something from after that Derby result in front of the television cameras.
We struggled initially to get any sort of foot hold into the game. That was mainly because of the way the pitch played. Having said that, most of the play was towards the Charlton goal although we weren't causing them too many problems.
Both of us had a chance and both of us put in weak shots leaving it too easily for the goalkeeper. Scott Arfield, set up by Barnes, shot straight at Ben Hamer and at the other end, after a rare Michael Duff mistake, Simon Church (and were we really linked with him at some time?) did likewise, making it easy for Tom Heaton.
However, as the first half progressed we were coming more and more into the game and seven minutes from half time came the goal that gave us the lead and, although we didn't know it at the time, ended the game as any sort of contest.
For those of us who had questioned the inclusion of Stanislas, this is when the manager was proved right again. He was coming more and more into the game and linked up with Ben Mee on the left. His right foot cross was perfect for Barnes, around eight yards out, at the near post, and he claimed his first Clarets' goal with a looping header into the corner.
Apparently the ill informed Jeff Stelling was quick to point out on Sky that it was his first goal in 18 games, since a double for Brighton against Leicester in December. Given that his first ten appearances for Burnley were as a late (or latish) substitute, it's a very harsh and totally meaningless stat.
In any case, Barnes only failed to double his tally in our next attack because of a brilliant save from Hamer. A superb move that started down the left, was switched to the right, saw new man Baird hit a powerful shot that was heading for the bottom corner.
Hamer saved well, parrying it out to Arfield, who had a brilliant game. He crossed to the far post; Barnes looked a certain scorer but Hamer got across to make one of the saves of the season.
The goal had changed the game completely. We'd got on top before it but from the second it went in until half time we totally dominated the game and I felt sure had we got another during those few minutes the game would have been well and truly won.
Needing to change things, Charlton boss José Riga brought on Astrit Ajdarevic for Danny Green at half time and just nine minutes into the second half, during which we'd totally dominated, he made a second change.
The ineffective Church was replaced, much to my delight, by Iranian international Reza Ghoochannejhad. I was curious to see whether his name would fully circle the number 8 on the back of his shirt but much to my disappointment he instead sported his first name Reza.
The biggest name in the Championship timed his arrival to perfection. Within seconds he'd landed himself a perfect view to see his team mate Dorian Dervite give away a penalty.
Barnes and Vokes had linked up really well all afternoon and they did again with Barnes playing in Vokes who was promptly brought down by the Charlton defender. There was no question as to whether it was a foul or not; that was clear from the other end of the pitch. It was just a matter of whether it was inside the box or not. It was, the television pictures have confirmed that, and Vokes hit his shot down the middle and we were 2-0 up.
That indeed was that. Not at any point in the remainder of the game did we ever allow Charlton the notion that they might get back into it. The closest they came was from a Johnnie Jackson free kick that Heaton got down to by the foot of the post to tip away.
Even that had come from an outrageous decision by referee Oliver Langford. He had a poor afternoon in my view, too often favouring the home side with soft free kicks but on this occasion Duff had clearly played the ball.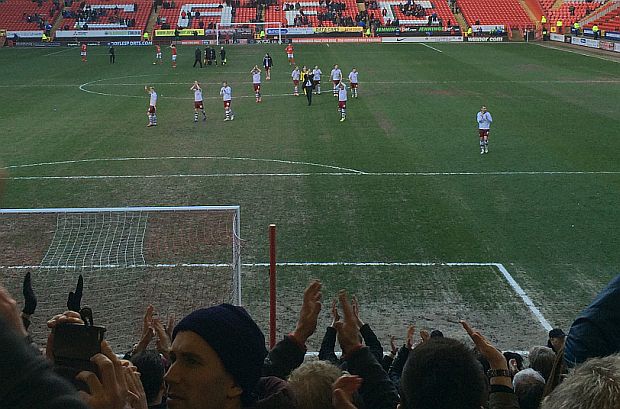 The one club mentality as the players and manager applaud the fans who are saluting the players and manager
The Burnley fans continued to raise the roof at the away end as we totally controlled the whole second half. Stanislas made his exit with a quarter of an hour to go to a standing ovation from the away end. He was replaced by Kightly who put the icing firmly on the cake in stoppage time.
He did really well when he came on and we won a late corner. He played it to Dean Marney, got the ball back, nutmegged one defender before scoring via a deflection off Jackson. That came just after Duff succumbed to cramp and being replaced by Kevin Long.
"A walk in the park," is how Rileybobs described it on the message board. claretspice added: "For a moment in the second half, for the first time, I got an idea how United fans must have found watching United in the glory days. From the moment we got the first goal, this was a procession."
And TERNENT commented: "This was as comfortable performance as you could imagine. Charlton were terrible. I don't see enough goals in their team for them to stay up, but on a terrible pitch, we were everything we needed to be; professional, efficient and diligent."
I can't disagree with one single word provided by those three message board posters. Charlton were poor, they really were, but on that surface we gave a wonderful, professional performance that was just so enjoyable to watch.
The players, along with Dyche, took their curtain call, and that was the signal to leave and make our way back to the station for the quick journey back to the car at Blackheath. The Charlton fans on the platform looked glum; they'd just seen their team well and truly outplayed and there was no sign of any red, red robins; I think they'd gone bob, bob bobbing somewhere else.
A smooth journey home saw me back in the house ready for Match of the Day with plenty of goals and a shocker from Andre Marriner. There had been a further accident on the same stretch of road too with emergency vehicles and blue flashing lights all over the place.
I hope there had been no serious injuries in either of them because we'd had just about the perfect day watching our relentless Clarets.
And don't forget, it's one game at a time. That means Doncaster on Tuesday.
The teams were;
Charlton: Ben Hamer, Lawrie Wilson, Rhoys Wiggins, Michael Morrison, Dorian Dervite, Danny Green (Astrit Ajdarevic ht), Jordan Cousins, Diego Poyet (Marvin Sordell 76), Johnnie Jackson, Simon Church (Reza Ghoochannejhad 54), Jonathan Obika. Subs not used: Yohann Thuram-Ulien, Richard Wood, Loic Nego, Morgan Fox.
Burnley: Tom Heaton, Chris Baird, Michael Duff (Kevin Long 90+1), Jason Shackell, Ben Mee, Scott Arfield, Dean Marney, David Jones, Junior Stanislas (Michael Kightly 75), Sam Vokes, Ashley Barnes. Subs not used: Alex Cisak, Danny Lafferty, David Edgar, Ross Wallace, Keith Treacy.
Referee: Oliver Langford (West Midlands).
Attendance: 16,113 (including 1,865 Clarets).