Star Geezer - Driss Diallo
Anyone else having the misfortune to give up their time to watch this dismal and pathetic display, must be rethinking their choice of entertainment on future Saturday afternoons, the Clarets turning in another of those "one off" performances in the seasons growing collection, this was the fourth time this season, where Clarets have conceded four or more goals.
With the defensive generosity as afforded to Reading, themselves a team with no wins in 2003 and only one win from their last ten, having scored only five in their last six games, Clarets fans could be thankful their team was not playing a form side. The meek midfield was once again anonymous in the work rate and distribution departments, Grant in particular ensuring his shirt need not pass through the laundry department this week. This game was simply awful from start to finish, brightened only by two quality strikes, one from Salako, the other a late blistering drive from West and 14,000 of the 14,420 who froze watching the debacle would have difficulty sleeping after this display.
It was a strange team sent out for the game on a mightily cold day. Little was confined to tracksuit wearing, whilst McGregor came in for the suspended Branch. The three in the middle were Cook, Grant and Briscoe with MooreI, Taylor and Blake taking the goal threat to Reading buoyed by the travelling support of, ooh all of four hundred Berkshire travellers, neatly arranged in the top of their stand in a "L" formation.
The game began slowly, neither side bothering to play with any pace or passion and play meandered from one end to the other, neither keeper brought into serious action and it wasn't until half way through, until a tactical change by Stan, seeing his team at sixes and sevens, that his number 7, Little was brought into action, replacing the unfortunate McGregor, who had done nothing wrong to merit his withdrawal other than occupy the left back slot, vacated for the day by the suspended Branch.
The change hardly inspired the already dull affair, though West's wayward effort on twenty five minutes well into the rows of empty seats did cause some merriment, if little else. Down the other end, Marlon's efforts when briefly brought into the game, saw a fresh air punch at a harmless cross.
Ten minutes from the break and the referee's assistant came well and truly into the game. Newman's deflected cross was adjudged to have been caught under his cross bar by Beresford, but the murmurs among the home fans was that Marlon had carried the ball over his line, the "goal" not given by old eagle eyes, so the flag stayed down.
Play switched to the other end and a disappointing Blake was tripped in the "D". The now well rehearsed and rather predictable lift and volley routine came into play, though Hahnemann had little difficulty stopping the pea-roller of a shot, before more moments of controversy interrupted a forgettable opening period.
Firstly, Cook's tackle on the touchline kept the ball in play, but eagle eyes saw it otherwise. A bit of uproar from the North Standers close by. From the throw-in, a simple through ball, saw an offside looking Sidwell break away and his toe poke under a poorly positioned Beresford gave the visitors an unlikely lead as the North Stand berated the non-flag waver, baying for his next ophthalmic visit to be sooner rather than later.
Reading immediately pulled ten men behind the ball, though unnecessary, it did allow Clarets to gain possession further up field than they had been. With half-time approaching Reading doubled their lead in very fortunate circumstances. Harper's cross-cum-shot was watched all the way across the area by four defenders, eventually finding Salako all alone on the far touchline, who from the point of the area, launched a dipping curler of a shot that left Beresford without a hope as it landed in the far side of his goal. It was a marvellous strike, though the score line was harsh on the Clarets, poor as they were.
Alan Moore immediately replaced Briscoe as the start of the second half, but again his introduction saw no change in the pattern of the game from the tactical switch. Six minutes in and it was three-nil. West hopelessly jumped under a deep cross and Salako was on hand to volley in past an exposed Beresford.
Four shots, three goals, two bad sides, one of those days. Within three minutes Clarets pulled a goal back. West's free kick slammed into the wall, the ricochet fell kindly for Ian Moore, who had little difficulty finishing unmarked from six yards out.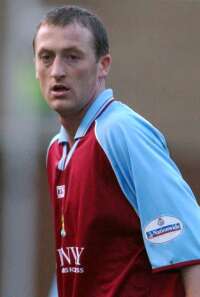 Star Gazer - Tony Grant
Salako was booked for dissent as the visitors went into severe time-wasting mode, before Alan Moore was the victim of a ridiculous challenge, when his superb first touch from Blake's cross-field pass allowed him to cut inside his marker in one move, a booking all that resulted from the scything challenge, from which the assistant did not even flag - another one in need of a trip to Specsavers.
A fading Blake was replaced by Papadontfall. Taylor headed over Little's cross, oh his new highlights do look pretty, before Hahnemann received the savoury delights of the catering bar, when delaying his goal kicks just once too often for the liking of those nearby, the time taken to clear his six yard box of the debris wasting yet more time.
Taylor's shot on seventy minutes was adjudged to have been handled by Marshall, the linesman finally flagging something. Quite why Papawantatouch, was allowed to take the penalty is anyone's guess, he hadn't touched the ball since coming on, which showed when his half-hit effort was easily saved by Hahnemann diving to his right as all Lanway wearers stood motionless.
Three-two with fifteen minutes left might have made it interesting. As it was, even the LED board packed in and the farcical use of the old numbers boards, was embarrassing as Reading went for the endurance test of a double substitution.
Cook and Gnohere got themselves into a tangle deep in Clarets defensive territory, presumably neither sure which language to use, allowing Reading to win the ball, advance into the area and Beresford was caught out again, the penalty an obvious decision, the booking rather fortuitous in the circumstances.
Having guessed correctly, his save to his left was a good one and he could have expected much more from his stationery team-mates who watched on as three Reading players queued to smash home the rebound, Sidwell getting his second of the game and making it four.
Not many Clarets wanted to hear the final whistle judging by the immediate queues that formed. Now they know how frustrating it is to see Sidwell score two against the Clarets, his last appearance in a Brighton shirt only a month ago also cost Clarets dearly.
Five shots four goals, most definitely one of those days. With five to go Gareth's new highlights were inches away from Cook's delightful cross into the box, but it was Reading who added to the score line, when after yet more comic defending, in which any one from a number could have cleared the ball, sub Henderson had the simplest of tap-ins after Beresford had done his utmost to keep the ball out.
Though it mattered not a jot on the day, West's screamer from twenty yards with a minute remaining is a goal of the season contender, but by that stage the game was long gone. Still there was time for another counter attack, in which Reading hit the bar, before Mr Pearson allowed the boo boys their moment.
Reading hadn't won this year, they have now. Clarets have not won in the League this year. On this form, it will be a long time before there is anything to smile about.
Att:- 14,410, with 89% attending.
Star Gazer
Tony Grant. There were many contenders for this prestigious award, but on a day of personal worsts, his was a display of shirked responsibilities with a lack of desire so obvious and blatant that any fit kid from the reserves must surely now be given his chance.
Glass Half Empty
This may have ended the run of seven without defeat, but the pathetic manner in which the points were so meekly conceded is difficult to understand. From the first kick to the last, Clarets displayed a complete lack of self-belief and under achievement. There's one thing from this season, when Clarets have an off day, they do not do it in half measures.
Star Geezer
Drissa. What a find this guy appears to be. Even when Arthur loses his concentration, Drissa is still able to double up at the back, remain focused to the task in hand and at least remember he is a professional when all around seems amateurish.
Glass Half Full
Only Marlon was booked.