It was always likely to be a difficult afternoon and so it proved, but we never let Arsenal run away with it and, when the final whistle blew, there was only that early Aaron Ramsey goal separating the two teams in the scoreline although admittedly it was the better of the two teams who won the game.
The goal came in just the 12th minute. Sean Dyche said of it: "It's an awful goal from start to finish," and it would be difficult to disagree with that description. Tom Heaton had collected the ball but from the him throwing it out to the ball hitting our net, we didn't get much right with some very out of character defending.
Heaton found Jason Shackell whose ball upfield was a poor one. It left Arsenal coming at us with a lack of numbers defending. We did get players back but they just got back, didn't organise themselves and were, as one former Burnley manager would have said, all over the gaff.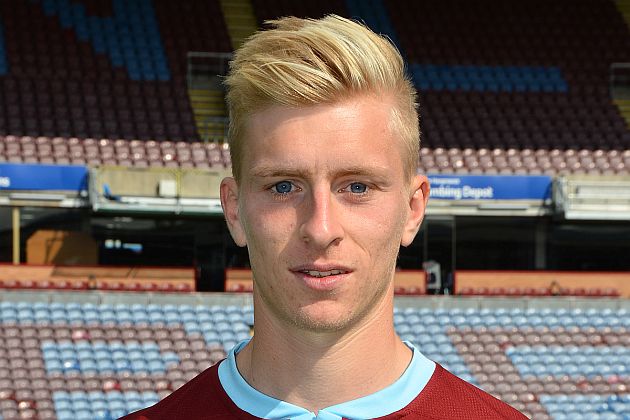 Man of the match Ben Mee set up George Boyd in the second half
Shackell himself blocked an Alexis Sanchez shot but it rebounded to Mesut Ӧzil who saw his shot saved by Heaton. The next rebound saw Sanchez get in shot number three; this one being blocked by Trippier but then smacking Michael Duff in the face and dropping for Ramsey who found the net.
It was certainly not the start we wanted and although we recovered to play our part in a game that lacked at times in terms of entertainment, we didn't often threaten to get back into it.
My day had started early with a trip to Gawthorpe. By the time I left for the Turf I wished I hadn't, I was still feeling the effects of the biting cold wind so made my way down to the Turf with a few extra layers.
There was some good news and some bad news ahead of the game. The good news came from Southampton, who beat Hull, and from Sunderland where their wonderful defence conceded four goals. Unfortunately that was paired with Aston Villa winning at Spurs and Leicester coming from behind with two late goals to win at West Brom.
Still, as the experts say, you can't rely on others, you just have to go and get the points in your own games, and we knew this one would be difficult.
There was only one change from last week with Matt Taylor replacing Marvin Sordell on the bench. Arsène Wenger had also named an unchanged team although his bench, with no disrespect to ours, looked quite concerning to us with such as Theo Walcott, Danny Welbeck and Tomas Rosicky.
In an early attack, Sam Vokes outpaced German international Per Mertesacker down the left. He cut in only for David Ospina to come out and save his effort. It wasn't to set a pattern for the early part of the game which clearly belonged to Arsenal.
This is the team in second place in the league who have been winning for fun recently and they gave us a very difficult start to the game, culminating in the goal, and there were real fears as to how things would go once we'd fallen behind so early.
But this really is a good Burnley team we've got and we don't fall that easily. We took the game to them without ever really putting too much pressure on them. Santi Cazorla came close whilst at the other end a Trippier free kick forced a save from Ospina.
It was all somewhat bitty at times and much of that was down to referee Mike Dean. This is the referee I've lauded over the years, the best in the business at keeping the game flowing and without doubt a referee who can show most of his colleagues how to make best use of advantage.
This was not the Dean who literally spoiled it yesterday. He nit-picked, he gave far too many free kicks to allow things to flow and there were some simply ridiculous decisions, usually, as the home crowd let him know, going against us.
We'd already had You don't know what you're doing but as the players left the pitch for half time there were cries of Cheat aimed at Dean from the Longside whilst Michael Duff had to be cajoled away from the referee by Ian Woan.
It hadn't been the best first half from the Clarets but we had improved as it progressed. Arsenal hadn't really looked too likely to add to their one goal lead and we were still in this game.
The Clarets were much improved in the second half without ever really creating too much. Arsenal, for the most part, looked content to keep us at bay with Francis Coquelin showing us just why he's been winning rave reviews for his performances in the holding role in midfield.
This week, some of our young players in the development squad were rewarded with the offer of new deals, but there was much talk on the message board that some of them really should be breaking through into the first team at ages such as 20 and 21.
That makes the Coquelin story one worth noting. He will be 24 next month but has only recently won himself a place in this Arsenal team and earlier this season was even shipped out to Charlton on loan where he made three starts and two substitute appearances.
His work yesterday in that position made it that more difficult for us, but we did have our moments. George Boyd missed out on an opportunity after some great work down the left by man of the match Ben Mee and towards the end, an overhead kick from Danny Ings could have flown in but was just perfectly placed for Ospina.
But there was no way back for the Clarets and a defeat that leaves us next to bottom of the Premier League.
Wenger heaped praise on us after the game, as did Thierry Henry on television. Even Harry Redknapp was singing Sean Dyche's praises this morning on Goals on Sunday, but we know it's not praise we need but points.
That nightmare run of games is over now but we can't suddenly think we are going into a run of easy games; they are just, on paper, potentially less difficult.
Our last three home games have been against City, Spurs and Arsenal. I'm sure if asked, most of us would have taken three draws. If so, we are one point up on that, and, despite our lack of goals at one end, only Ramsey has scored against us.
We are still very much in there fighting. A couple of people said to me yesterday that they'd be quite happy to be relegated because they prefer the Championship.
My answer to that is a massive no. I want my club to be the best it can be and I'd love to be in the Premier League next season. I know we don't win anything like as many games but it's fantastic to be once again playing the best teams in the country and long may that be the case.
Six games to go now - we've even got Burnley fans on all four sides for the remaining two home games. I'm staying positive; I really do think we can do this, and there will, at least, be no more Arsenals to play.
The teams were;
Burnley: Tom Heaton, Kieran Trippier, Michael Duff, Jason Shackell, Ben Mee, George Boyd, Scott Arfield, David Jones (Matt Taylor 90+3), Ashley Barnes, Danny Ings, Sam Vokes. Subs not used: Matt Gilks, Michael Keane, Stephen Ward, Fredrik Ulvestad, Michael Kightly, Lukas Jutkiewicz.
Yellow Cards: Ben Mee, Michael Duff.
Arsenal: David Ospina, Hector Bellerin, Per Mertesacker, Laurent Koscielny, Monreal, Francis Coquelin, Aaron Ramsey, Santi Cazorla, Mesut Ӧzil, Alexis Sanchez (Calum Chambers 90+3), Olivier Giroud. Subs not used: Wojciech Szczesny, Kieran Gibbs, Tomas Rosicky, Mathieu Flamini, Theo Walcott.
Referee: Mike Dean (Wirral).
Attendance: 20,615 (including 3,421 from Arsenal).