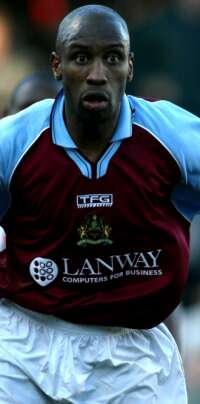 Star Geezer - Driss Diallo
That Clarets strolled to a two-nil half time lead boded well, the first forty five minutes were dominated by the home side, with Paul Cook instrumental in most things going forwards, but a dismal second half was best forgotten neither side seeing fit to bother their opposing keeper to any real degree of difficulty and the game petered out as Clarets sat back, Derby unable to create a single chance of any real note.
So on a cold, dull afternoon, Stan stuck with the team and formation that had done so well against Fulham. That meant it was a day in the tracksuit for Robbie Blake, with Glen Little a notable absentee from the sixteen that were on duty. For the visitors, bolstered by the return of long time absentee Ravanelli, there were also places for the illustrious names of Kinkladze and Lee, the latter conspicuous by his on field absence and his name was only mentioned when subbed at the start of the second half.
In a quiet start to the game it was the visitors with the first opening, Boulders shot an easy collect for Beresford in the seventh minute, but the Clarets were in front within a minute. Alan Moore's intelligent run saw him past two players and as he cut across the area out came 'keeper Grant to smother only for the ball to fall kindly for Ian Moore who only had to side foot home from eight yards to open the scoring, in Clarets first attack.
Two minutes on and a super pass from Cook saw Alan Moore having a run at goal only for his shot to be pulled wide. Kinkladze, showing neat control in the area tried to set up Morris on the quarter hour, but the shot was tame and into the side netting, though it was the visitor's most notable chance of the half.
Woeful defending from Argentine Zavagno, saw an ambitious dribble from within his area blocked by Grant who calmly took the ball forwards putting over a delightful cross to the far post where Taylor had the easiest of chances, heading home from all of a yard out.
Two-nil, Clarets coasting into a solid lead and no one having to breaking sweat. With Beresford electing for a day on his line, good defending on more than one occasion saw Gareth Taylor working hard to head clear in his own area, though in truth the visitors looked disinterested and half hearted in their first half play, their performance one more of a going through the motions exercise, despite the whistling and gesturing coming from within their technical area.
For the Clarets there were notable displays from Diallo and Cox, once again looking solid and restricting the Derby frontline to the briefest of chances, Ravanelli not having a shot in the game. Another delightful pass from Cook off the outside of his foot, saw Briscoe in on goal, but strangely he elected to pass not shoot and the chance was gone as for the first time we moved into sponsored time added on at the end of the first half. What will they think of next?
Into the second and immediately Gregory replaced the anonymous Lee with Murray, bolstering the midfield in a tactical switch that was to see Derby much more into the ascendancy in a second half where Clarets were content to sit behind the ball and count the clock down, a frustrating ploy for the watching crowd.
Jackson had a clear sight of goal after only two minutes, but his header from Ravanelli's was straight at a relieved Beresford. Clarets looked sleepy in the early stages of the half and for periods they were penned in, a combination of sloppy play and poor positioning preventing Clarets from getting out of their half.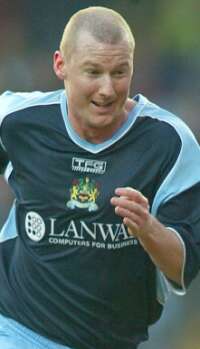 Star Gazer - Lee Briscoe
There was though a great chance ten minutes in as Ian Moore broke from the half way line, but whilst his two efforts at goal were both blocked, the second a good save from Grant, had calmness prevailed he should have used one of the two spare men in Alan Moore or Taylor unmarked at the far post as Clarets were three against two.
Beresford was down smartly to a Murray shot as once again they were penned back, defending far too deeply for most people's liking, Stan noticeably gesturing forwards as he paced back and forth on his well worn strip.
Derby wasted a glorious chance after a sloppy give away by Alan Moore twenty minutes in, before Stan went for changes in personnel, McGregor replacing a tiring Cook and Weller further bolstering the midfield at the expense of Alan Moore with twenty minutes on the clock.
Morris' frustration saw him booked after pushing Cox off the pitch, before Ravanelli flashed a dangerous cross across goal, then Barton talked himself into a booking as Derby saw the points fast disappearing, the Rams unable to create any head of steam, the resolute pairing of Diallo and Cox seeing to that.
Three minutes of sponsored injury time came and went without incident, Mr Crick finally blowing and allowing 15,063 to go home and thaw out as temperatures dropped in the gloom of the afternoon.
Att:- 15,063 of which 89% attended.
Star Gazer
Lee Briscoe. Drifted in and out of the game, particularly in the second half where his overall contribution was hardly noticeable. With Grant, Weller and McGregor occupying much the same space, Brisser seemed unable to find his role in the congestion.
Glass Half Empty
Quite why it was necessary to play so deeply in the second half is anyone's guess. It was all the more frustrating after the first half where Clarets had cruised into a comfortable lead to then waste forty five minutes of football, to grasp the three points on offer.
Star Geezer
Driss Diallo. Another towering performance of solid defending, with well timed tackles aplenty. His forehead must be sore after an afternoon of aerial superiority which saw Derby restricted to half chances. His partnership with Ian Cox has seen only one goal conceded in three games, more than just coincidence.
Glass Half Full
Not playing well yet winning is the sign of a successful side and Clarets needed only to attack for half the game in order to collect the three points. Clarets remain unbeaten this season when playing last seasons Premiership sides, a measure of the progress made by the team when looking at the bigger picture.